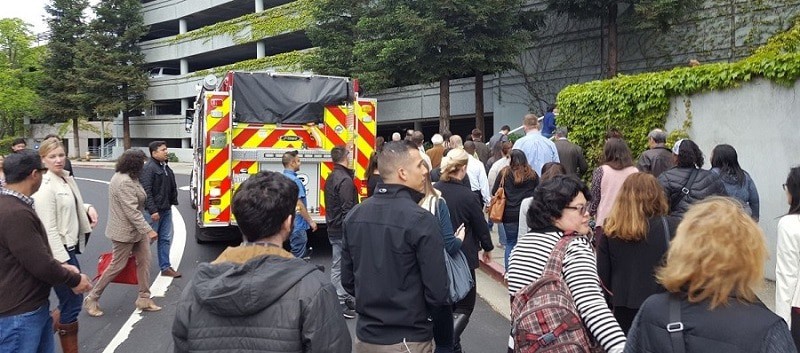 Our life is overwhelmed with various human-made and natural disasters. These days, we can see fire events occurring around us often. Even it sometimes causes a tragic incident by burning people and things. Lack of knowledge indeed leads to more lives and properties in the event of a fire.
However, to get rid of this horrible affair, we must manage fire drills into our home, office, school, shopping center, shop, and many more places where we stay for a long time. Moreover, it's a law of safety to arrange a fire drill to get alarmed of fire when it happens.
We need to note that only by behaving correctly during a fire drill can save us from any unexpected event. Thereby, we must practice the whole procedure of how to behave during a fire drill and how to react to be safe and sound. No matter whether you've pre-experience or not, we're going to instruct you in detail about how to handle the situation properly during the fire drill.
What Is A Fire Drill?
A fire drill is a process of practicing how to handle a fire event in a building without facing any trouble. It also instructs us to get out of the building safely with having real sense.
Besides, we can practice the whole procedure of getting relief from unexpected affairs calmly with the alarm of a fire drill. No matter which situation you're in, you can move forward to get yourself intact during the fire event by practicing fire drill alarm attentively. Plus, you can get the nearest route of exit if you're alive in a fire drill.
How Many Types Of Fire Drills Are There?
We have to admit it frankly that the fire drills make our life risk-free by teaching about the ins and outs of a fire event. It not only saves us but also protects the place where fire occurs.
We can find mostly two types of fire drill- obstructed and unobstructed lockdown. These are varied in considering the building types, numbers exit, and many more criteria. But both kinds of fire drills are beneficial to get through the fire disaster safety. You can also take a glimpse of the fire drill checklist to get a better idea.
Basic Fire Drill Steps
When you first hear the Fire Alarm, Stay calm.
Treat the alert as if it were real.
Stop what you're doing.
Start moving out of the building.
If you are the last person, close your door, but don't lock.
Leave the lights on.
Move to the nearest exit.
Check doors for heat and under the door for smoke coming out.
Take the stairs.
Watch for smoke signs.
Clear the sidewalks for the firefighters.
Move to a safe distance.
Wait for the all-clear.
How To Behave During A Fire Drill?
By and by, we're at the main point of this guide to get the fire drill practice. It's a crying need for us to know everything to handle the situation exquisitely during the fire drill. Nobody knows when and where the fire event can take place. That's why we must have a proper sense of every supposed location to get ultimate relief. Let's dive into the context!
Fire Drill In School
If you're in school, particularly in the classroom, then try to keep your eye on the clock. As a result, you won't be surprised or exited during the alarm as you know the exact time when it will happen. At the time of the alarm, stand up, and organize your belongings. Don't be so hurried; just follow your teacher's instruction to get the nearest exit overnight.
Also, try to help others by giving courage and mental strength. If you're out of the classroom, that doesn't mean you're entirely safe. Now it's time to get out of the school building. In this case, you have to be calm and find out the easy way of getting out. Whenever you're in out of danger, keep a safe distance from the incident.
Fire Drill At home
It often causes fire events at home, particularly at night. After having the hints of fire, you have to start moving on calmly. Then try to realize before shutting the door on if there are piling up the fire. If yes, then no need to go out, lock the door properly so that the oxygen can't enter your room from out and put on the light so that the fireman can find you out quickly.
On the contrary, if there less fire in front of your room, then go out and figure out the closest exit of the building as soon as possible. The sooner you can find out through the nearest exit, the better it will be for your life. Never be too much excited lest you should stumble into the fire.
And a point to be noted here: You must make a fire escape plan for your home, if you still don't have any.
Fire Drill In The Bathroom
The fire drills started alarming, but you're in the bathroom, what should you do then? Never be too impatient, instead take the situation efficiently. Just pull up your trousers or skirt and get out of the bathroom safely. Later try to observe the location where the fire took place.
Make sure that you know your way to get out of the building safely. In this case, you can take help from others near you. However, you must treat the fire alarm as if it were real fire occurring in any situation.
Fire Drill At Work
Without any delay, you must stop the work during the fire drill. You have to take the whole procedure seriously to get real experience. Respond to the alarm quietly and start moving on instantly. Then safely get out of the room and search out the close exit to get out of the building. If possible, then check your route lest you should go to the wrong way.
Never start running; instead, try to line up altogether to get out safe and sound. You need to note that, never use the lift during the fire event, you have to use stairs if you're in the upper level. But be careful to accomplish the whole process properly.
Fire Drill At Hospital & Nursing Home
Fire drills are essential at the hospital since it supposed to happen often. It's not pre-defined when the problem arises; thereby, you have to be active everywhere every time. You have to make coordination between mind and body during the fire alarm to keep yourself safe all along. If the evacuation of the hospital becomes necessary, then you can get everything easy to make yourself safe.
So, by law, you have to find out the exit route calmly and get out of the building as soon as possible. But you need to observe the whole circumstance to read the might of the fire. You can take help from the instruction given on the wall of the building as well. Only a single practice can aid you a lot in the long run.
Fire Drill At Daycare
Above all, to keep your child safe at daycare, it's inevitable to manage and teach the fire drills with proper guidelines. Having a good evaluation plan at the daycare can help you a lot in the long run. To execute the whole procedure, at first, you have to explain the entire matter to the child. Also, give hints to them about fire alarm and what they should do during the fire drill procedure.
If they know necessary fire drill steps, then they can quickly get themselves safe even in the absence of any sensible person. You have to reset the alarm to get an assessment of how they react during the fire drill. But never forget to teach them – how to find out the exit and get out of the building in the event of a fire.
What Is The Purpose Of A Fire Drill?
Beyond doubt, the core purpose of a fire drill in a building to inform everyone how to get exit, how to keep themselves calm and tense free, how to handle the whole situation simply when a fire event occurs. With its fire alarm, it indicates the people to stay relaxed during the trouble and find out the real way of getting out.
In brief, a fire drill teaches us some lessons to be risk-free and fear-free and be sure of the next steps when unexpected affairs like fire, smoke, carbon monoxide, and many more disasters happen suddenly in our building.
How Long Should A Fire Evacuation Drill Take?
Though it can't be told spontaneously about the exact period of the drill, most fire drills take between five to 15 minutes to accomplish the whole process. The fire drills vary in various factors such as building type, building size, fire alarm system, and speed of evacuation. So there might be a difference in the period of the drill in several circumstances.
Frequently Asked Questions
Should a fire drill be announced?
It's a conflicting question; whether a fire drill should be announced or not depends on the goal of a particular drill. If you want to introduce your people with some new procedures or routes, it's more appropriate to do an unannounced drill.
How often should a workplace have a fire drill?
A workplace should have a fire drill at least once every three months.
How often should fire drills be conducted in schools?
Fire drills should be conducted a minimum of twice per year in the schools.
What is a fire drill in business?
A fire drill in business means an organized evacuation of a building to prepare its occupants for the proper procedure during the fire event.
Who is responsible for organizing fire drills?
According to fire safety studies, the owner, occupier, or manager is responsible for organizing fire drills.
Final thoughts…
Admit it or not, you must have pre-experience in handling the tough situations like the fire event. With adequate knowledge and consciousness, you can get relief from any accidental cause during the event of a fire.
Only having a fire drill can assist you in making sure your utmost safety. However, you may already have found the best solution of how to behave during a fire drill. Now it's your turn to keep in mind the whole procedure and apply it in your practical life to get a happy life.
Read More
She is a proud mother of three children. Married for 25 long years! She is the perfect Admin & Editor in chief for this site. She will be sharing her life long experiences with us.