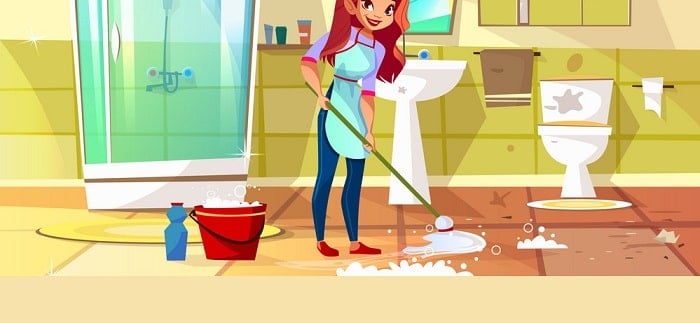 Bathroom floors are very sensitive and notorious by germs at the same time. So when you are talking about cleaning or sanitizing the bathroom floor, you have to be extra careful and put some extra effort into it. Now the question is how to do that properly?
Well, to clean the bathroom, you will be needing a strong and efficient surface cleaner and disinfectant agent. The good news is; bleach can do both for you. And in this article, we are going to discuss how to clean bathroom floor with bleach, effectively. So, without further due, let's start the discussion.
Why Use Bleach To Clean Bathroom Floor?
It's better to have a clear idea about the agent you are going to work with. So bleach is basically a chemical that can remove stains, brighten up the color of the surface and eliminate germs by oxidization. It comes in separate forms like liquid bleach, powdered bleach, chlorine bleach etc.
When bleach is applied on a surface, through its oxidization ability, it breaks the chemical bonds of the particles and causes them to disband. That ensures losing the functionality of that particle.
Thus, it disbands germs and other nasty particles of the floor and makes that place clean and sanitized. For this supreme ability to disinfect, we have chosen bleach to be the most effective surface cleaner, especially for bathrooms. Now, let's see how should we apply bleach on bathroom floors.
How To Clean Bathroom Floor With Bleach?
Always remember the fact that chemicals have forward and backward actions at the same time. If not applied properly, then it can give you the opposite result of your expectations. So knowing the proper process is necessary. But don't worry, we are here to help you. Just follow the instructions properly.
All you have to do is:
→ First things first, remove all the removable objects from your bathroom floor. Like trash cans, portable shelves, mats etc.
1. Direct Cleaning
Then there are two methods basically one is direct cleaning with the solution and the other one is spray cleaning.
So when you are thinking about cleaning directly with a bleach solution. 1st wipe the floor with a clean cloth or towel. You can also rinse the floor a bit and then clean with a towel. Then take a gallon full of warm water and mix half or two-third cup of bleach with that. Stir well to dissolve the bleach in the water.
Then spread the solution all over the bathroom floor and let it rest there for around 5-7 minutes. Then wipe the floor again and rinse it off, when dried off, you will have a perfectly sanitized bathroom floor.
2. Spray Cleaning
Now for the second one, that means spray cleaning, mix 1 tablespoon of bleach with two liters of water. Then take that solution in a spray bottle. Spray it on the floor thoroughly on the floor and let it rest for a minute or two. Then wipe it off immediately.
To get the most of this method, distribute your bathroom floor in different sections. Spray clean one section at a time. With this spray solution, you can clean your basin, mirrors, bathtub or bath chamber and even toilet bowl as well.
→ After the initial cleaning, you might see some strains are still left on the floor or the disgusting molds or mildews are yet to be removed. Don't worry, bleach has it's own treatment policies for them as well.
Take a similar portion of bleach and water in a cup or small container. Mix it well and spread that solution on the molds or strains. Let the solution rest there for 5 minutes. Then take a brush and rub it off completely with the brush. Rinse again with water. For tough molds and strains, you have to put some more elbow grease.
→ Bleach can also remove the disgusting odor of your bathroom.
→ If you are using any commercially produced bleach product then go through the instructions of that product thoroughly and apply that accordingly.
Safety Measures
While you are using bleach for cleaning your bathroom floor, you must undergo some very basic safety issues. Like:
Ensure the bathroom's ventilation while cleaning the bathroom with bleach. Let open airflow or turn in the exhaust fan.
Never mix bleach with any ammonia solution or cleaner. Plain water will do just fine.
Put on rubber gloves and boots while applying and cleaning with bleach.
While making a bleach solution try to maintain the proper ratio exactly.
Keep your children and pet away from the area that you are cleaning with bleach.
Frequently Asked Questions
1. Can you use bleach to clean bathroom floors?
Yes, you can. But you have to do it properly and accordingly. To help or guide you with that, we have provided step by step instructions of that up above. Make sure you check that.
2. How do you bleach a bathroom floor?
There are basically two methods, cleaning with bleach solution directly or spray cleaning with bleach. Both of the methods are effective if applied properly.
3. Do you need to rinse after cleaning with bleach?
Yes of course! It is a must to rinse after cleaning with bleach. Rinsing will ensure no remaining of any extra strains of bleach.
4. How do I clean my bathroom with Clorox bleach?
Take 1/3rd cup of Clorox bleach and mix it with a gallon full of water. Then mop the floor with the solution. After mopping, rinse the surface with clean water.
Final Words…
We have discussed the steps of disinfecting floors with bleach before, but today, we emphasized on the bathroom floors.
Bleach is a very handy and effective germ-killing agent for floors, especially bathroom floors, only if it is used properly. If not, then it can turn into your biggest nightmare. As it is a very strong chemical, it requires specialized usage.
Here we have shown how to use bleach to clean bathroom floor effectively. There are several methods mentioned for treating your bathroom floor with bleach properly along with necessary safety measures. So, we hope that, after reading this article, cleaning the bathroom floor with bleach won't be any challenging issue for you at all.
She is a proud mother of three children. Married for 25 long years! She is the perfect Admin & Editor in chief for this site. She will be sharing her life long experiences with us.