As an Amazon Associate, I earn from qualifying purchases. There is no extra cost to you. Thank you if you use our links; we appreciate it!  Learn More.

We all know how important garbage disposal is when it comes to clean up the kitchen. But we also admit that too much use of garbage disposal creates annoying odor. Sometimes it becomes so awful that it put us in an embarrassing situation.
The reason behind this bad smell is quite common. Strongly scented food items like onions, garlic, gingers, etc. may generate bad odor from the garbage disposal.
Sometime, the bad smell may come out if you don't clean it for a long time.
Whatever the reason, if you find yourself in such a situation, don't get too much worried about it. Because most of the time, garbage disposal remedy is found inside your home.
Now that I have talked a lot about bad odor from the garbage disposal, you might be thinking of how to get rid of smelly garbage disposal easily.
And today, I decided to take the chance to walk you through my comprehensive guideline on how to get rid of garbage disposal smells in your kitchen.
Top 10 Ways Of How To Get Rid Of Garbage Disposal Smells
Well, you might know that there is a lot of garbage disposal remedy available to get rid of bad smells. But today I will share with you the top 10 methods to clean up your garbage disposal.
1. Dish Soap and Water

It is one of the easiest methods to get rid of garbage disposal smells in your kitchen. Just follow the below steps;
At first place puller of rubber or steel inside the drain.
Now fill half of the sink with hot water.
Then add some liquid dish soap there.
At this point, mix the water and soap thoroughly.
And finally, remove the drain puller and dispose of the garbage.
This method works great as combined hot water and mild soap drain away the residue from your garbage disposal.
2. Vinegar and Baking Soda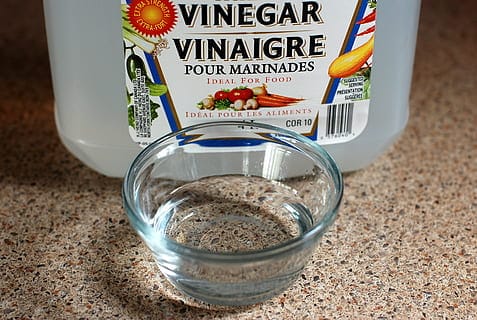 Cleaning up garbage disposal with baking soda and vinegar is one of the oldest methods. Also, this is a great method to apply as vinegar acts both as a bacterial killer and a natural deodorizer.
You need ½ cup of vinegar and ½ cup of baking soda to go through the cleaning process.
At first, load the drain with baking soda.
Then add half a cup of vinegar there to remove bad odors.
Let the mixture take 15-20 minutes to sizzle.
After the sizzling, turn the garbage disposal on and 1 minute of hot water from the tap.
And lastly, keep in mind that you shouldn't use vinegar frequently to remove garbage disposal. Because it can harm your disposal's rubber portion as it's highly acidic.
How to unjam Garbage Disposal?
3.Bleach

Bleach is an excellent product for smelly garbage disposal remedy. But you need to be cautious while using it.
To start the process, you should pour some mild bleach on the running cold water. Now let it sit in for an hour.
Once the bleach had time to soak, gently remove the rubber testing cap and allow the solution to drip in the patch.
This method will not only remove the bad odor but also dislodge any stuck food particles from your drain.
4.Lemon

Lemon is one of the most amazing gifts of nature. It is used for various purposes and garbage disposal has its use too.
At first, cut the lemon into small pieces and throw them into the disposals while it's grinding. You can use lime or oranges too in the process instead of lemons.
The scent of citrus will move away from the strongest stances from your garbage disposal.
I like this method a lot for its low cost and easy application. It's one of the best methods to apply for a stinky garbage disposal remedy.
5. Ice Cubes

Ice cubes are a great choice when it comes to cleaning the garbage disposals. In addition to removing the bad odor, it also sharpens the blades of your garbage disposal.
To start the process, throw some ice cubes into the drain. You can add some salt to make the cleaning extra fruitful. Now switch on the garbage disposal and let it around for 15-20 seconds before you stop hearing any sound.
Now that you have completed the process, any type of bad smell should go away from your garbage disposal.
6. Dislodging Slimy Residues

Kosher salt is a great cleaner when it comes to dislodging slimy residues from the garbage disposal.
Start the process by pouring a big cup of ice cubes and ½ cup of kosher salt onto the dirty drain. Now switch on the disposal and let it run for 15 seconds.
It should knock off the slimy residues which are causing the bad smells.
7. Schedule Flushing
You shouldn't wait for the moment when disposals smell bad, rather you should take preventive care to get rid of it.
Switch on the garbage disposal and for at least one minute run a dense stream of boiling water over it. That should be enough to move objects onto your house through the pipes.
This method is ideal for most of the people as it doesn't require buying any extra materials. You can follow this technique each time after running the machine.
8. Soak Up The Housing
While operating the garbage disposal you should always run the kitchen faucet. It helps the disposal to get rid of all the food particles trapped in the housing. When you find any bad odor coming from the kitchen sink appliances, it might be the perfect time to soak your housing thoroughly.
Commence the process by disabling the sink drain. Now fill the bath with water about halfway through and then apply a little vinegar or dish soap.
After that, open up the drain as the garbage disposal works. This drives away the soapy water through the housing, washing off its concealed crevices and nooks.
9. Wash The Visible Parts of The Disposals
Start the process by smearing a decent amount of washing soap onto your scrub brush or dish wand. Now scrub your garbage disposal's visible parts.
Be especially aware of the joint where the disposal rim meets the sink basin since small food particles and debris tend to be trapped there.
Though many people ignore cleaning the disposals' visible parts, sometimes it can be the main reason behind bad odor originating from it.
10. Deep Cleaning
After following different methods and getting no positive results, you may now be wondering about how to get rid of stinky garbage disposal as quickly as possible. This type of situation demands deep cleaning as your go-to solution.
Start deep cleaning by running hot water through the faucet for one minute. Now Use a wrench to detach the pipe below your sink from the garbage disposal.
Connect the rubber test cap to the pipe's underside which leads from the disposal. This method stops water from entering the pipe and helps you to soak it with a cleaning solution.
To perform this, keep a bucket under the rubber cap and pipe for catching runoff and spills. Now pass warm water into your garbage disposal till the level of water hits the top of the drain.
Next, add to the drain a half-cup of oxygen bleach powder and keep it for one hour. Once the bleach has had time to absorb, gently remove the rubber test cap and let the water drain into the bucket. And finally, connect your pipe again.
Frequently Asked Questions
1. Why does my garbage disposal smell like sewer?
There can be many reasons behind your garbage disposal smelling like a sewer. The most common causes are clogged disposal sink, P/S-trap turning dry and sewer ventilation problems. Gas leakage in the drain vent or trap can also produce sewer smell.
2. Why does my garbage disposal smell like dirt?
Stuck junk in the drain or garbage disposal may cause this problem. Another reason can be accumulated mild or mildew in your sink or drain. This happens if you place foods in the drain and don't run the disposal properly to wash out all the waste.
3. Why does my disposal smell bad?
Left out foods particles and waste are the most common reason behind this. If they aren't disposed properly, then inevitably there will be bad odors.
4. How do you get rid of smelly drains?
Start the process by switching on the hot water tap and run it for a few seconds. Now pour some vinegar and baking soda in the drain. And finally, drain all the substances on the garbage disposal running boiled water.
Final Verdict…
Those who love to cook deserve a great kitchen with a refreshing smell. But garbage disposals come as a disruption in the process.
Many of us get quite panicked when it comes to clean up stinky garbage. The big reason behind this is they don't have a perfect checklist on how to get rid of garbage disposal odor.
But discussed above are my favorites when you want to eliminate odor in garbage disposal. They are easy to conduct and you don't need to purchase any costly materials to run the process.
And finally what I want to mention is that taking necessary precautionary steps can solve the annoying thought of how to remove garbage disposal odor from your kitchen. So be a little bit proactive and cautious. It will minimize lots of your problems.
Amazon and the Amazon logo are trademarks of Amazon.com, Inc, or its affiliates.
She is a proud mother of three children. Married for 25 long years! She is the perfect Admin & Editor in chief for this site. She will be sharing her life long experiences with us.