As an Amazon Associate, I earn from qualifying purchases. There is no extra cost to you. Thank you if you use our links; we appreciate it!  Learn More.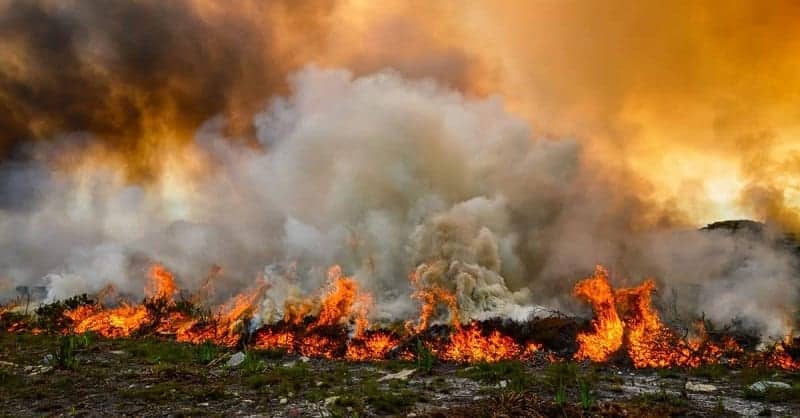 Imagine the sound of crackling flames and the smell of smoke filling the air, as a raging wildfire approaches your neighborhood. It's a terrifying thought, but it's a reality that millions of people face every year.
But don't panic, with the right preparation and knowledge, you can protect yourself and your loved ones from the dangers of a wildfire.
In this blog, we'll share essential tips and techniques to help you survive a wildfire at home.
A wildfire is an uncontrolled fire that burns in an area of combustible vegetation, such as a forest, grassland, or prairie. Wildfires can be caused by natural events, such as lightning strikes, but they are often caused by human activities, such as campfires left unattended, cigarettes thrown from car windows, or agricultural burning.
Read: How to survive a forest fire in a vehicle?
Wildfires can be destructive to homes and other structures, and they can also be dangerous to human life. They can also be beneficial for certain ecosystems, helping to clear out dead vegetation and allowing new growth to occur.
A wildfire can quickly become an emergency situation. If you live in an area that is at risk for wildfires it is important to be prepared. There are several things you can do to help protect your home from a wildfire including creating a defensible space and hardening your home.
How to Prepare for Wildfire?
If you live in an area that is prone to wildfires it is important to be prepared. First create a defensible space around your home by clearing away any brush and debris.
The easiest and most effective way to create defensible space is through landscaping. Homeowners should start by removing any dead or dying vegetation from their property. They should also trim back trees and shrubs so that they are at least 10 feet away from the house. In addition all flammable materials should be removed from the yard including woodpiles propane tanks and lawn furniture. Homeowners should also consider installing irrigation systems to keep their landscaping green and healthy during the dry summer months.
Next make sure all of your windows and doors are properly sealed to prevent embers from entering your home. Finally have a plan in place for evacuating your family and pets if necessary.
While wildfires can be terrifying if you are prepared and have a plan in place you can survive.
Here are some things you can do to prepare for wildfire:
Make sure your home is built with fire-resistant materials.
Clear any flammable materials such as leaves and branches from around your home.
Create a defensible space by clearing an area around your home that is free of flammable materials.
Have a plan for evacuating your family and pets in case of a wildfire.
Practice your evacuation plan regularly.
Keep emergency supplies such as food water and first-aid supplies on hand in case you have to evacuate quickly.
Close windows, doors and vents.
Cover fireplace with fireplace screens.
Close fireplace dampers.
Move flammable furniture into the center of room and away from exterior walls, windows or doors (exterior walls are usually made of wood).
Protect your valuables by storing them in a safe place such as an interior closet or basement, if possible; this may also be a good time to move any extra belongings off-site to a safer location.
Protect other property by moving it away from your house too—any item that could catch fire but is too heavy for you to lift should go into storage until after the fire danger has passed, when you can return safely to retrieve it yourself!
High winds will easily spread flames around homes and buildings so it's important not only that these items are moved away but also that they aren't close enough together where an ember could land on one igniting another nearby pile of debris into flames before anyone realizes what happened!
If there isn't enough time between now and when they leave then they'll need people there watching out for those kinds of events happening so they can act quickly enough before anything gets damaged beyond repair.
Tips For Surviving Wildfire At Home
Wildfires are scary, but they can be prevented. By following some steps, you can ensure your safety and avoid getting hurt in a wildfire.
Here are some tips for surviving a wildfire:
Stay calm, keep your family together.
Staying calm and keeping your family together is the best thing you can do when a wildfire threatens your home. If a wildfire is approaching, take these steps:
Stay Calm. Stay where you are until the danger has passed. If it seems like the fire is getting dangerously close, move to an area where the smoke isn't as thick and wait for instructions from emergency personnel or local authorities.
Keep Your Family Together: It's important to stay with your children at all times during a fire evacuation in case they become separated from you in any way; this includes leaving pets behind so that they don't get lost or injured trying to find their way back home (see below).
Have an Evacuation Plan.
The best way to ensure your family and pets are safe during a wildfire is to have an evacuation plan. The National Fire Protection Association recommends having two plans: a pre-plan (how you will evacuate if a fire approaches from outside the home) and a post-fire plan (how you will get out of the house if it catches on fire).
Planning ahead will help you be more prepared in case of emergency, but don't forget that there are other things besides fires that can make your home uninhabitable. Hurricanes, tornadoes, floods, blizzards—all are hazards common in certain parts of the country that require different kinds of preparation strategies. Think about these types of natural disasters when planning your evacuation plans so they cover all possible situations!
Now that we've got our strategy figured out…it's time to practice! Once every month is not enough; reviewing your plan should become part of your regular routine so everyone knows what their responsibilities are in case something happens suddenly!
Ready Your Home.
If you live in a wildfire-prone area, there are a few things you can do to minimize the risk.
First, maintain a 30-foot "defensible space" around your home. Remove dead limbs, leaves and anything else that could catch fire. Build a firebreak in your yard by clearing away any flammable materials such as grass or brush within 100 feet of the house. Trim tree branches so the lowest branches are 6 to 10 feet from the ground. And make sure there's nothing within 100 feet of your home that could burn if it catches on fire (like propane tanks).
Store Valuables and Important Documents.
Store important documents in a fireproof safe. Documents such as birth certificates, passports and other identification information are extremely useful to have on hand if you have to evacuate your home. Make sure you keep copies at an off-site location as well, just in case something happens to the original copy.
Have important identification documents with you at all times. If you're evacuated from your home due to a wildfire, having things like your ID card or driver's license handy will make it easier for authorities to verify that it's really you who needs assistance and not someone trying to fraudulently claim that they're the owner of whatever house or car was affected by the fire. It also helps them get assistance faster so that everything can be sorted out before more damage occurs!
Store valuables somewhere away from home when possible — even if this only means storing them in another room within your own house until after evacuations have passed; this'll both protect what could otherwise be lost forever (if left unattended) AND save time later on when claiming insurance coverage/damages related thereto (if possible).
Keep Your Vehicle Gassed Up and Ready to Go.
Have your vehicle gassed up and ready to go at all times. This can save you a lot of trouble if you have to evacuate, especially if you get stuck in traffic.
If you do have to evacuate, make sure that someone is staying behind with the car loaded with supplies for yourself and others who need them.
Pack an Emergency Kit for Your Pets.
You'll also want to make sure you have a three-day supply of food and water, as well as bowls. It's also important that you don't forget medications and medical records, so be sure to pack those too! Lastly, include any important information about the pet's feeding schedule and any medical conditions.
Know When to Evacuate – Listen and Watch for Warnings!
If you live in an area that's prone to wildfires, you may want to take extra precautions when it comes to keeping your family safe. You can do this by quickly checking on the nearest evacuation notices, or following these tips:
Know When and Where to Evacuate
Check the Fire Danger Conditions Near You
Keep an Emergency Supply Kit on Hand at All Times
Prepare for Natural Disasters with a Family Disaster Plan
Preparing for Wildfire Smoke.
Don't let the smoke fool you. It may seem harmless, but wildfire smoke can be dangerous to your health.
Keep doors and windows closed as much as possible. If you need to open them, make sure they're well-sealed with tape or a towel.
Listen for news reports about how bad the smoke is in your area—you want to know when it's safe to go outside again!
Stay indoors as much as possible. Make plans with friends or family members who live further away so that you have someplace else to go if there are no other options available where you live.
Keeping a list of emergency numbers.
Keep a list of emergency numbers:
Family or friends
Pet care (veterinarians, kennels)
Insurance agencies that may be able to help in case of fire damage, flooding and other disasters
Plan a place to stay if your home becomes uninhabitable. If you have time before the fire strikes, find out where local shelters are located. If there is no time and you must leave immediately, plan where you will go (relative's house?) or how far from the fire zone you can get safely.
Make sure that everyone knows what evacuation routes are available and how to find them.
Find out where your power lines are buried before running for safety; you don't want to trip over them when trying to run away from flames!
Practice evacuating from your home with your family once every year so everyone knows what they're doing when it comes down to it!
Evacuating safely.
As you may have heard, wildfires can be dangerous. If you're not living in a fire zone already, here are some things to consider before evacuating:
Know your evacuation zone.
Know your evacuation route.
Know your evacuation time.
Have a plan for what to do in case of an emergency (e.g., call 911) and who comes with you on your trip out of town!
For those who live in wildfire-prone areas, here are some other things to keep in mind before evacuating:
Where will you go?
How will you get there?
What can/should you bring?
What should stay behind?
Staying in touch with loved ones.
Have a plan to communicate with your loved ones, neighbors, pets, community and your local government.
Returning home.
Check with local authorities before returning home.
Your home may be damaged and could start burning again, even if it has not been touched by the fire. This can happen when high winds blow hot ash and embers onto your roof or into tree branches above your house. You should wait until a fire official says it is safe for you to return home and when the local authorities have deemed it safe for utilities to be restored (water, gas, electricity).
Do not enter any building until a trained professional has determined whether or not it is structurally sound enough to withstand potential damage from heavy winds or rainstorms forecasted for later in the day.
Fill sinks and tubs with cold water.
If you can, fill your bathtub, sinks and any other large containers with water. You'll want to use the water for extinguishing small fires — such as burning clothes that have caught on fire — and keeping yourself cool in the event of a larger fire. It's also important to keep your home's temperature down by using large amounts of cold water to dampen walls as they heat up during a wildfire or after a fire has occurred.
Keep doors and windows closed, but unlocked.
If you're at home, keep doors and windows closed. This will help keep the smoke out. It may also prevent the fire from spreading.
Make sure your cell phone is charged (or use a land line). If you have time, make sure all family members have phones with them so that they can be tracked if separated during an evacuation or escape from the house.
Stay away from outside walls and windows.
When you're indoors, stay away from windows and outside walls. Also avoid trees, plants, power lines and the roof.
If you are in an attic or basement, get out as soon as possible—there is a greater risk for these spaces to fill with smoke or flames than other parts of your home. If it's not safe to leave right away, go into your crawl space where there is no wood around (a metal ladder can be used to climb down). In garages with attached houses: stay near the door of the garage until firefighters tell you it's safe to leave; if there's smoke in garage, escape through another exit such as front door or even window if possible.
Stay inside your house.
If you are in a home and feel threatened by wildfires, stay inside.
As the fire approaches, stay away from windows and outside walls. Also, be sure to make sure that all doors are closed tightly.
If possible, make plans with your family on how to get out of the house safely if necessary. You should have an escape plan for every member of your family that includes not only where you would go but also what items each person will bring with them as they leave (for example: car keys, wallet/purse).
Keep phones charged so that you can call 911 if there is no internet or cell signal available in your area.
Have a battery-operated radio so you can listen for information about the fire and its path toward your home; if it's safe to leave at any point during an evacuation period (before officials declare mandatory evacuations), then having a way to know when it's safe makes things much easier for everyone involved!
When you do, don't worry about other details right now. First, focus on getting out of harm's way. Once you've escaped, then you can focus on what to do next.
In a car: Stay in your car and roll up all windows and pull over to the side of the road. If possible, park as far from vegetation as possible and turn off your engine and lights—this will reduce visibility for firefighters trying to get to you safely. You may also want to consider putting reflective triangles or flares around your vehicle so that emergency responders can see it easily at night or in bad weather conditions (like smoke).
If you're outside: Get down low immediately and stay there until emergency personnel arrive—don't try moving unless necessary for safety reasons (like moving away from smoke). If possible, take shelter in an enclosed building nearby if one is available; otherwise look for natural cover like bushes or trees before taking shelter against walls near buildings with good fire ratings (check out FEMA's recommendations here).
If you have not left your home yet and someone in your neighborhood is calling for help, and you are able to help them without putting yourself in danger, do so.
In the event that you are still in your home, and someone in your neighborhood calls for help, you can do several things:
Call 911 to let them know that someone is calling for help and needs assistance.
If it is safe to do so, try to provide assistance by driving them out of the area or providing shelter until firefighters arrive.
If You Have Not Left Your Home Yet And There Is No One Else In Your vicinity who needs help and you can safely leave your home, call 911.
If you have not left your home yet and there is no one else in your vicinity who needs help and you can safely leave your home, call 911. Call 911 if you see someone who needs help or a fire. Call 911 if you see smoke, flames, or a fire truck that is not moving.
Having a plan in the case of an emergency like wildfire can save your life
It is important to know your home's safety features before a wildland fire threatens you. Think about how you would get out of your home if you had to. Do you have an escape plan and a meeting place if it's time to evacuate? Do all adults practice their escape plan twice a year? Have teens practiced the escape plan with their parents or guardian?
Most importantly, have a way to keep in contact with each other while traveling outside during an evacuation order. This can be as simple as having someone outside each house meet up at the same spot where they will reunite if they get separated while trying to leave town safely.
If there is more than one person in your household, make sure that everyone has copies of important documents such as photo IDs, birth certificates and health records for children under 18 years old (and pets!). These documents should also be stored electronically so that they can be accessed remotely without being destroyed in case of fire or flood damage.
If you live in a wildfire-prone community, having an evacuation plan is important.
If you live in a wildfire-prone community, having an evacuation plan is important. If wildfires threaten your home, there may not be time to pack important items and drive out of the danger zone.
If you have decided that it's best for your family to leave along with other people, manage expectations about what will happen next by letting everyone know what their part in the evacuation process is: where they should go and when they can expect to arrive there.
What To Do During A Wildfire?
What should you do during a wildfire? When in doubt, evacuate.
If you live in an area that's prone to wildfires and you have a wildfire warning in effect, your first step should be to stay inside. Close all windows and doors, even if it's hot outside. This will help keep the smoke out of your home. If there are any animals living in the house with you, make sure they're locked up safely away from any open windows or doors.
Next, stay away from the windows! Keep calm: trying to figure out what's going on outside will only make matters worse by exposing yourself or others unnecessarily to harmful gases like carbon monoxide or hydrogen cyanide (known as "smoke").
Instead of opening windows or even looking at them for too long out of curiosity about where the fire is headed next—this will just increase exposure time for toxic fumes coming off burning materials such as trees and shrubs which can cause serious health risks including respiratory problems later down the line once carbon dioxide levels return back below normal levels again after having reached dangerous heights during a high-intensity stage like this one currently happening now due today being Tuesday morning around noonish time zone which means…"
If you are ordered to evacuate, bring essential items with you. These items should help keep you safe and comfortable, including:
Water—at least 1 gallon per person per day (3 gallons for children)
Food—non-perishable food, enough to last 3 days
Medications—a week's worth of any prescription medications plus over-the-counter medicine that relieves allergies or pain. Also bring a list of all medications taken by each person in your household on a daily basis including dosage and frequency of use.
Important documents—copy of identification cards such as driver's license, social security card, military ID card; birth certificates; marriage license; deeds/lease agreements; wills or other estate planning documents; insurance policies listing addresses where the policyholder lives and if they have an alternate mailing address outside the evacuation zone (if so indicate what it is); pet records showing veterinarian contact information
What should you never do during a wildfire?
Never leave your home without a plan.
Never leave your home without your pets.
Never leave your home without a list of emergency numbers.
Never leave your home without a flashlight and battery-powered radio.
Never leave your home without a working fire extinguisher
You should never try to outrun a wildfire, drive through a wildfire, fight a wildfire, or put out a wildfire. That's right: there are no good outcomes if you do these things.
You should not call 911 during or after a wildfire unless you are in an active fire zone and need help getting out of the way of it, or if your home is on fire.
You should also avoid calling 911 from any location when you are not near an active fire zone.
How do you keep your lungs healthy in a wildfire?
There are a few ways you can protect your lungs from smoke and ash during a wildfire.
Avoid smoke and ash. If you are in an area that has been evacuated, follow the instructions as given by emergency authorities. If you're not sure if you need to evacuate, remember that it's better to be safe than sorry. Keep windows and doors closed as much as possible, but don't lock yourself indoors—fleeing the dangers of smoky air is far more important than keeping debris out of your home!
Use a wet cloth over nose and mouth while outdoors or in smoky areas (if no water available, use damp shirt/towel). This helps filter some of the particulates found in wildfire smoke; however this will only be effective for short periods before needing fresh air again so don't forget about ventilation methods!
Conclusion
Remember that the first rule of being safe during a wildfire is to never panic. While you should be prepared for the worst, trust that local authorities will do everything they can to keep you safe. At home or while driving, take steps to protect yourself and your loved ones, and don't put yourself in danger. Once outside, stay away from traffic and find shelter if possible.
If caught up in a wildfire with no way out, lie flat on the ground in an area without vegetation and cover your nose with your shirt to help filter smoke inhalation. Always remember to not panic and stay calm during these types of emergencies as this will ultimately help save lives!
Read More:
Amazon and the Amazon logo are trademarks of Amazon.com, Inc, or its affiliates.
She is a proud mother of three children. Married for 25 long years! She is the perfect Admin & Editor in chief for this site. She will be sharing her life long experiences with us.