As an Amazon Associate, I earn from qualifying purchases. There is no extra cost to you. Thank you if you use our links; we appreciate it!  Learn More.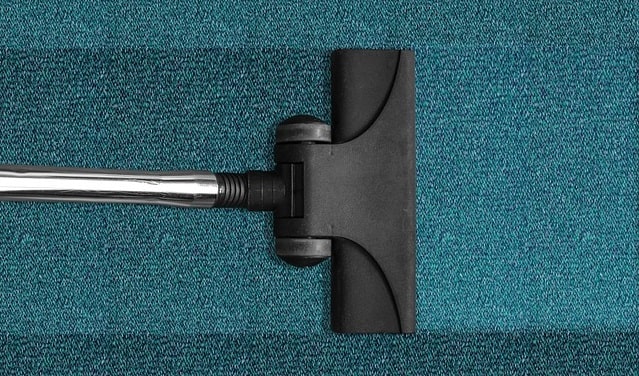 Floor carpets, a very handy and necessary accessory for the house owners. It does not only protect the flooring of the house, but also adds to the aesthetic value of the room. It ensures comfort also.
Now, as the carpet is laid on the floor, it has to go under a lot of static pressures and dirt. Like, when you have a floor carpet placed in your living room, you have to walk on it to pass through the room. Like that, many other dirt and germs attack the carpet regularly, including your pet.
Now, wherever the germ lies, that must go through the disinfection process. But if you are wondering about how to disinfect carpet without involving some outsiders…! Then you are in the right place.
Because we are going to talk about the disinfection process of carpets here, along with several ways to do that. So let's jump right in.
Is It Necessary To Disinfect Carpet On A Regular Basis?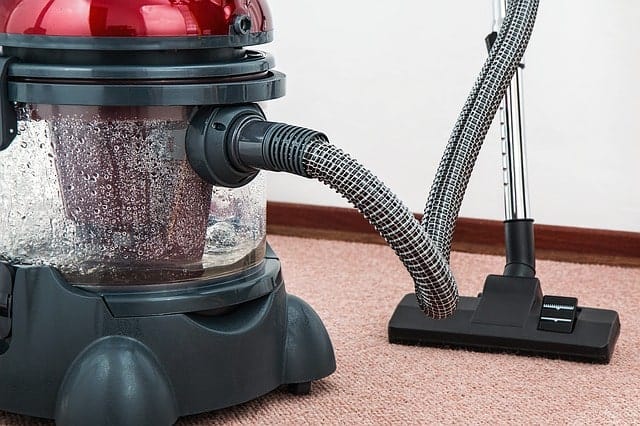 Yes, without any doubt, the answer to this question is a big yes.
But here regularly does not refer to daily.
You have to clean your carpet daily, but if you are talking about disinfecting it, then you should do that once or twice in a month.
Now, it is necessary to disinfect floor carpets because it deals with a lot of dirt, germs, and bacteria every now and then. So, if it's not disinfected or sanitized properly, then it can turn into the root cause of many diseases for your family members.
Then again, frankly speaking, it's not a really easy job to disinfect carpets. But we will show you different methods, which will save both your time and effort. Additionally, the elements that we will suggest for the disinfecting process are very much available. So you won't have to worry about getting those as well.
So let's get straight into how to clean a carpet.
Read: How To Get Dog Poop Out Of Carpet?
Some Effective Methods Of Disinfecting Carpet
The disinfection process varies according to the subject material. That is why, we have combined such elements, which are generally applicable for all types of fabric carpets. Now let's see the processes.
1. Disinfecting Carpet With Steam Cleaner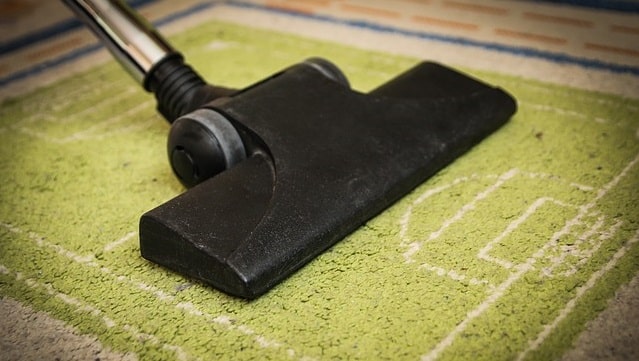 Using a steam cleaner or Steam mop is undoubtedly one of the finest ways to disinfect your carpets. This very machine not only disinfects your rugs, but also keep your carpet looking and smelling fresh.
Now to do the sanitizing you will be needing a steam cleaner, vacuum cleaner, white vinegar and freshwater. Then get a spray bottle take similar parts of vinegar and water in it. Give it a couple of good shakes to make the solution. Then spray the mixture lightly on the whole carpet. Let it sit there for around 5 minutes, until the vinegar is air-dried completely.
After that, again, take three parts of water and one part of vinegar in a jar and mix it well. Then pour the mixture in the steam cleaner's detergent vessel. Now take the cleaner and run it all over the carpet, according to the machine's instruction. When done, let it air dry, open the doors and windows if necessary to ensure proper ventilation. When the carpet is completely dried, vacuum it with a vacuum cleaner to restore the looks of the carpet.
Read: Can You Put Disinfectant In your Steam Mop?
2. Disinfecting with Borax, Baking Soda and Cornmeal
In this method, you will be needing borax, baking soda, cornmeal, white vinegar, steam cleaner and a vacuum cleaner.
Take a dry container and pour ½ cup of borax, 1 cup baking soda and 1 cup of cornmeal. Mix it well and sprinkle the mixture powder all over the carpet. Use a soft cloth to tub the mixture through the carpet. Let the mixture sit there for overnight and expect it's magic in the next day morning.
The next day vacuum the powder with a vacuum cleaner. Then again take a mixture of three parts water and 1 part of vinegar in the steam cleaner. Then move the steam cleaner all over the carpet. When done, vacuum the carpet again to restore its freshness. And by that, you have a perfectly sanitized carpet.
3. Cleaning With DIY Disinfector
Here you will be needing baking soda, Himalayan pink salt or ordinary salt, vinegar, tea tree oil, water and a vacuum cleaner.
First, take a bowl of baking soda. Sprinkle the soda all over the carpet thoroughly. Then let the soda sit on the carpet for 30-45 minutes. Meanwhile, take a spray bottle and create a mixture of similar portions of water and vinegar in it. After that, add 20 drops of tea tree oil in it. Tea tree oil is a natural disinfectant.
So if you are looking for how to disinfect carpet naturally? Then, then this DIY cleaning is your solution.
After preparing the mixture, take some pink salt or any regular salt and sprinkle it on the carpet again. Let it rest for 5-10 minutes. Then do a rough vacuum cleaning. After vacuuming, take the spray bottle and spray the mixture gently all over the carpet and leave it for air drying.
When dried properly, then vacuum thoroughly the whole carpet. And yes, you will have a perfectly sanitized carpet using natural ingredients.
How To Disinfect Carpet Without Steam Cleaner?
As we have seen, a steam cleaner is a very handy equipment in the sector of disinfecting carpets. But what if you don't have a steam cleaner? Are there any ways to sanitize carpet without steam cleaner?
Yes, there are, just you have to swell a little bit more elbow grease.
The ingredients are quite the same as before just with a few editions. You will be needing white vinegar, baking soda, dish soap, bucket, a scrubber/scrubber brush, clean cloth and a vacuum cleaner.
When you are ready, sprinkle the baking soda generously throughout the carpet. Let it sit for 15-20 minutes. Meanwhile, take the bucket, put equal parts of water and white vinegar in it and lastly add a couple of drops of dishwashing soap. Now soak the brush in the solution and scrub it through the carpet. Keep in mind that the carpet should not be soaking wet, but it must be damp. Then let the mixture sit there for 5-10 minutes and do its work. Then rinse the carpet with water and clean cloth.
After that let the carpet air dry completely. When done, vacuum through it with a vacuum cleaner to restore its texture and looks. And by that, you have a perfectly sanitized carpet, without using a steam cleaner.
Some Professionals Tips
While you are disinfecting your carpets regularly, you should also bear a couple more things in your mind, which will take your disinfection process to the next level and ensure maximum success. Like:
When you are up to introduce any new disinfection method to your carpet, first apply it on a small area of the carpet. If any distortion found within that small area, then you must move to another method.
Never make your carpet soaking wet while applying liquid mixtures.
If the carpets are small in size then simply put them in the washing machine and wash with disinfecting detergent.
Apart from such disinfecting, give your carpets some sunbath once in a while.
Never, we repeat… never expose bleach directly to your carpet.
Frequently Asked Questions
1. How can I disinfect my carpet naturally?
This is pretty simple, all you have to do is use natural ingredients other than any artificial disinfectants. For better understanding, please go through our above mentioned DIY cleaning method. And besides that, once in a while, lay your carpet under direct sunlight, that will help too.
2. Can I use Lysol disinfectant spray on the carpet?
Yes, you definitely can. Spray thoroughly on your carpet, in a wiping motion and let it air dry completely before sitting down or walking on the surface.
3. Can you use disinfectant spray on carpet?
Yes, you can, but not all types of disinfectant sprays are suitable for carpets. But disinfectant sprays of renowned brands like Lysol, Rug Doctor can be used on carpets without any worries.
4. What can you use to disinfect carpet?
You can use authorized disinfectant sprays or household items like white vinegar, baking soda and steam cleaners to disinfect carpets.
5. How do you kill bacteria in carpet?
By following proper disinfecting processes for carpets. We have mentioned multiple methods above regarding that. You can pick any of those or any other method that you found from other trustable resources.
6. Does Rug Doctor sanitize?
Rug Doctor is a very popular brand, which produces several carpet cleaning materials. They do not sanitize your carpet directly but products like Rug Doctor Anti Bacterial carpet cleaner will do that for you.
The Bottom Line…
Sanitizing or disinfecting a carpet is no big deal if you know the proper methods and pick out the proper and effective elements. In this article, we depicted several effective methods regarding the query how to disinfect carpets.
You can apply any of the mentioned processes properly and accordingly, we can assure you of getting the maximum positive results.
Also, as it is about the safety of your family's health condition, we have tried to provide you with the best possible ways to do it.
Amazon and the Amazon logo are trademarks of Amazon.com, Inc, or its affiliates.
She is a proud mother of three children. Married for 25 long years! She is the perfect Admin & Editor in chief for this site. She will be sharing her life long experiences with us.