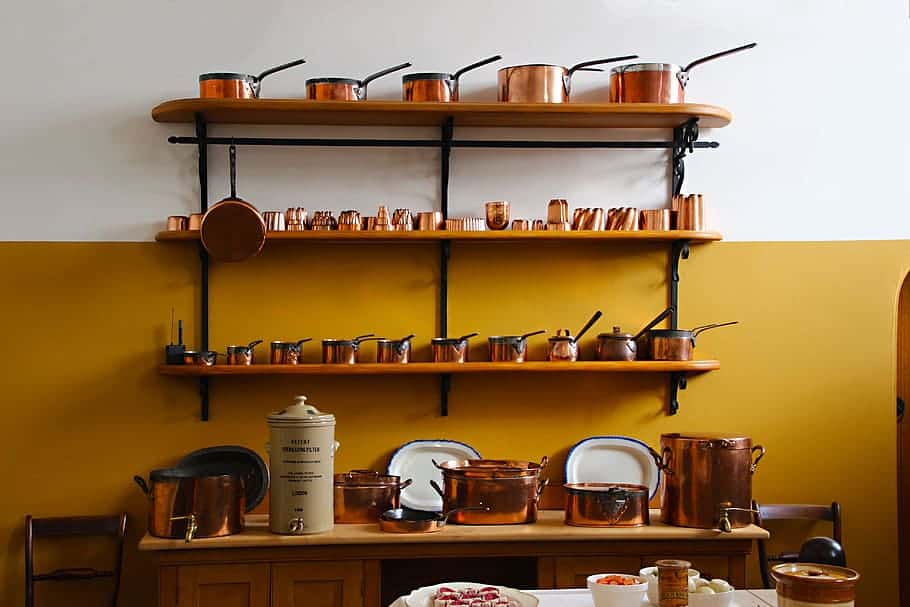 Now, we have met friends and family who despise the idea of lining their kitchen cabinets, shelves or drawers because they either measure it wrong, buy less paper or more, get frustrated with the time and effort, and swear at the top of their lungs, but hardly give up the idea of a lining. This is something our moms have been doing for years, so we must do too. We gathered up ideas from moms and enthusiastic, successful-in-lining housekeepers about the best way to line kitchen cabinets and drawers, and here we are with today's article.
The Best Ways to Line Kitchen Cabinets and Drawers
We have split it into 3 sections, lining from shelves, cabinets, and drawers:
How to Line Kitchen Shelves?
The shelf liners make your kitchen look pretty decent and clean after you are done with the job. But before that, you will need to follow the steps: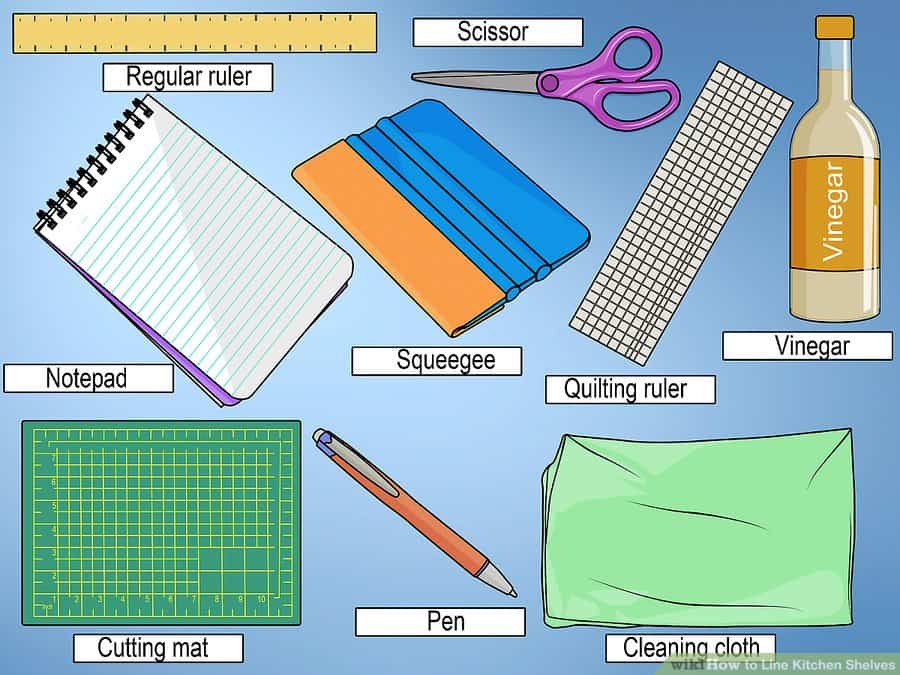 You will need your supplies before cutting. Get your hands on scissors/rotary cutters, regular/quilting rulers, a notepad and pen, vinegar or cleaning agent, a cloth, and the liner itself will do for now.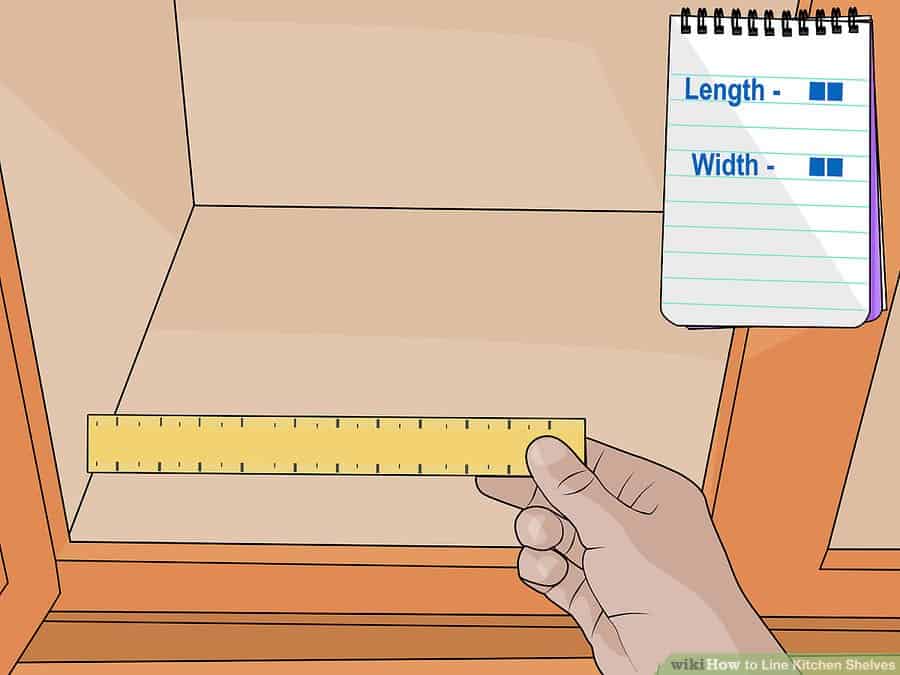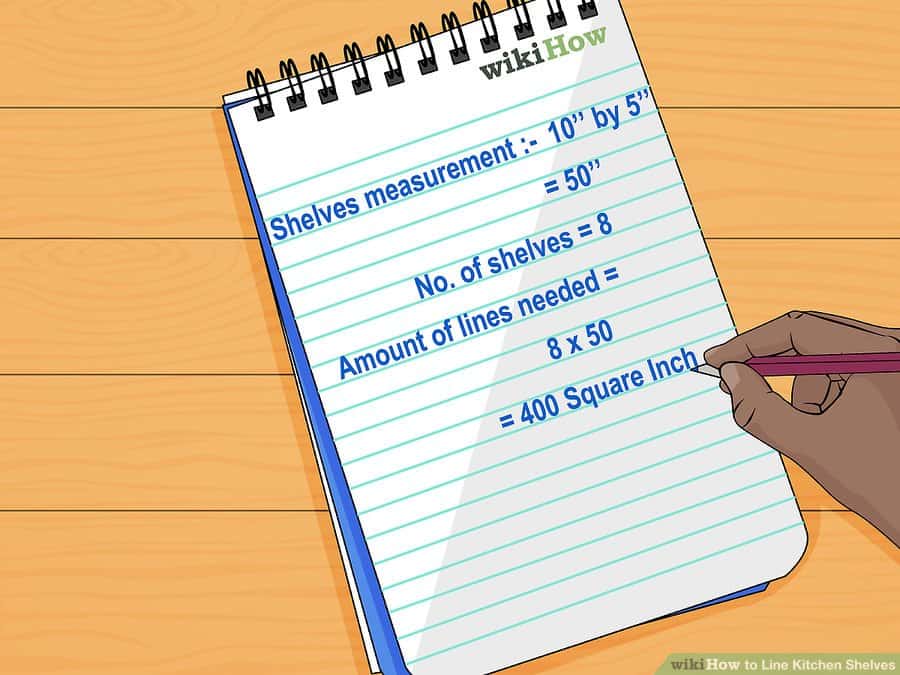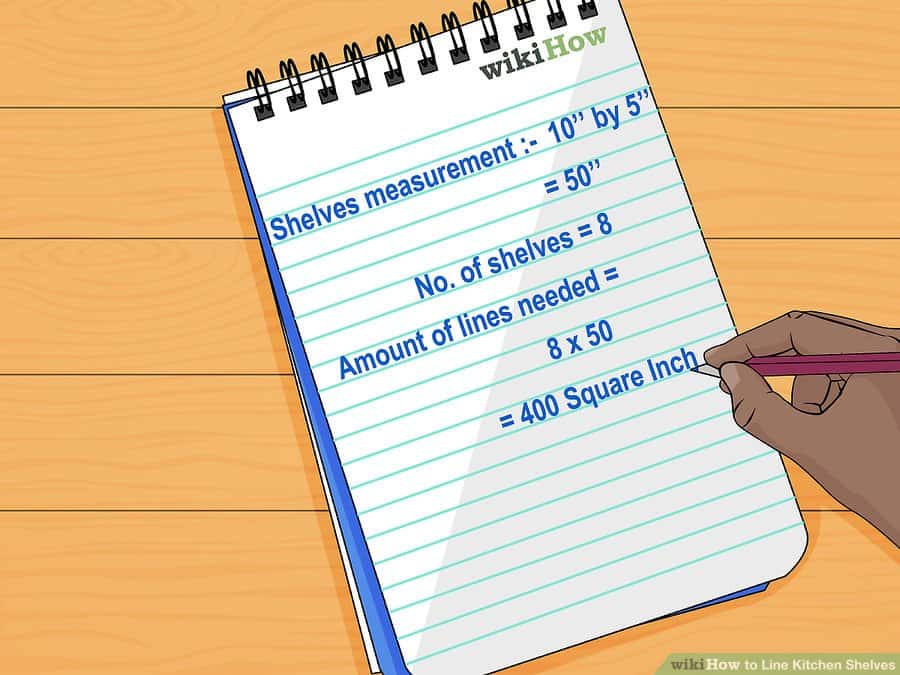 You will have to measure the length and width of the shelf and take notes on the notepad. Multiply the measurement with the number of shelves, and you will get the square inches of liner needed. Since this is an estimation, bring a tiny bit more from the market when you are out there. Contact papers with decor on one side and adhesive on the other is the most accessible shelf liner. You can also use non-slip paper/ sponge or ribbed plastic to line the shelves.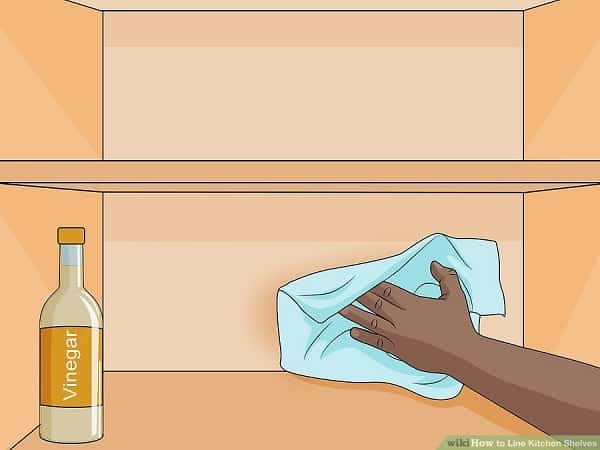 Take everything out from the cabinet and clean it with a cleaning agent or diluted vinegar and scrub it with a toothbrush if necessary, making it squeaky clean.

Air-dry the shelf and at the same time, measure and cut the liner using the quilting ruler as a guide. Carefully place it on the shelf, use a squeegee to flatten out bubbles. Use putty on the corners before mounting plastic liners on top.
Another economical way to line your kitchen shelves is to use self-adhesive floor tiles. It is also easy to clean. Otherwise, you can use wax paper instead of expensive shelf liners.
How to Line Kitchen Cabinets?

Lining old kitchen cabinets can be natural if you know which steps to follow. The necessary steps are just as above, and you will need the same regular supplies. But instead of a shelf liner, you will now be lining cabinets. You can use peel-and-stick Vinyl tiles. It hardly gets beat up or wear-and-tears or even looking gross.
If you have had adhesive liners before, you can also replace it with the tiles. You'll need a utility knife and cleaning supplies before using your newfound gem. If you never had any, simply clean things our, measure, attach, and done! Other than these, non-adhesive liners are pretty high when it comes to medicine cabinets or glass cabinets when, in the latter, you would expect the wetness and the bubbles to be tackled better in your wooden cabinets.
How to Line Kitchen Drawers?
Lining drawers is a prosperous business too. We usually see people lining drawers with heavy-duty wrapping papers since it adds a bright, singular touch to your bland drawers. This is great if you have kitchen clothing such as aprons and gloves or similar stuff in your drawers. For this, you will need gift wraps/wallpaper/ fabric/ maps/scrapbook paper/placemats (so many options you can try!), straight-edge knives/blades, and scissors.
Take notes from the previously mentioned steps. Cut more than is needed, and placing it flat on the inner surface of your drawer, leave out the extra edge. Create a crease along the edge and holding it tightly down with a ruler, use a sharp blade to swipe and cut.
A perfectly cut paper will stay just like that, but if you need, you can use spray adhesives or double-sided tape.
For drawers that have food and containers with food, etc. you can try doing the same with plastic canvas sheets. Those are easy to wash, cheap, and last almost forever.
Reasons for Lining Kitchen Cabinets and Drawers
Lining kitchen cabinet/shelves is an important business for the following reasons:
1. It will help to prevent moisture attack on your cabinet and save it from water stains.
2. It will protect your cabinets from surface scratches and nicks.
3. The ickiness that spraying and scrubbing can't rid of can hide in safety under the lining.
4. Padded liners reduce and dampen the noisy slink of kitchen tools and utensils.
5. Cleaning wood surfaces becomes much easier for these.
6. Adds color and style to your kitchen shelves/cabinets/drawers or all.
Frequently Asked Questions
What is the best shelf liner for the cabinets of the kitchen, according to you?
Peel-and-stick vinyl tiles make the best, hassle-free cabinet liners.
Should you be using shelf liners in cabinets?
Of course, you can line it and should, if possible.
How do I keep non-adhesive shelf liner in place?
Cutting them in just the right measure can help in keeping the liners in place, or a little putty on the corners.
What is the point of using a shelf liner?
Protecting your shelf interiors.
Why do you line kitchen cabinets exactly?
Obviously, to make cleaning easier. Nothing harder than that!
Does the contact paper attract any bugs?
Not that we have heard of.
What do I use to line kitchen cabinets and shelves?
Read the article, please.
Why line my kitchen shelves?
They contain stuff that needs to be kept hygienic, so.
Is it necessary to line the kitchen cabinets?
Yes.
Conclusion…
Follow our guides and tips for the best way to line kitchen shelves. Now that you know how to line kitchen cabinet/shelves and drawers save yourself from the woe of stained cabinets and bland ones too. This time-tested kitchen tradition is well known to extend the shelf-life of the shelves and what better way to get rid of food crumbs and water stain than this! Rush to the market if you didn't already!
Read More
She is a proud mother of three children. Married for 25 long years! She is the perfect Admin & Editor in chief for this site. She will be sharing her life long experiences with us.