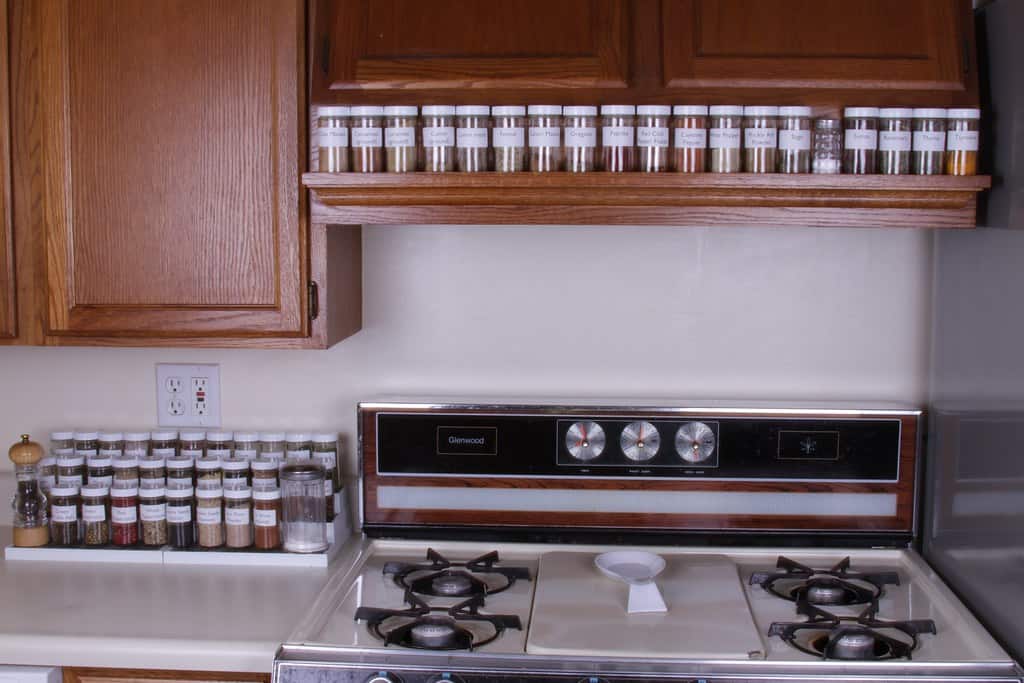 So, one morning you put on your slippers, stretch your body a bit and get inside your kitchen to make yourself a cup of coffee. Everything's peaceful as usual.
But after preparing the coffee, as you take a sip out of it while you lean against the wall, you roll your eyes a bit through your kitchen.
'Gosh! What have I done to my kitchen?' you start to get whispers in your head. Suddenly you realize, it's not the same kitchen when you first stepped into this house. At least, it didn't look this pale and stinky.
You can't just keep your kitchen like those lifeless drunks that don't take care of their houses? Just like your house looks crystal-rich, you want your kitchen to blend with that look as well.
It's time to end this once and for all and organize your kitchen.
But Wait! Do you actually know how you'll take care of all these things? That's when I make my entry along with the help. I'll tell you how to organize a kitchen and decorate it very easily.
So, what's keeping you waiting, let's dive in.
How to Organize A Kitchen?
Organizing your kitchen is no easy task unless you know the right ways. With these simple steps below, turning your kitchen into a top-notch one will be a walk in the park.
1. Start from the Zero
Remember when you got your cabinet for the first time? It was empty. Well, you got to go there one more time. Now I know you think that everything you kept inside the cabinet is important to you but to be honest, THEY'RE NOT.
Roll your eyes through the items and question yourself 'Do I really need it?'. You'll always find junks that are useless, yet they're eating up a lot of space inside your cabinet. These need to go right into your garbage list.
You need to do the same thing for your fridge as well. However, here's something extra you need to be aware of. Make sure you've switched off the electric connection of your fridge.
Since you want to make spaces, you'll need to purge all the things inside. Get rid of useless junks and keep the important things to somewhere else until you're done.
2. It's Cleaning Time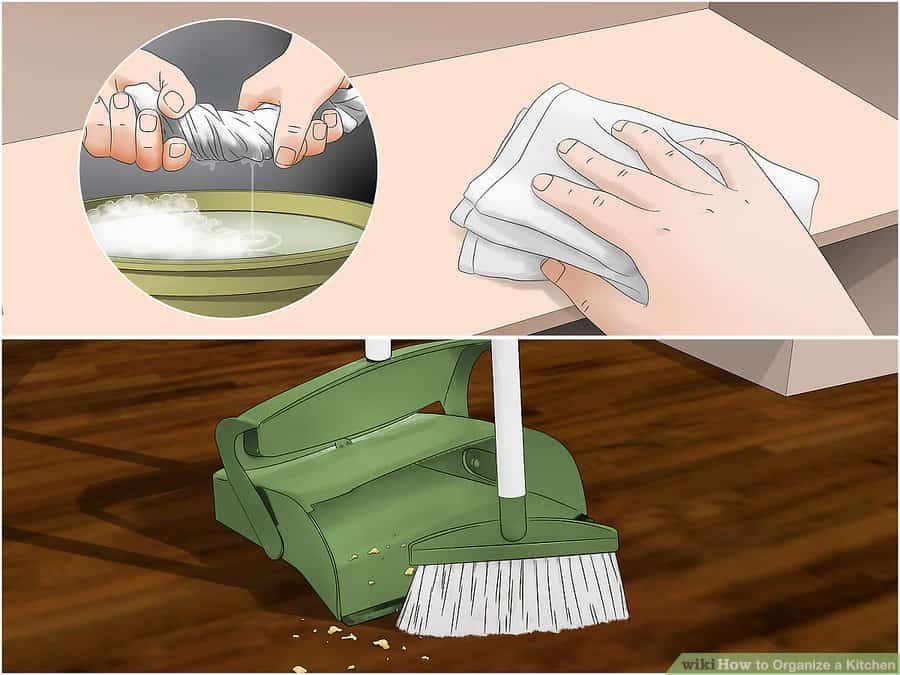 A shimmering kitchen is all you want. Clean the insides and the outsides of your cabinet along with all other appliances. After dusting them, dip a cloth inside water mixed with soap and wash all the parts of your cabinet.
As for your fridge, you can wipe its interior using cotton balls soaked in lemon juice. This will create a refreshing aura inside your fridge. It's important if you want to say the stinking smell goodbye.
Don't forget the sink though. Sometimes, your sink grows a lot of molds and mildews. You can try using a mildew cleaner and give your sink a good wash.
3. Decide Which One Goes Where
Done with the cleaning? See, it wasn't as hard as it looks. Now, it's time for you to make different zones for your utensils, let it be inside your cabinet or your fridge. No, all those different things piled up together won't work.
You need to divide coffee spots, places to keep the plates and bowls, spots to keep your cleaning materials into different sections.
Also, you can't jumble your pantry goods with other items. Make specific zones for them as well.
You're most likely to keep soda, milk, and other foods inside your fridge. Here, you'll need to do your math correctly.
Make sure you keep everything on its specific spot. For example, you can't keep milk where you keep pieces of meat. If you do it, you'll find soon that the milk has started to stink.
Simply put, you have to maintain each zone for each type of item. No more jumbling things around.
4. Positioning

Positioning your items is the next thing you need to worry about. The items you look for frequently should be on the eye level. This will let you pick them up whenever you need them within a blink.
You can keep the things you need to use once in a while, a bit further away. However, for everything, keeping enough room for easy access is a must.
Some see-through containers can be pretty handy for keeping cereals, rice, baking goods, and pasta. With these containers around, you'll be able to keep an eye on your pantries all the time.
You can store the pans and pots along with the lids somewhere where you can get access to the stove easily. If your stove has got drawers below it, the larger items should get enough room to stay nice and tidy.
I don't recommend keeping toxic materials inside your kitchen. However, if you're badly in need of keeping one, make sure you keep it in hard-to-reach areas. This will prevent your kids and toddlers from reaching it.
Keep the snacks and soft drinks inside your fridge in such a way that you can reach them whenever you need to.
You don't want your friends to pause the quality-time as you keep looking for the Cheetos and nuggets. If you keep the snacks in the door shelf, you can just grab them and go.
5. Keep a Trash Can
Your kitchen will always get messy and you won't be able to help it. So, it's always a must for you to keep a trash can. However, this is where you're the one who has to take all the responsibility.
No matter how messy your kitchen gets, make sure to put the wastes inside the garbage on a daily basis. You'll see your kitchen is having a top-notch look 24/7.
6. Utilize Some Hacks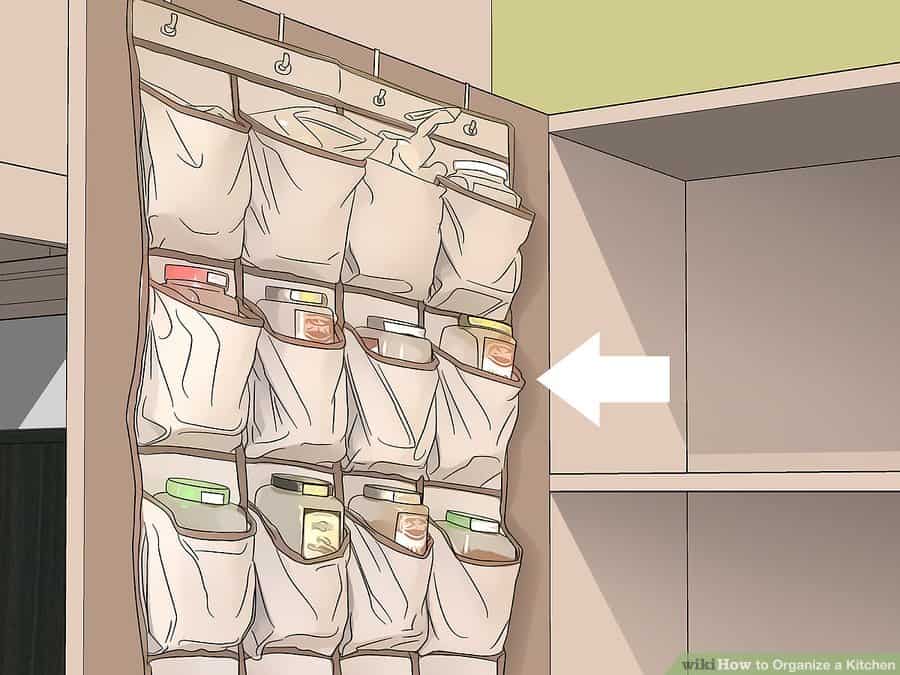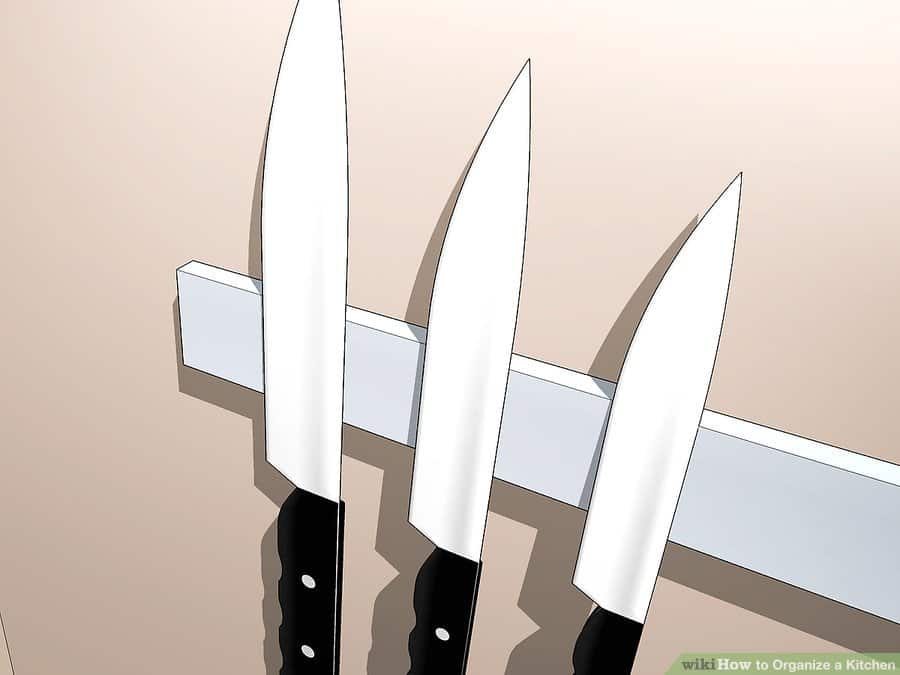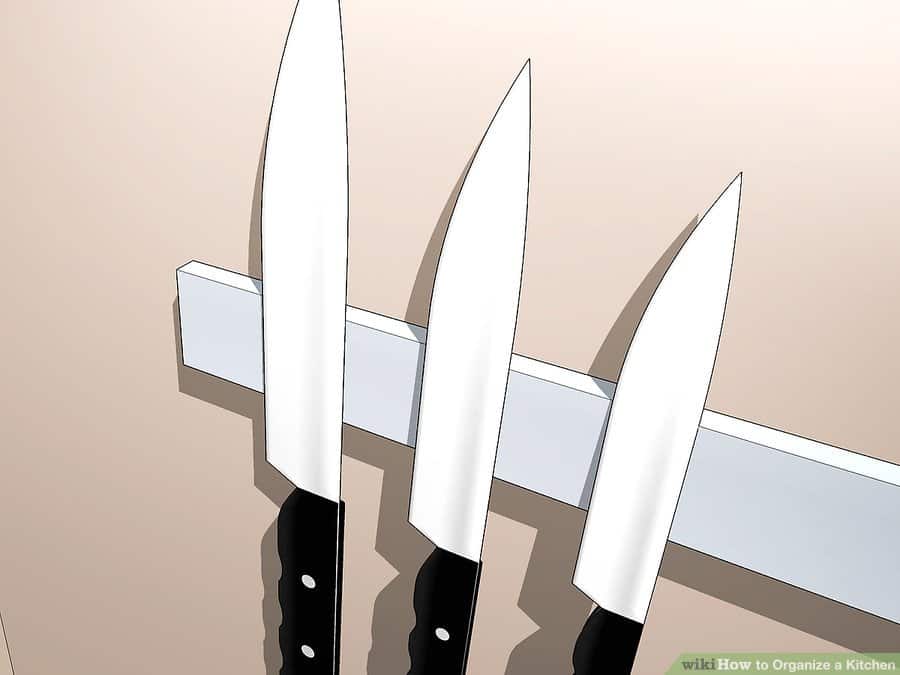 Being creative is fun, therefore, you can use some hacks to add some décor in your kitchen.
Hanging Racks: You can keep your pots and pans inside your cupboard. But, if you want to save the space, you can try installing a hanging-rack.
Get Yourself Magnetic Knife Holders: Of course, you'll use knives for your cutting job. How about keeping them in a way that will let everyone know that you don't compromise fashion?
Well, get your hands on some magnetic knife holders and mount them on your wall. These holders will grip your knives even though you keep them vertically.
We have published an article on "How to Store Knives in the Kitchen Safely". Read that post for more details on organizing kitchen knives.
Wrapping Up…
Well, now that you know how to organize a kitchen, you won't be facing much of an issue regarding the whole thing. With my guide, you don't have to hire someone else to do your work for you. You can do it all by yourself if you take it as a DYI project.
Read More
She is a proud mother of three children. Married for 25 long years! She is the perfect Admin & Editor in chief for this site. She will be sharing her life long experiences with us.