As an Amazon Associate, I earn from qualifying purchases. There is no extra cost to you. Thank you if you use our links; we appreciate it!  Learn More.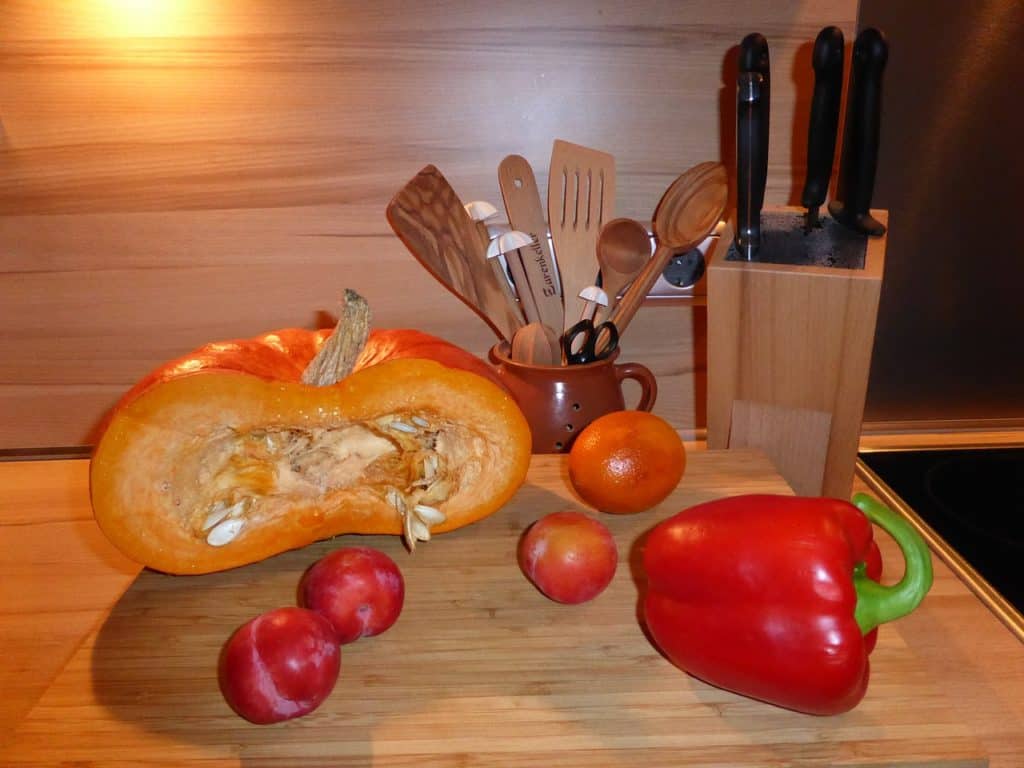 It is a sacred part of the kitchen organization that you understand how to store knives in the kitchen. You can have the dreamiest, sharpest knife set out there that you take good care of, but when it comes to storing kitchen knives, you just seem to throw them in with the dishes after a wash and draw out whenever.
We have a friend owning two separate knives and two sets. The ones of the sets are almost always laying on the food tray for unknown reasons, and the separate ones are God knows where…!
But this should not be the case!
Properly storing the knives lets them be sharp for a long time and increases their shelf life. Also, it is safer to grab and pick one knife than wavering your hand through the piled dishes to search for the hidden knife. Say goodbye to storing knives with clustered utensils and say hello to three ways you can store them safely.
Where Should You Store Knives in the Kitchen?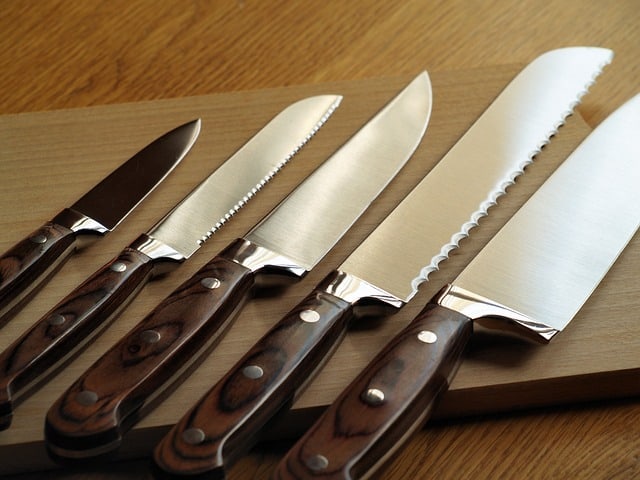 There aren't limits here, exactly. As long as your methods are safe, you could be storing knives anywhere. Anywhere in the sense that: it doesn't cause probable injuries, it is out of the reach of children, it is easily found, and it retains its sharpness.
It could be your walls, could be your countertop, or your drawer. You can store them even under-cabinets in blocks. How to do so, we clarify next.
How to Store Knives in the Kitchen?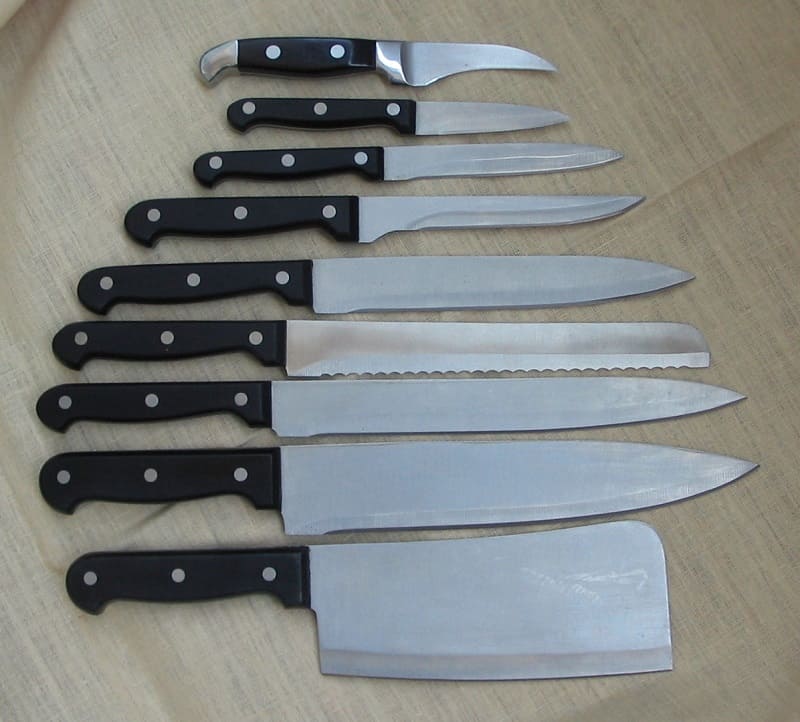 Here are three basic ways of storing knives in the kitchen:
a. In a drawer
b. In a knife block
c. On a wall-mounted magnetic strips
a. How to store kitchen knives in a drawer?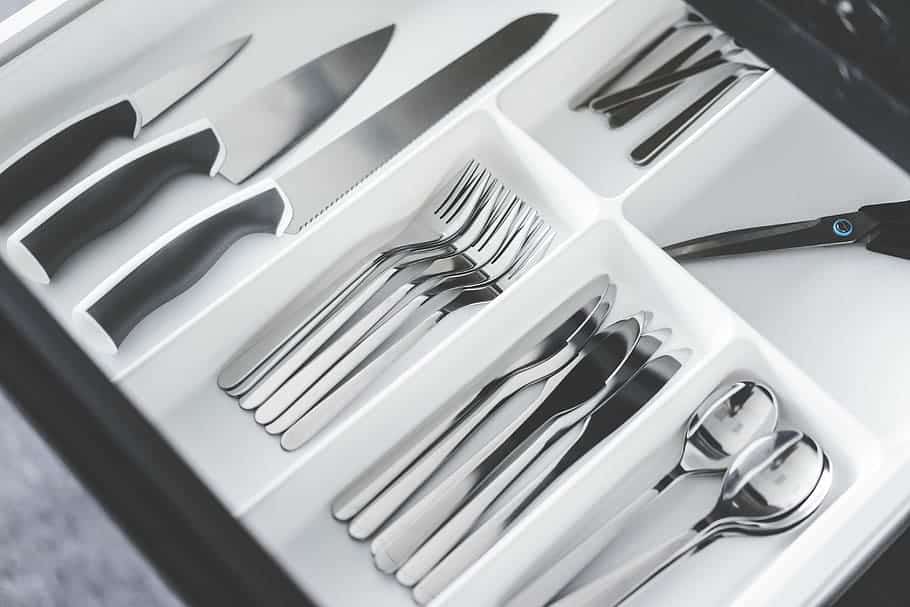 This is the simplest and the easiest one to deal with the lot. The blades are unsheathed, and they are arranged side by side. This can sound a little dangerous as you open the drawer and find knives after knives lying down close together, and you have to draw one out from them. It also tends to reduce the sharpness of the blades as they clink together every time you open the drawer.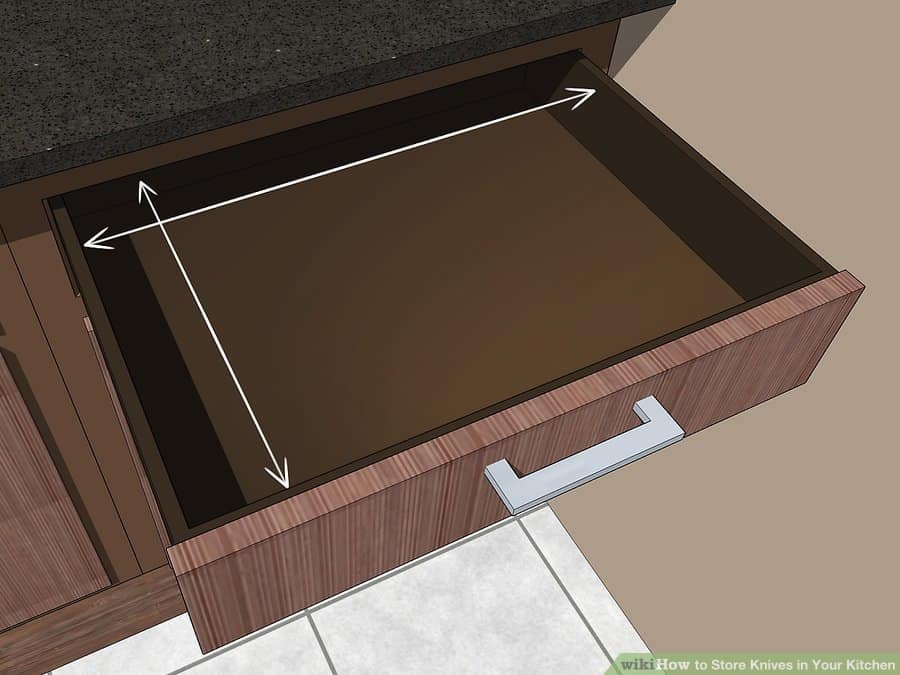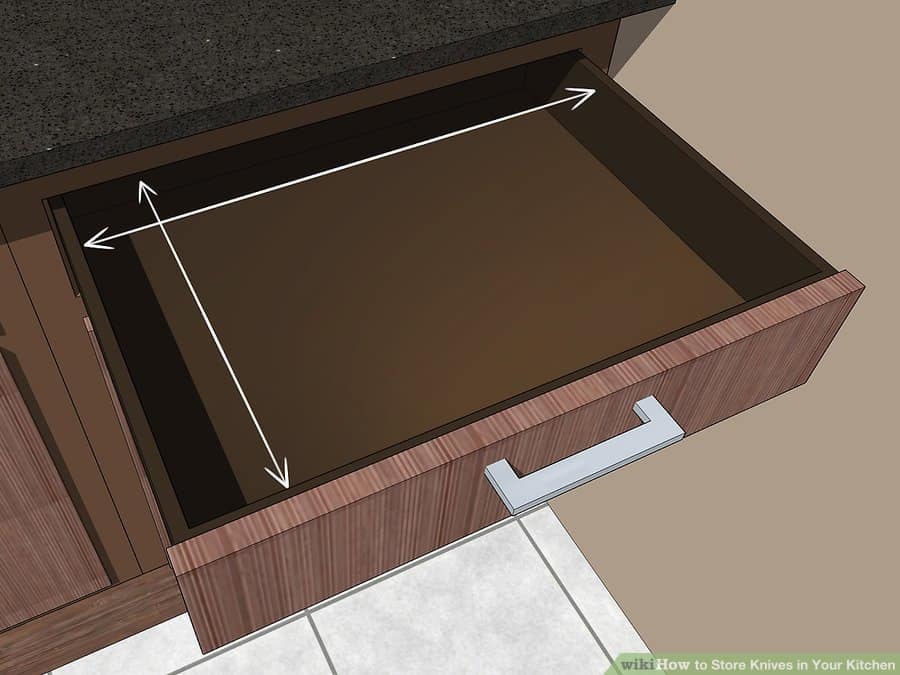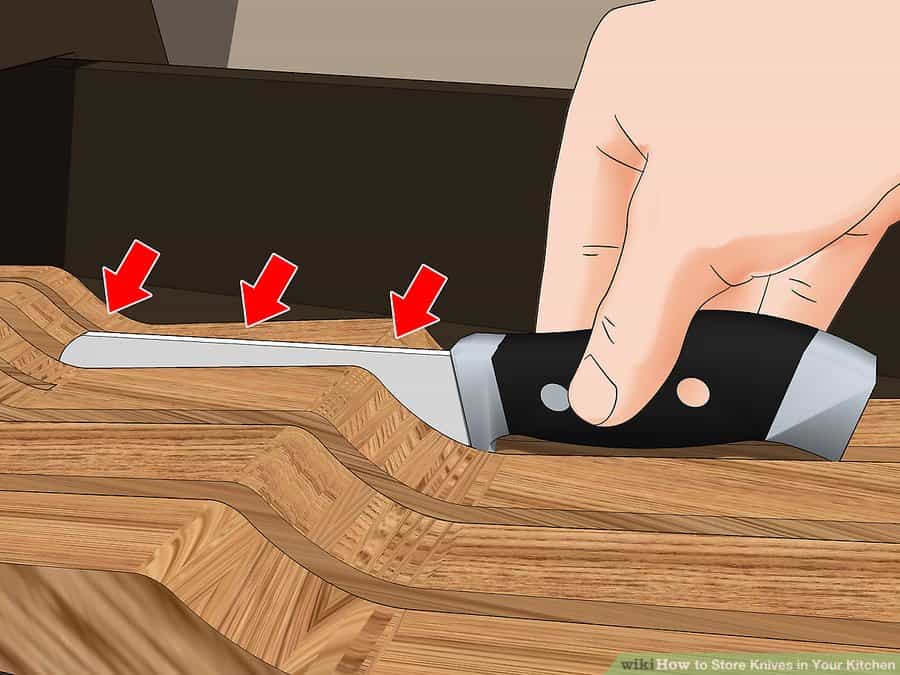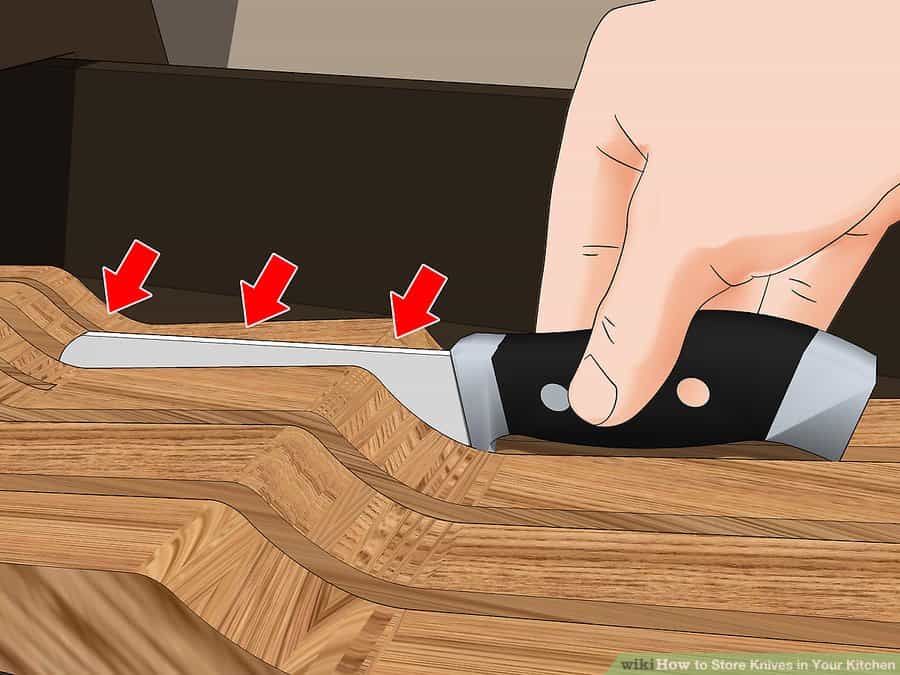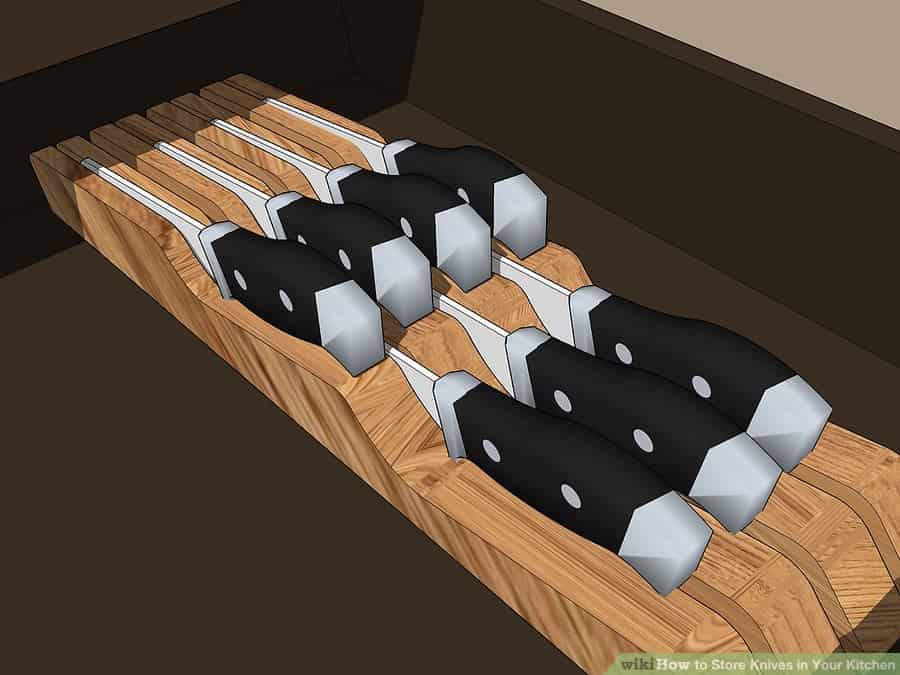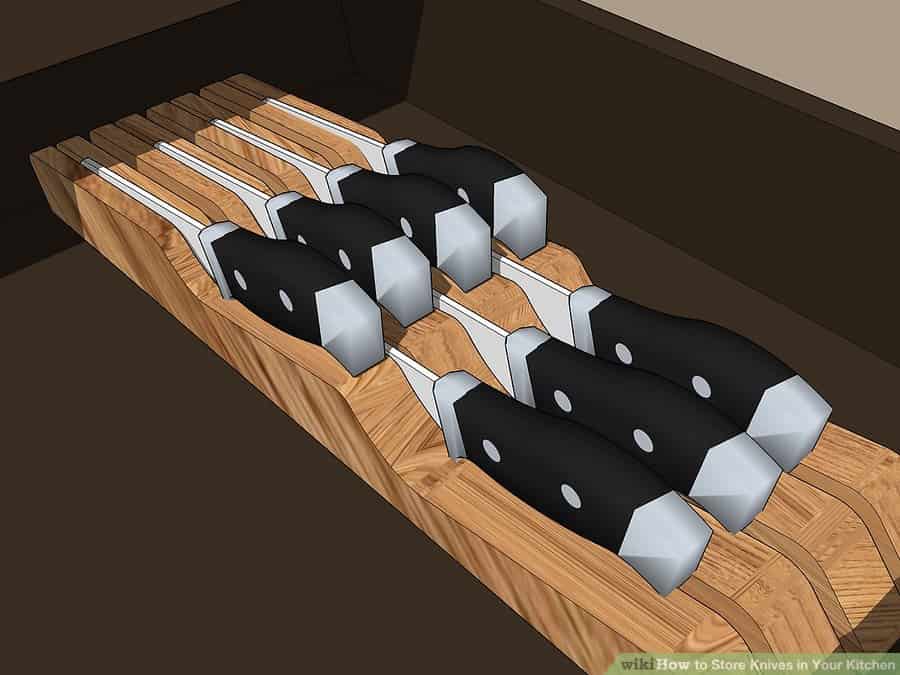 If you don't have much counter space, this is a great idea. And if you think it is unsafe for anyone to open and find knives flying out, you can always lock the drawer. Getting knife-holding slots inside the drawers can reduce this danger to a great extent. But with slots come chances of accumulated dirt. So make sure these aren't made of wood.
Another thing you need to pay attention to is the internal space you are leaving. The knives shouldn't be too close to each other, and there should be room for your hand and fingers to move about. Store on spines and not the cutting edge if you can manage.
b. How to store knives in a knife block?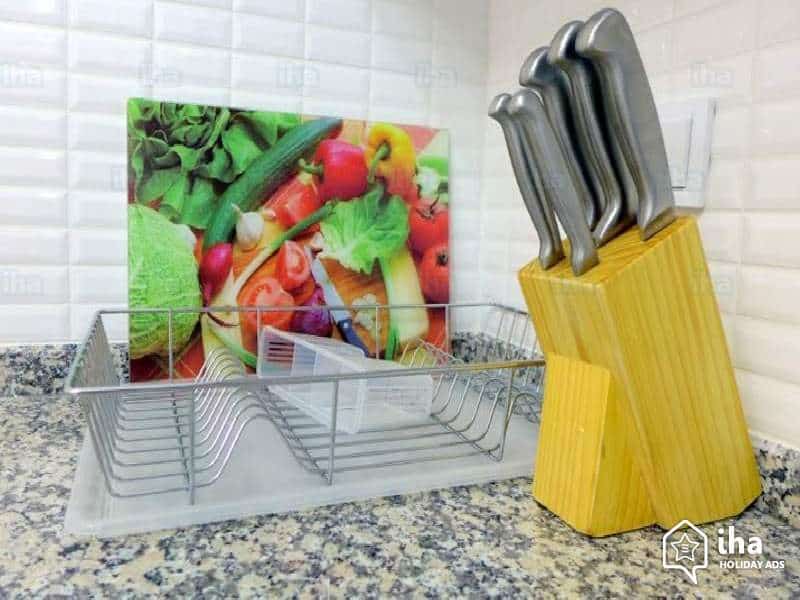 What is the purpose of a knife block?
Knife blocks are basically used to hold a lot of varieties of knives together in one single block, preferably made of wood. It may come with or without knives.
The purposes of a knife block are:
Organizing the knives.
Saving space in the kitchen.
Reducing the risk of injury.
(1.) Storing knives in wooden block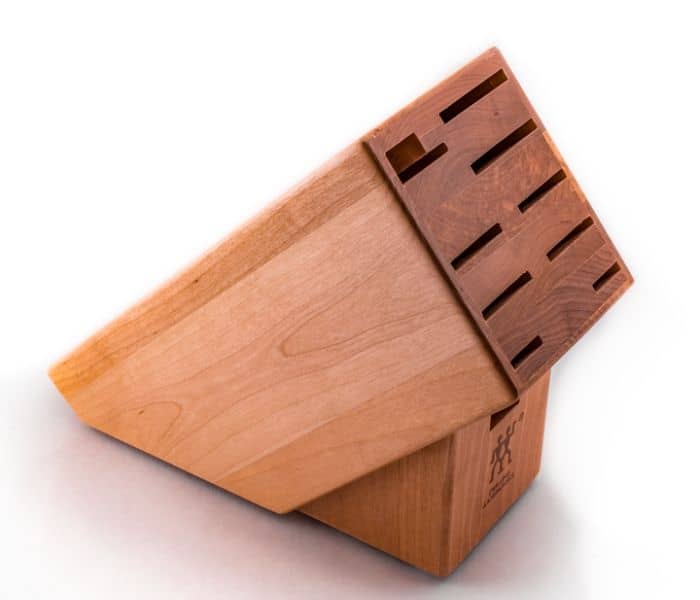 The main issue with this one, for which some tend to shift to the other options, is the cleaning hassle. It is hard to get to the slots, and hence dust, dirt, and germs may infect the block. Their wooden built also isn't so dishwasher-friendly. And as if these weren't problems enough, these blocks tend to reduce the sharpness of your knives as the wood has direct contact with the edge and gives way to the frequent sliding in and out.
But many still happen to use them for their ability to store multiple styles at once, and here, the dreaded part of the knives, the sharp cutting edges are regularly out of sight. So this is better if you have children at home. But you will need to disinfect the knives before using them.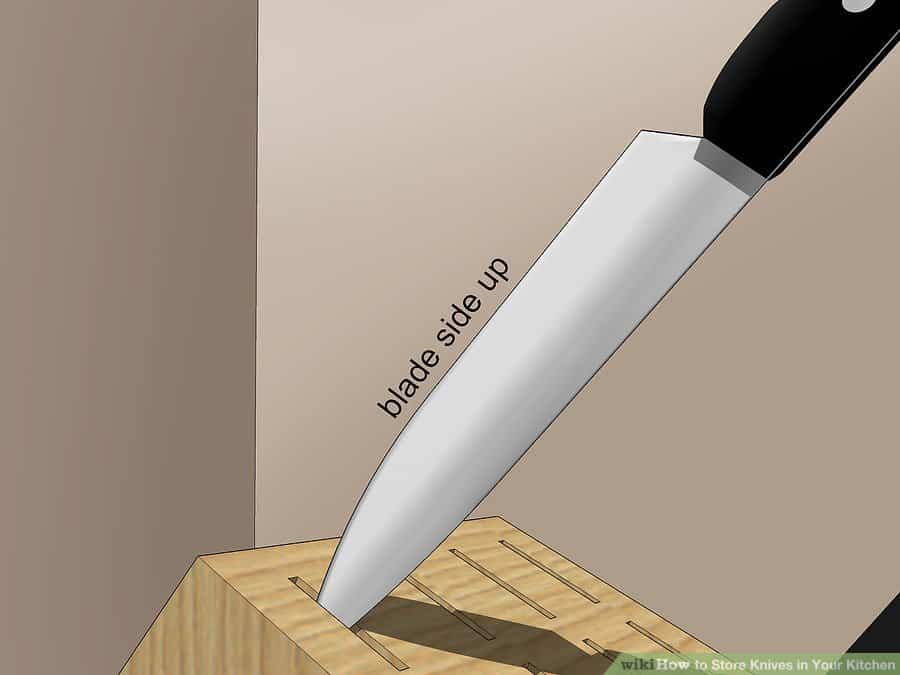 If retaining the sharpness is the issue, you could do it by keeping the blades on their spine, and you can be okay. How you draw the spine in and out also impacts the sharpness.
Instead of buying a pre-slotted block, you can use slotless blocks that have the insides made of rubber or plastic rods that make way for whichever knife you choose to fit in. Such blocks are washable too. But it isn't the perfect one for super-sharp Japanese knives.
The design of it, whether you want to lift or draw diagonally out vertically, also matters. If your under-cabinet has not much space, a diagonal on will suit you better.
The last addition to countertop knife blocks is the magnetized blocks, which is a hybrid one, and features your will to display the beauty of the knife and take advantage of a collective block where the sharp edges are technically out of sight but not exactly. This is the best one of the three structures of blocks if you want to retain the sharpness for long.
(2.) Storing knives in under cabinet knife block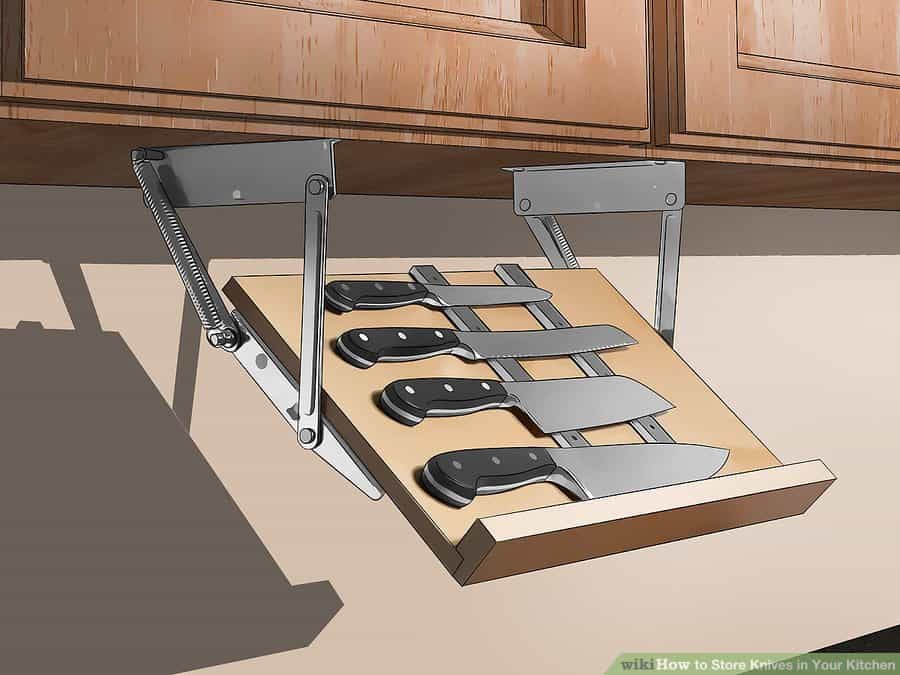 About under-cabinet bloc storage, you can have two styles. The first one has a swivel attachment which is mounted beneath the cabinet. If you want the blade, you spin it, access what you need, and when you're done, just move it out of the way.
Another option is a hinged dock resembling a drawer. You can pull it down to take out your knives and then up and tighten it after you're done. These free up much space than the previous ones we had been talking of.
c. How to store knives on a wall-mounted magnetic strips?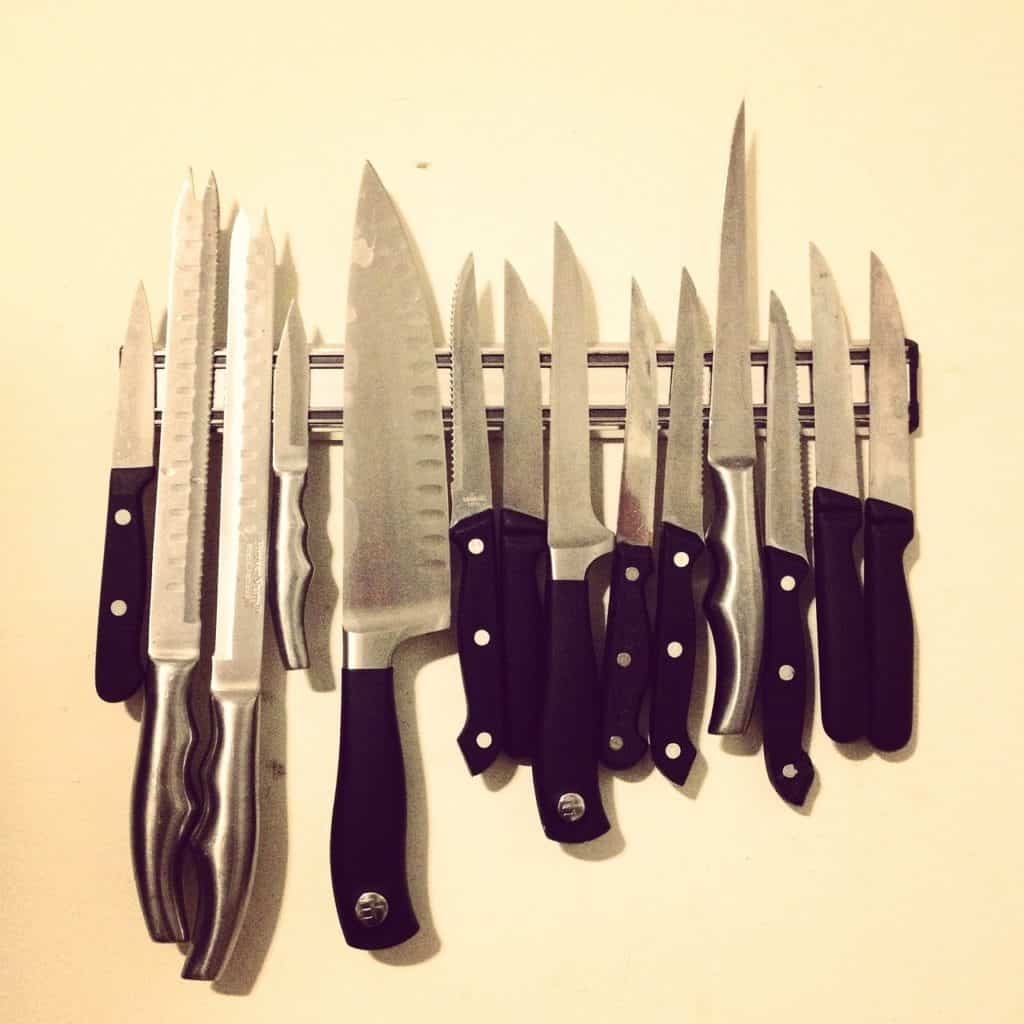 Lastly, for this list of kitchen knife storage ideas, we have wall-mounted magnetic strips. To store knives, these are pretty safe and convenient. Some consider it the best method of the three since here contact with the edge is the least, and hence the sharpness isn't compromised. And if you don't think it makes your kitchen look like a psycho's one, it is quite a beautiful display of stainless steel and silver glass.
You also get to check the styles of the knives and immediately decide upon the one you intend to or are needed to use, without rummaging through blocks to find the right one.
You can mount your wall strip beside your fridge, on cupboard ends, or above your cabinet. It can be made of quartz or wood or even stainless steel.
When choosing a magnetic strip, be sure of a few things:
First and the most important consideration is that the magnet should be strong enough to hold the blades in place, not slip, and be giving enough to let you take the knife out without struggling.
Secondly, the length is a factor. As you can't customize it easily, give attention here.
Lastly, some have bars and hooks that allow other utensils to be stored besides knives. You could get one of these too if need be.
Why Knives Should be Stored Safely?
It is like asking why should you take a raincoat when it is raining cats and dogs outside. But for the sake of educating you lost, here's why you should be doing this:
For the safety of your family or anyone who uses your kitchen. You can children at home who love to do everything that you do, and make food like you, cut like you, etc. For the sake of them, keep the knives and other blades out of their reach and practice of culinary arts, as long as you aren't watching.
Storing without slots in a drawer can leave the blades dull and unattended. If you are absent-minded while opening the drawer and laying your hand in, you may accidentally cut yourself.
Storing them anywhere that is safe keeps your fingers safe from cuts and bruises.
Storing safely is just as important as cleaning safely.
If they aren't stored properly, knives would lose their sharpness and become dull with time.
Frequently Asked questions
Can you use rice to store knives?
We have seen people do it, but what would you do as the quantity of rice reduces? And what if the knife gets lost inside the rice somehow and looking for it, you cut your fingers? Not a good idea!
How should you store the steak knives?
Drawers where knives are safe with knife-guards on are the best ways to store steak knives.
What is the best way to store knives?
There is no best way, but your kitchen decides.
How should I pack knives and knife blocks?
Using the guards they come with.
What can I possibly do with old knife blocks?
Nothing. They could contain germs. If you can disinfect them, you can reuse them, no issues.
Are magnetic knife holders safer than the rest?
Yes, but drawers are safe too.
Can knife blocks hold bacteria?
Depends on the environment how much it collects, but it will.
What are the three most preferable ways to store knives?
The three we just mentioned:
In a drawer.
In a Knife block.
On a wall-mounted magnetic strips.
Which way do knives go in a knife block?
Blade side up.
Final Words…
Of all the things we have discussed, we conclude that the best way to store knives depends on you and your kitchen. You can have a small counter, where choosing a block-storage or a countertop-storage may not be useful. Again, you can build slippery ceramic walls in the kitchen that may prevent magnetic strips from being too useful.
For these reasons, the best knife storage varies with the environment. And remember, your duty remains to maintain safety, no matter what storage type you choose. After using, cleansing, storing, and regular sharpening, your duty lies in maintaining that your system is foolproof. Always.
Read More
Amazon and the Amazon logo are trademarks of Amazon.com, Inc, or its affiliates.
She is a proud mother of three children. Married for 25 long years! She is the perfect Admin & Editor in chief for this site. She will be sharing her life long experiences with us.