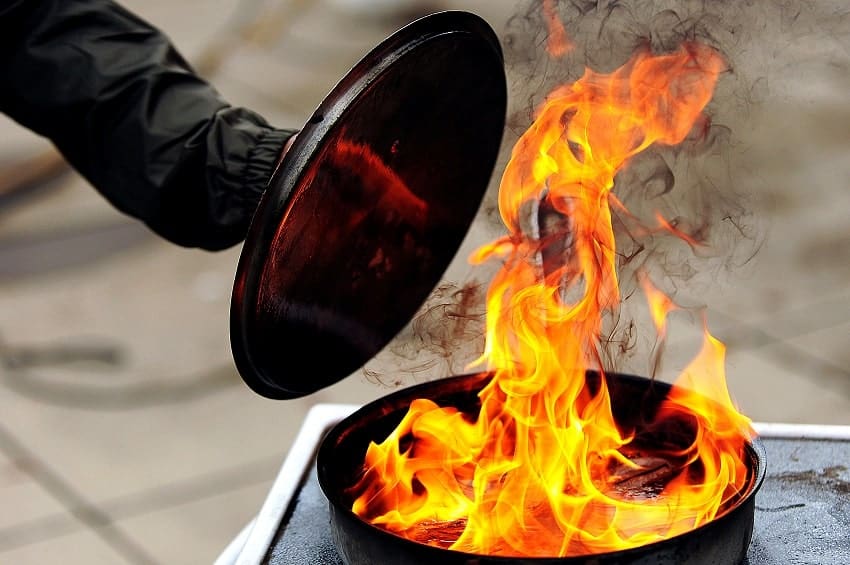 Learning how to prevent grease fires is essential for you to keep your family safe. A statistic says that around 50 lacks of fire cause happen due to grease fire annually.
Even it causes death lots of people throughout the world. In particular, your kitchen is a risky point since there often causes grease fire events.
Leaving pan on the fire for a long time is the main reason for creating this unexpected affair. Also, unattended cooking is responsible for this accident.
However, as it comes about for unconsciousness; therefore, you should know the exact ways of putting this fire out. We've narrated down some of the essential tips to prevent this disaster in the kitchen. Let's move on!
What Is Grease Fire?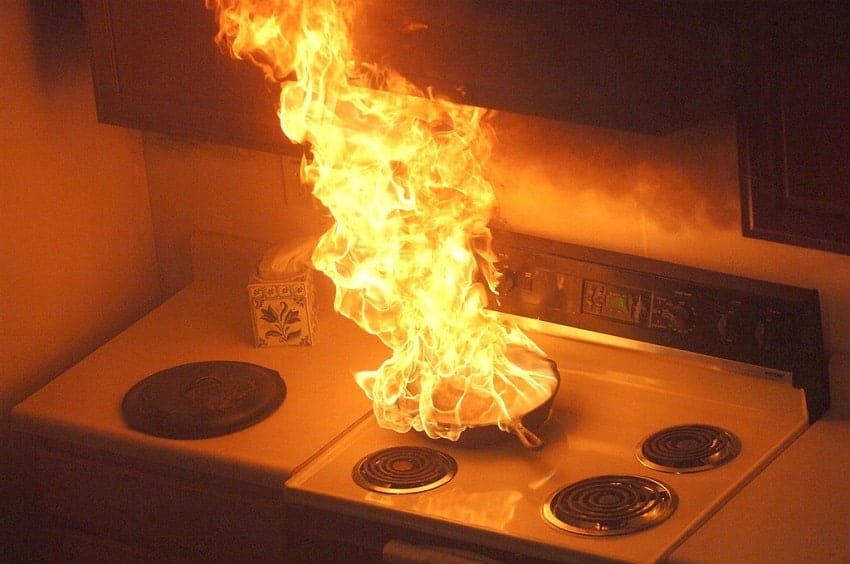 A grease fire is a typical affair in the kitchen. It happens when the oil of your pan becomes too hot. At first, the oil starts boiling at the moderate heating, but when the heat ratio goes above control, then it starts smoking.
After a while, there catch on fire into the pan, and gradually the fire is spread throughout the kitchen. Sometimes, it becomes too comprehensive that the whole building can be burnt on it.
What Causes A Grease Fire?
A grease fire can happen in various ways. Most importantly, unattended cooking can cause a grease fire. Suppose, you've put on fire in the stove and frying something on the pan, but you've unconsciously moved to another room for a while. Within this time, the oil has been hot enough and started smoking around.
Finally, it turns into fire. Besides, the uncontrolled heat also can cause grease fire within a few seconds in your kitchen.
Read: Types and Causes of Kitchen Fires
Grease fires are caused by oil, butter, or fat that gets too hot. These materials can be heated by a flame, a hot pan, or other heat source. Once they reach their flash point (the temperature at which they will catch fire), they can ignite rapidly and spread quickly if the surrounding area is flammable.
As the substance burns it releases smoke and toxic gases into the air around it causing serious health concerns for anyone nearby.
How To Prevent Grease Fire In The Kitchen?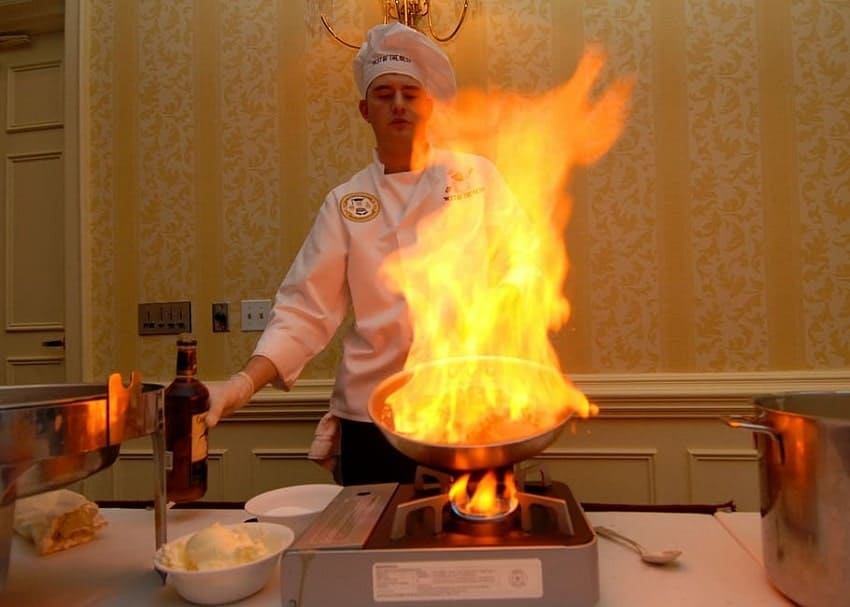 It's easy to prevent grease fire in the kitchen. You must be more advanced in handling the whole situation properly. Besides, you shouldn't go for cooking with tiredness and anxiety.
Preventing grease fires will be much beneficial for you and your beloved one.
Let's take a glimpse at the procedures of protecting fire in the kitchen.
Keep The Burner Or Stove Cool Before Heat On
Before starting to cook, make sure whether your burner stove is cold or not. If hot, then you have to realize that it can be hottest soon. So, you should set your mind to have a fast-cooking experience.
But the best way of keeping yourself free from disaster, you can take time to maintain the burner or stove cool. A cool stovetop never causes fire instantly; even it takes time to spread around the fire with a cool burner.
Remove Excess Grease Or Oil Spill
In general, you will find an extra layer of grease and oil spill into your pan or cooking pot. These are not only unhealthy but also dangerous for you. With the high range of heat, it can catch on fire on the grease oriented layer of the pot.
Suppose you're going to cook new food; hence you need to heat for long. But the existed grease or oil spill doesn't need much heat to be hot. Therefore, these become hot and start smoking at a lower heat. Ultimately, it causes fire into the pan and it extents around.
Check The Heat Ratings Of The Oil
One of the essential factors in preventing grease fire is checking the heat rating of the used oil. With the heat rating, you could perceive how much temperature needs to cook food with the oil.
If you use vegetable oil, then it can be hot in around 230 degrees Celsius, whereas the animal oil has about 190 degrees Celsius smoking point. You should not heat more than the required ration. Otherwise, it can catch on fire.
Put The Food Into The Hot Oil With Caution
Putting the food into the oil seems a risky task all along. Sometimes it can cause terrible accidents without having proper warning. Hence, you must be conscious of performing this job accurately.
In this case, you can take help from your lid or cover. By covering the pan, you can keep safe from sparking oil or catching on fire.
Use A Lid To Prevent Oil Sparking
Not only at this point of putting food into the pan, but you should also use lid until the food is cooked since then. If you need to stir up the food, then you can carefully remove the lid and put it back after stirring.
But never forget to keep the food covered; otherwise, it will turn into an unfortunate event.
Stay In The Kitchen Until The Cooking Complete
You may know that unattended cooking the critical reason for causing grease fire in the kitchen. It's inevitable for you to stay in the kitchen until the food is cooked.
Anything can be happened by chance without your absence. That's why you shouldn't go anywhere while cooking food on a stove or burner.
Never Use Water To Put Out A Grease Fire
If there causes grease fire by any chance, then never try to use water to put out a grease fire. With the touch of water, the grease splashes and spread the fire around.
Never Let Children Or Inexperienced One To Cook
A child or immature person can catch on fire in your kitchen with the lack of proper sense. It seems complicated to cook food with fire for a newbie. So, you shouldn't allow cooking a child or someone with less experience.
Use A Splatter Screen
A splatter screen is essential to prevent grease fires. It should be large enough to cover most of your frying pan and have a sturdy handle that's easy to grip, so you can carry it with one hand. When cooking with oil or butter, place the splatter screen overtop of your pan—this will keep any flying particles from escaping into the air and catching on fire.
Cook On Low Heat
Using low heat is a simple way to prevent grease fires. When you cook on high heat, splattering occurs when the food hits the oil and water heats up. This can ignite and cause a grease fire. Cooking on low heat will eliminate this problem by preventing splattering, as well as cooking your food more evenly and thoroughly.
Check The Pan Before Adding Food
You should never put water on an oil fire. If you do, it could cause the fire to spread and cause damage.
Check the pan before adding food. Make sure that it's clean and hot enough. Your pan should be dry on the bottom too! You'll want it to have no moisture at all so that you don't get any smoke when you add your oil or butter (if applicable). It's also important that your pan doesn't get too hot or cold, as this could cause a grease fire as well!
Wipe Out The Pan After Cooking
Wiping out the pan after cooking is important because it prevents grease fires. If you don't wipe out the pan, then you will end up with a pool of grease in your pan that can catch fire. Next time you cook, make sure to use a paper towel or dishcloth to wipe out all the grease from the pan before cleaning it. Don't use flammable cloths like paper towels with oil on them since they can catch on fire and start a grease fire. And be careful not to use something too hot against your stovetop—you don't want to burn yourself!
If you do get a grease fire going on in your kitchen, don't throw water on it because this causes steam which causes more flames and smoke. Instead try using baking soda as this will smother out any leftover fires and prevent them from spreading across your entire house!
Turn Off The Heat If You Need To Leave The Kitchen
Turn off the heat. If you need to leave the kitchen, don't leave the pan unattended. If you're going to be away from it for more than a minute, turn off the heat and remove any cooking utensils before leaving. If you're using a gas stovetop, turn off both the heat and gas.
Have An Extinguisher Nearby
It's a good idea to have an extinguisher nearby while cooking. If a grease fire breaks out, you want to be able to quickly put it out and avoid any major damage or injury. An extinguisher should be kept in the kitchen, where it's most likely you'll need it.
The type of extinguisher is important as well; there are three types: dry chemical, carbon dioxide (CO2), and water.
Dry chemical is usually used on class A fires (those burning solids like wood) while CO2 is best for class B fires (consuming flammable liquids). Water works on class C fires that involve electricity or energized conductors. These different types will also differ in their ability to put out different fuels: for example, a dry chemical extinguisher can fight both fats and oils better than water alone but isn't effective against electrical equipment; CO2 works well against all three kinds of fuel at once but won't work well on coated surfaces like butter or oil paints due to its low viscosity.
Having An Extinguisher Handy Is The Best Way To Prevent Fires.
The best way to prevent a grease fire is to have an extinguisher ready for use. When using an extinguisher, make sure you have a clear path to your exit and that the surrounding area is clear of materials that may catch fire. Keep in mind that although water may seem like the logical choice for putting out a grease fire, it can actually spread the flames and cause more damage than good.
Grease fires can be prevented by following some protocols about cooking safely.
To prevent grease fires, follow these steps:
Never leave a cooking pot unattended.
Keep hot food away from the edge of the stove or countertop where it can easily be knocked off and spill onto other surfaces, causing sparks to ignite.
Never use flammable liquids in a pan that already has grease in it (i.e., no water on top of boiling oil).
When cooking with oil, don't fill the pan more than half full and stir occasionally to keep it from getting too hot in one place while leaving other parts cold.
Grease Fire Extinguisher
A grease fire extinguisher is a fire extinguisher designed to put out fires caused by cooking oils. A grease fire is extremely dangerous and difficult to put out, so having a well-maintained and regularly used grease fire extinguisher in your kitchen is important. You should also familiarize yourself with how to use it in case you ever need it.
In order to properly use a grease fire extinguisher, you must first know what kind of equipment (manual or automatic) your kitchen has available. Generally speaking, manual models are safer for homeowners who aren't familiar with using them because they tend not be as powerful as their automatic counterparts; however, if you have an automatic model that won't work properly then try hooking up the hose from another model together with yours so that both suck up air simultaneously through their triggers at the same time!
FAQs
How do grease fires start?
The grease fires start when the oil becomes too hot and starts smoking.
How do you keep grease from splattering?
Putting a lid on the pot or pan will help you keep grease from splattering.
How to prevent grease fires on the oven?
To prevent grease fire on over, you have to add food slowly, keep heat low, and use a lid all along.
How to prevent grease fires on the grill?
The best way of preventing grease fires on a grill is by keeping it free of all grease and spills.
The Bottom Line…
People are keen to know how to prevent grease fires in the kitchen. They are asking comprehensively for long to be safe and be careful. However, some of the essential approaches to preventing grease fires mentioned above.
You must follow those rules to get free from a fire disaster. Only proper precaution can aid you in passing the whole life with the best safety and comfort.
Read More
She is a proud mother of three children. Married for 25 long years! She is the perfect Admin & Editor in chief for this site. She will be sharing her life long experiences with us.