As an Amazon Associate, I earn from qualifying purchases. There is no extra cost to you. Thank you if you use our links; we appreciate it!  Learn More.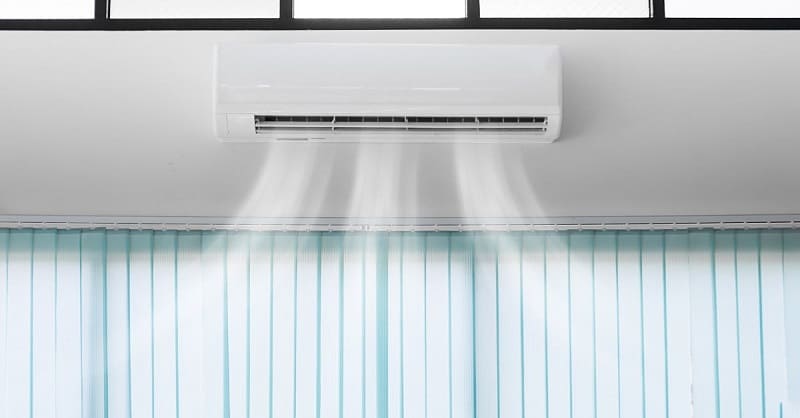 The heat of summer will finally arrive, and when it does, you'll want to be able to enjoy the outdoors as much as possible. However, staying inside your air-conditioned home may not be a viable solution if your electric bill is too high. Fortunately, we've compiled some tips for reducing your AC bill in the summer!
How To Save On Ac Bill In Summer?
Replace old, inefficient A/C
To reduce your AC bills in summer, you can replace your old, inefficient A/C with a new one. Even though it's going to cost some money, it is worth investing in this so that you don't have to pay more on monthly electricity bills. You should choose a new A/C which has the highest Energy Efficiency Ratio (EER) possible. This will ensure that you get maximum cooling capacity without spending too much on electricity bills.
Upgrade your air conditioner to a newer model.
Install a smart thermostat.
Use a programmable thermostat.
Install a smart fan that turns on when you need it, and off when you don't.
Use timers to turn off fans or lights when they're not needed in certain rooms, such as during the day while no one is home or at night while everyone is asleep. This trick can save up to $40 per year on cooling costs alone!
Replace Old Refrigerant
Refrigerant is the gas that moves heat from the evaporator to the condenser. The refrigerant is a mixture of chemicals that transfers heat from one area to another, much like how sweat helps your body cool down when you exercise. Refrigerants used in older air conditioners were chlorofluorocarbons (CFCs) and hydrochlorofluorocarbons (HCFCs). CFCs are now banned because they harm Earth's ozone layer. HCFCs are being phased out because they can cause global warming as well as depleting Earth's protective ozone layer. The new refrigerant used today is called an HFC or hydrofluorocarbon, which does not damage either one of these two things but still has its own set of environmental concerns.
Read: Preparing Your HVAC System for the Summer Season
HFCs are considered "ozone-friendly" chemicals because they do not destroy ozone in the atmosphere like other types of gases do; however, they still contribute to climate change by trapping heat inside our atmosphere instead of letting it escape into space like oxygen does naturally.
Check your air filters monthly
Clean or replace the filters every three months, even if they don't look dirty. This will help ensure that your AC runs efficiently and doesn't have to work as hard to cool your home. If you have pets, allergies, or other factors that require more frequent cleaning of your HVAC system's air filter (more than once per month), it's recommended that you change out the filter more often than what is recommended above.
Install a Programmable Thermostat
When you're away from home, a programmable thermostat can save energy by turning your AC off when no one's around. Just set the thermostat to turn on later in the day or at night when it's cooler outside and then turn off during peak hours. You can also use them to set different schedules for each day of the week if you have more than one family member who works different shifts.
Use a Smart Fan to Reduce Energy Costs
Using a smart fan to reduce energy costs is one of the easiest ways to cut down on your electricity bill during the summer months. Smart fans are available in both fixed and oscillating options, so you can choose the style that works best for you. They use advanced technology to help control the temperature in your home or office. You can set the temperature at which your smart fan will turn on or off, and it won't automatically turn itself off until you're satisfied with how cool or warm it gets inside of your space. This ensures that no matter what happens outside of your house, there will always be an optimal level of comfort inside where it matters most—with you!
Because smart fans are so effective at keeping rooms cool without raising energy costs too high (or vice versa), they're an excellent choice if money is tight right now due to rising prices associated with heat waves across North America this summer season alone.
Read: How best to insulate a summer house?
Regularly Change Your Air Filters
Regularly changing your air filters is one of the easiest ways to reduce your energy bill during the summer. Air filters should be changed every three months, but if you have a lot of pets or allergies in your home, it's recommended that you change your filter monthly or even more often. You should also change your filter more frequently if someone smokes in your house.
Read: How to Choose the Right Air Filter for Your HVAC System?
Choose the right temperature
The right temperature for your air conditioner depends on what kind of AC you have. If it's a window unit, then the best temperature range is between 18 and 20 degrees Celsius. If it's a split system, then it will depend on the brand that you have installed in your house.
The right temperature for a fan depends on what kind of fan you have: overhead or pedestal. A good rule of thumb is to aim for 25-27 degrees Celsius if you are using an overhead fan and 27-29 degrees Celsius if you are using a pedestal model.
Must use timer to avoid overusing
When you have AC at home, it is very important to use the timer. This will help you avoid overusing it and save money on your electricity bill.
Ensure to lock every door and window
Locking your doors and windows is a must. This is the first step toward reducing AC bills, as it keeps heat from seeping out of your home. Additionally, locking each door and window ensures that no one can enter your house without you knowing about it—which will help prevent theft or damage to your property.
It's easy for us all to forget about locking our doors when we leave home every morning, but we shouldn't let this happen! The truth is that locks are important for a number of reasons: they prevent theft in addition to keeping the security of our homes safe (which are two things most people care about).
Lock everything up when not at home and save yourself some cash on those expensive AC repairs by making sure everything runs smoothly next time around!
Which mode is best for AC in summer?
As the temperature rises, we want our AC to cool down the room as fast as possible. But what mode should you set it on?
The default setting is AUTO. This means that your AC will choose the best mode for you based on what's going on in your house and outside. However, there are times when you might want to switch modes yourself. In general, if it's hot out or if you're trying to keep up with high energy costs during summer months—which is usually the case—then COOL MODE is better for saving money (and more importantly, keeping YOU cool!).*
Note that this article does not cover how much electricity each mode uses; instead it focuses on which one is most efficient at cooling down a room
Does fan mode in AC save electricity?
Fan mode is the best mode to save electricity.
In fan mode, the compressor gets turned off and only the fan runs. This reduces electricity consumption to almost zero.
The best way to save electricity is by using the fan mode of your AC in summer months when it doesn't get too hot outside (around 28 degrees Celsius or higher).
Ideal Ac Temperature To Save Electricity
You can reduce your electricity bill by choosing the right temperature for your air conditioner.
In summer, set it at 24 degrees Celsius or less.
In winter, set it at 18 degrees Celsius or more.
Conclusion
I hope this article helped you to save money on your air conditioning bill.
Read:
Amazon and the Amazon logo are trademarks of Amazon.com, Inc, or its affiliates.
She is a proud mother of three children. Married for 25 long years! She is the perfect Admin & Editor in chief for this site. She will be sharing her life long experiences with us.