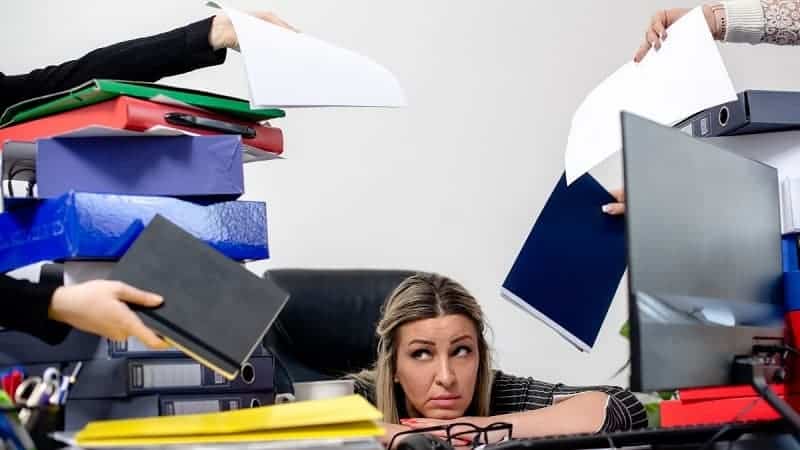 Research has shown that 36% of workers in the U.S. have experienced office stress. This has proven to be detrimental to the Nation's economy as it costs us 30 billion a year for every lost workday. According to Dr. Sharon Melnick, a Business Psychologist, everyone has, in one way or another, experienced stress at work, it's normal. But when you don't work on it, things get out of hand and become quite overwhelming.
How to Reduce Office Stress?

Workplace stress can affect your productivity, energy, social life, and the way you view life in general. So, you must make effective changes before everything goes downhill. Below are a couple of ways of How To Reduce Office Stress that will work:
1. Practice positive communication techniques
Do you find communicating with your boss to be overwhelming? Statistics show that most workers' office stress comes from their boss. It goes further to prove that employees with negative relationships with their bosses experience severe mental health issues that lead to lack of sleep, depression and anxiety, high blood pressure, smoking, alcoholism, and even heart attacks.
Enforcing positive and effective communication techniques with your superiors is not only important for your productivity at work, but your mental and physical health as well. Push yourself to create necessary boundaries and speak up when you feel uncomfortable about anything.
Most importantly, seek help from a professional therapist or life coach that will help improve your communication skills. Make sure that you express yourself in a professional manner whenever at work.
Read: Why are you stressed for no reason at all?
2. Reduce clutter
You might not notice this, but the majority of stress comes from your immediate surroundings. Zenbusiness recommends revamping your workspace for your wellness. Simple things like getting a new desk, changing the color theme, adding a couple of plants, and improving lighting will go a long way.
Declutter all the unnecessary and outdated items in your space and get a simple organization system that'll make things easy for you. Remember, you can always get help from Pick Home Store on what to buy for your office.
3. Eat healthily
Due to the stress and anxiety that comes from overwhelming workplaces, most of us are forced to "eat our feelings" by indulging in junk and unhealthy food. Sometimes, we don't get any meals at all, it's one cup of coffee after the other.
When we are stressed, our bodies release a hormone called cortisol that makes us crave sweet and salty things, especially fast food that brings temporary pleasure. Unfortunately, "eating your feelings" only worsens the issue.
Here's what you should eat for brain fueling and increased concentration and focus;
Complex carbohydrates
Lean proteins
Foods rich in Omega 3
Foods high in fiber
Superfoods rich in mood-boosting antioxidants
What you should avoid;
Nicotine (increases anxiety levels)
Alcohol (natural depressant)
Caffeinated drinks (inhibits sleep)
Refined carbs and sugar
Foods high in fats
Lastly, ensure that you include healthy snacks in your diet. Snacking regularly improves your diet and keeps your stress in check.
Read: Why are you so stressed all the time?
4. Get enough sleep
Stress has been linked to chronic insomnia. Research has proven that poor sleep might be a contributing factor to stress. There has been stigmatization around getting enough sleep, especially from superiors at work. The phrase "sleep is for the week" may sound familiar, and makes you work around the clock for overall success.
Lack of sleep affects your productivity, mood, and physical health. It also reduces your ability to deal with pressure and cope with negative situations. It's impossible to deal with stressful situations when you are on the edge and always in the middle of emotional outbursts. You can improve your sleep schedule by;
Aim for 8 hours of sleep per day.
Avoid sleeping in during the weekends. It can throw off your schedule.
Stick to the schedule. It will help you sleep quickly, and be up without the help of an alarm.
Take regular naps, preferably 15 – 20minutes each. Do not overdo it.
5. Change your mindset
Sometimes, how we perceive things affects how they impact our lives. Your outlook on work and its surroundings will determine its outcome. Positivity improves productivity and your overall health at work, this is not the same when you are negative about work.
Ensure that you always stay positive, avoid perfectionism, and don't put so much focus on things you cannot control. Also, consider making career changes if you don't love or enjoy your job, it will have a positive impact on your mental health.
Read: Some of the best ways to improve mental Health
6. Exercise regularly
Exercising regularly helps you relax. Studies have shown that regular aerobics release properties that boost your moods and release endorphins, hence a natural stress reducer. It has also been proven to improve for people who suffer from depression. In fact, if you exercise regularly, you'll be able to get off your anxiety medication.
So instead of stressing around and sulking, do a couple of exercises and your stress levels will decline.
For simple exercise routines when on tight schedules, consider;
Taking the stairs instead of the elevator.
Riding a bike to work.
Taking walking meetings.
Switch to an active desk so that you won't spend the whole day seated.
Read: Ways to improve Emotional Health
7. Prioritize and Organize
One more effective way you can reduce stress at work is by being organized and prioritizing the most important tasks. Your productivity at work is very important, especially for your career, but your well-being must come first. Always put yourself and your health before everything else.
Then, set a goal of what you want to achieve in a set amount of time. If necessary, sit down with your employer and outline what they expect from you. This step will help you prioritize when setting a schedule.
For organized days, create a to-do list and ensure you carry out all the tasks to avoid throwing off the next day's schedule. Identify your strengths and weaknesses, and set your deadlines and priorities in consideration of them. Remember, do not set unrealistic deadlines and goals, it will be discouraging when you fail to meet them.
Read: How to avoid stress in your daily life?
Conclusion…
Work stress should not be part of your day-to-day schedule. For effective productivity and to improve your career, you must deal with stress. Take care of yourself by exercising regularly, getting enough sleep, seeing a therapist, and eating healthy. Other effective ways are, improving your communication skills, revamping your office, and having effective planning methods.
Emma Grace Brown lives her life by her rules, and it works! When she's not snuggling puppies, Emma promotes female empowerment through her website. Her mission is to help those who live with self-doubt to realize they don't have to mold themselves to conventionality.