As an Amazon Associate, I earn from qualifying purchases. There is no extra cost to you. Thank you if you use our links; we appreciate it!  Learn More.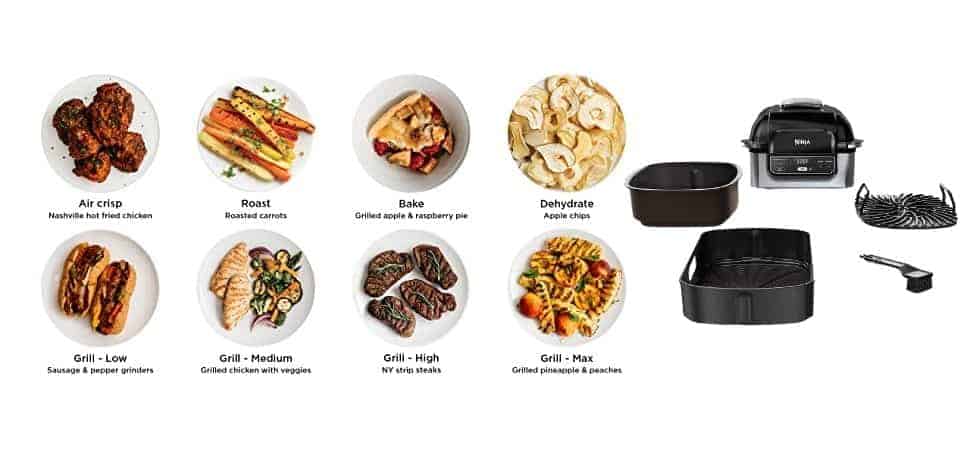 If you love grilled foods, having no outdoor grilling privilege around your house can be too disheartening to get along with.
However, you can forget worrying about the absence of a backyard or a hostile outdoor condition when you have a Ninja Foodi Grill by your side. And since it does roasting, baking, broiling, and air-frying alongside grilling your food, it can stand up as your all-around kitchen handyman across a variety of cooking challenges.
Let's get to know more about this super-competent cooking machine and how it's two popular models fair against each other through our quick ninja foodi grill reviews.
Ninja Foodi 5 in 1 Indoor Grill Reviews (AG301)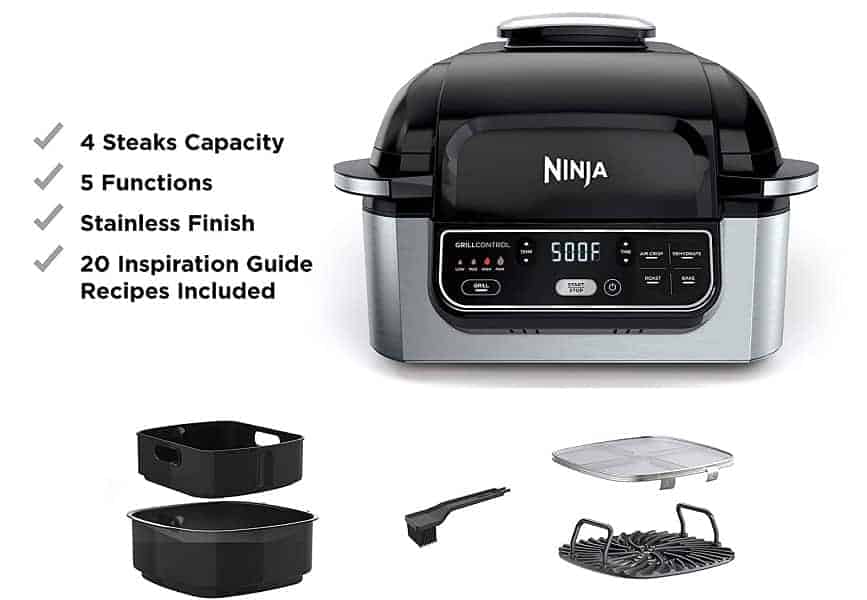 So, first off, we'll review the Foodi AG301 5-in-1 model, arguably the most popular choice among the available three, before deciding how it fairs when compared to its fellow Ninja Foodi indoor grills.
What's in The Box?
The number of equipment the box comes loaded with will genuinely add to your cooking satisfaction. Check out all the ninja foodi grill accessories from the list below.
Ninja Foodi Indoor Grill
10-inch x 10-inch grill grate
4-Quart Air Fryer
6-quart cooking pot
5-pack Kebab skewers
4-quart crisper basket
A splatter shield
A cleaning brush
A recipe book containing 20 recipes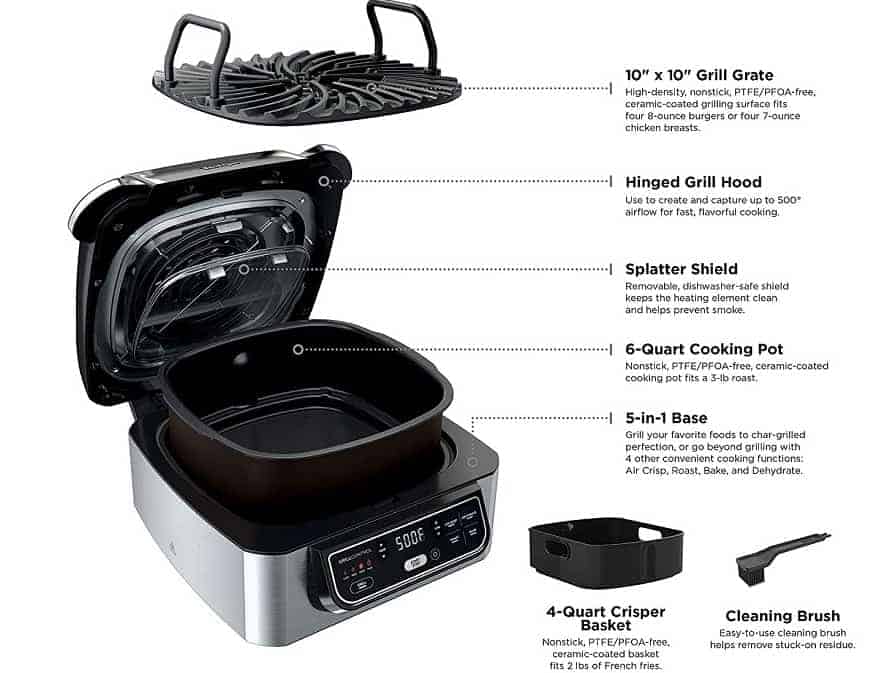 Features at a Glance
Stainless steel-made body
Cyclonic grilling technology
Five cooking functions- Grill, roast, air-crisp, dehydrate and bake
4-steak capacity
500°F Cyclonic Airburst
Ceramic-coated nonstick detachable pots and baskets
Dishwasher Safe
1760 watts of power
Around 14.5 lbs of weight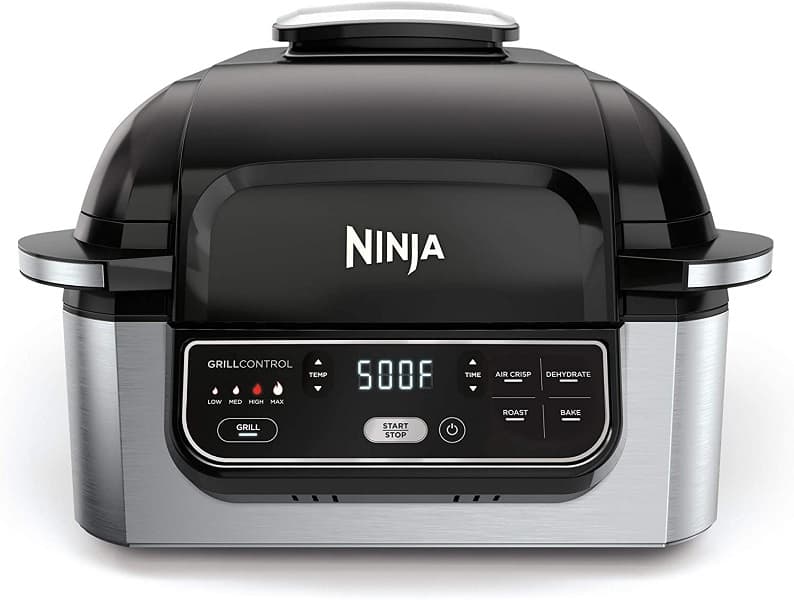 Design and Feel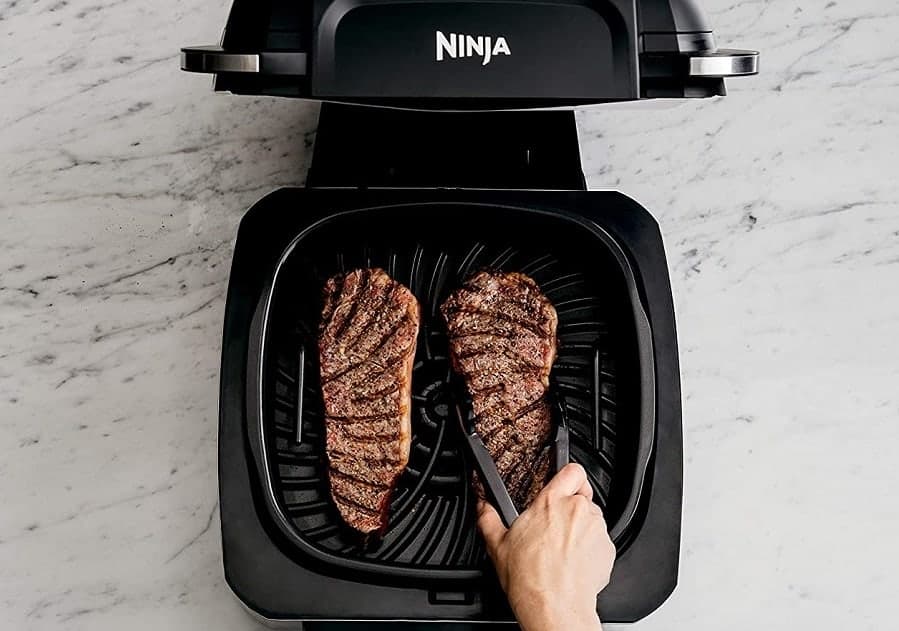 The Foodi grill's exterior has an attractive all-black, stainless-steel finish. It's indeed vast and boxy, and you can guess that from the measurements we've provided above. But you can expect it to fit precisely in most kitchen countertops.
It left us somewhat unsure whether there would be enough space for clearing out our cabinets with its lid open on the first impression. However, it did, although scarcely. At just under fifteen pounds, the cooker felt pretty hefty. Doubtlessly, we would be against lifting it out of our countertop on most occasions. And we recommend you do so as well. It's best kept at your intended space for use, given the place allows so.
Its bulky look indeed makes it feel like the lid would press on your food when cooking with the lid closed, only it doesn't. However, the grill grate sure leaves its signature curved marks on the food instead of the typical straight ones.
The grill grate, the crisper basket, and the cooking pot have a nonstick ceramic coat over them, making the accessories immune to those damaging PFOA/PTFE chemicals. They have that exquisite, heavy-duty, durable design, build, and feel you'd want within a top-quality indoor grill.
The Cyclonic Grilling Technology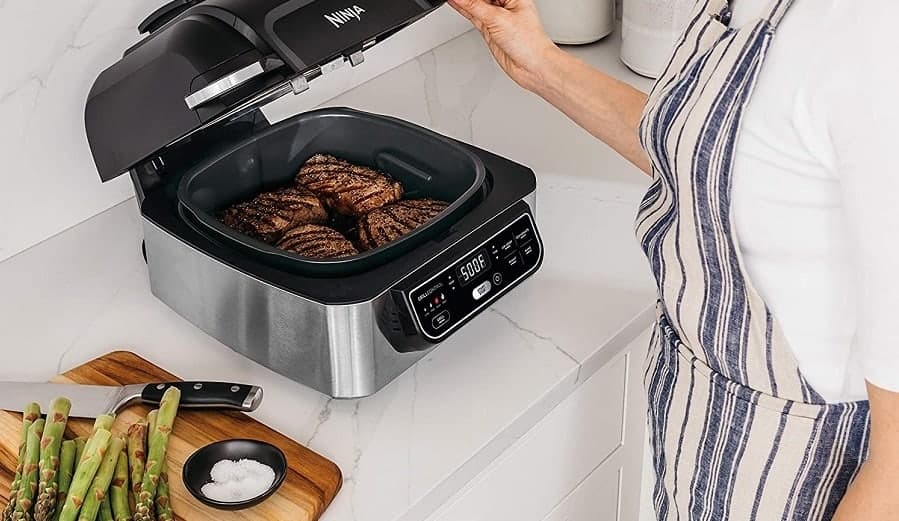 The Ninja Foodi sure boasts some incredible sizzling capabilities, enabling it to emulate the outcomes you'd usually get from traditional grills. Its top-down heat producer can exert a maximum of 500°F. And the company's very own Cyclonic Grilling Technology circulates the generated heat through a forceful fan to swiftly and evenly cook your food, giving you grill-like results every time.
This technology also includes a smoke regulation system that allows you high-temperature cooking without awkwardly smoking up your kitchen. It has a metal mesh screen that snaps onto the heating material to contain all the greasy splatters and mitigate smoke.
Its intuitive control panel is worth some praise as well. An array of one-touch buttons lets you switch the cooker on and off, choose your cooking program, and set the time and temperature between 105- and 500-degrees Fahrenheit. It also allows you to pick preset temperatures that read low, mid, high, and max. Besides, you'll find a cooking guide that helps select the right settings required for whatever you're up to grilling.
Performance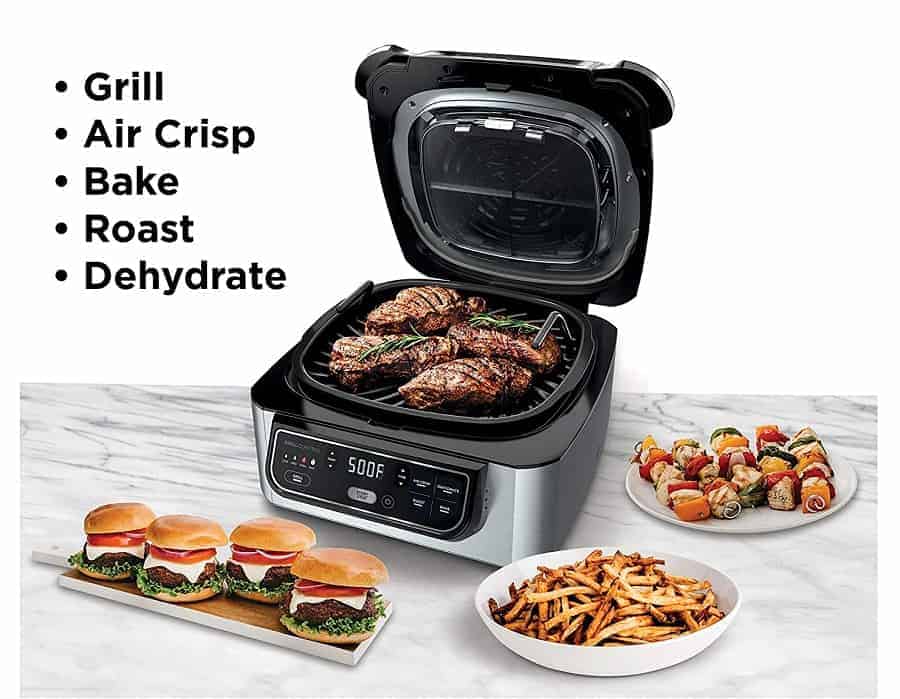 We got to try out several grills and air fryers promising seared steaks, precision crisps, and such lately. However, we found none of them providing anything above run-of-the-mill results. That's why it was a real surprise testing out the Ninja Foodi, which hardly disappointed us at all.
Starting without reading the instruction never got us bothered since the control panel seemed remarkably straightforward. The cooker swiftly began preheating the moment we chose the temperature and time, and it took no longer to notify us when it got ready for cooking some food. Depending on the settings, the preheating took around 4 to 7 minutes on average.
Grilling
We tried some chicken breasts, marinated salmon filets, strip steaks, hot dogs, and some frozen hamburgers to test how well it grills. And although the 4-steak-capacity inner space didn't allow much room for doing more pieces at one go, the results got us thoroughly impressed.
The burgers, hot dogs, and chicken seemed to be done on a typical outdoor grill. But it was the salmon skin that impressed us more. The deliciously crisp, well-browned finish didn't even need a flipping, giving us a pure delight.
And even though the strip steaks didn't quite match that done by an outdoor grill, they still came out far better than we'd expected from an indoor grill. Despite the preheat taking nearly eight minutes, we got our food prepared much quicker after putting it in there. The entire cooking session was virtually smokeless, too, which has to be the best part of our experience with the cooker.
Roasting
If turning on the oven seems too much time consuming for you during too little demands of roasted chicken, you can try its roasting feature. You can use this 5-in-1 Ninja Foodi version only for small roasted meat pieces, though.
Nevertheless, you can expect the outcomes to be deliciously mouth-watering. We tried a few chicken breasts inside the roaster, and they all came out with a juicy tenderness with crackling crusts on top.
Air Crisping
One thing is for sure- the Foodi's air-crisping feature can elegantly rival some of the best air fryers out there.
We tried out both frozen and fresh fries in it, only to experience its wellness that could match the tempting, fast-food-quality ones they sell in the restaurants.
Most air fryers require you to extract a basket for tossing and turning your foods, and there's no denying how awkward it can be to hold it while working on them. In contrast, the Foodi's upward-opening makes it far more convenient to access the items needing a flip within the crisper basket.
Baking
The Foodi even lets you bake your cakes in the grill's generously spacious pan. However, that doesn't necessarily mean you'll get impeccable outcomes with each attempt. We found our white-baked cake uniformly browned when it came out, and it had a moist and tender crumb. The top, though, got tremendously bulged and cracked.
It won't be an issue so long as you don't own a large-sized oven, and the looks of your cakes don't disgust you much. It can even pave you the quickest route to get your desserts on your table, hassle-free.
Dehydrating
The unexpected inclusion of the dehydrating feature within the Foodi grill was indeed a surprise; little did we know we'd need it at all. However, it paved an easy way to make some easy and delicious kid snacks.
We tried some apple chips, and it took a little over seven hours to dehydrate them all. It sure is time-consuming, but again, it only requires you just to put your food inside and forget.
As for the result, the lemon-soaked apple slices came out nicely hydrated with the perfect crisp and full of flavor. The feature can come convenient when trying to grind out some spice, herbs, or particular sorts of veggies.
If you want this grill with an integrated smart probe, then you have to pay $100 more. Check the version here.
Ninja Foodi Grill 4-in-1 vs. 5-in-1
If you're wondering how the 5-in-1 measures up against the prior 4-in-1, the answer is simple. The 4-in-1 only misses the dehydrating feature, and apart from that, it functions all the same as the later model we've just discussed.
Therefore, the Foodi 4-in-1 could've been a decent pick over the 5-in-1 for those who don't feel the necessity of dehydrating food; only it's hardly possible anymore since the company opted to discontinue the model to bring in more advanced replacements.
The 6-in-1 Ninja Foodi Grill Reviews (FG551)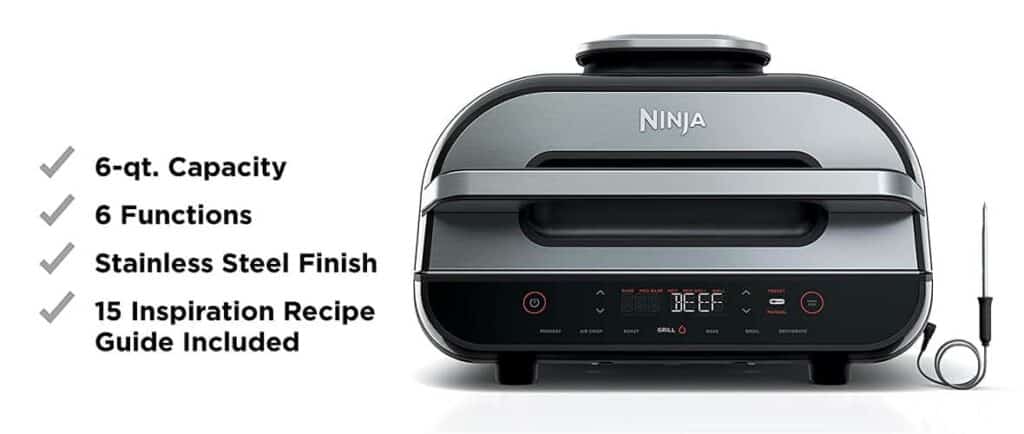 Long story short- the 6-in-1 Smart XL Foodi pretty much stands up as the big brother of the 5-in-1.
This one provides larger spaces (8-steak capacity) throughout all its cooking functionalities that exactly match those in the 5-in-1 model. And in our experience, there is hardly any difference in their delivered outcomes.
However, you'll get an additional broiling feature within this cooker, which makes up the '6-in-1' in its title. But this well-measured upgrade boasts two more exceptional features as well.
Handy Temperature Presets
The smart technology with the intelligent temperature presets for beef, pork, fish, and chicken has to be the coolest upgrade. And the best thing is you can use these presets across all the cooking functions (grill, roast, bake, air-crisp, and broil) it provides.
While the presets allow you to handle challenging circumstances without breaking a sweat, the selectable doneness levels within them can make your cooking a piece of cake. Whether you like it rare, medium-rare, medium, or well-done, all you'll have to do is just press the corresponding buttons after placing the meat inside.
However, the cooker also lets you set the temperatures manually (up to 500°F) if you're not that into preset-cooking.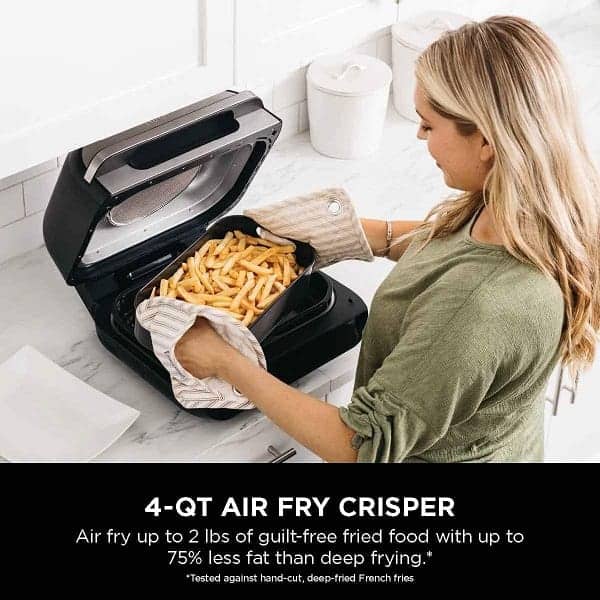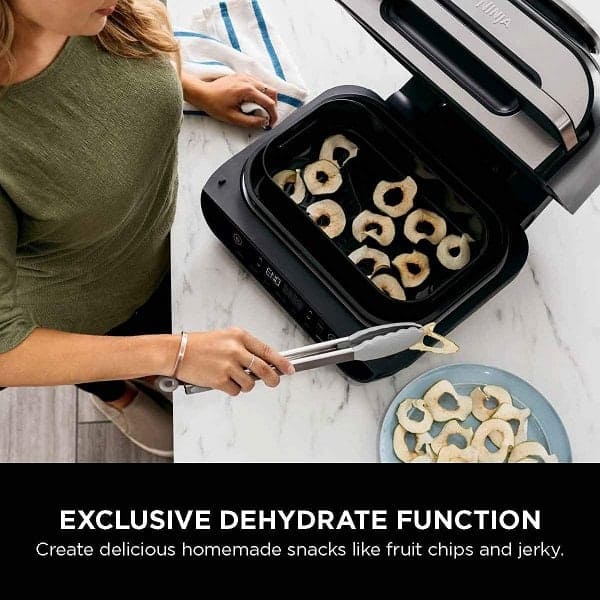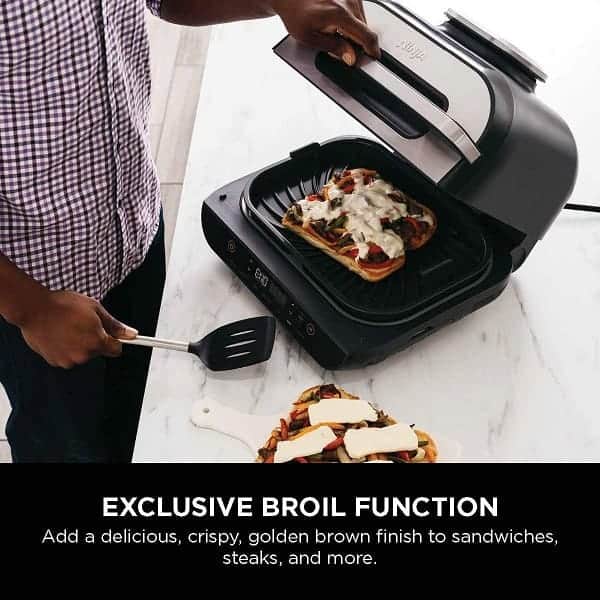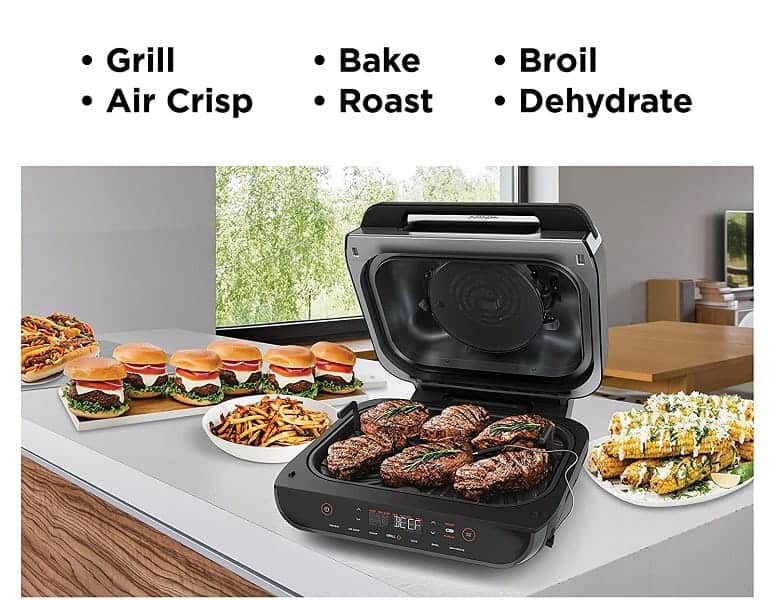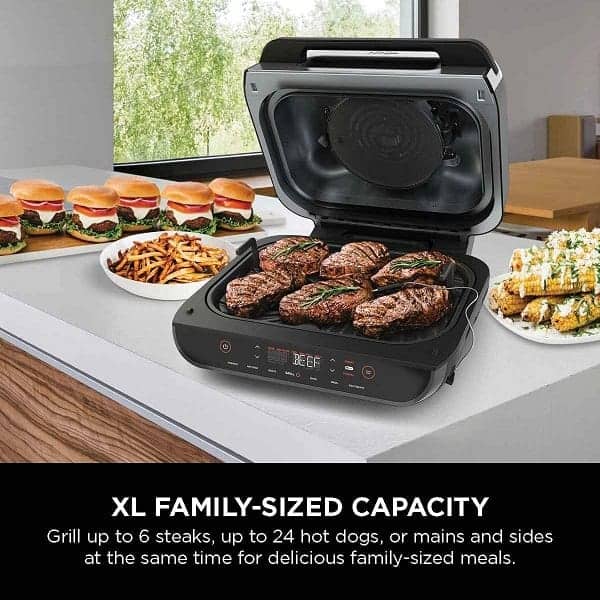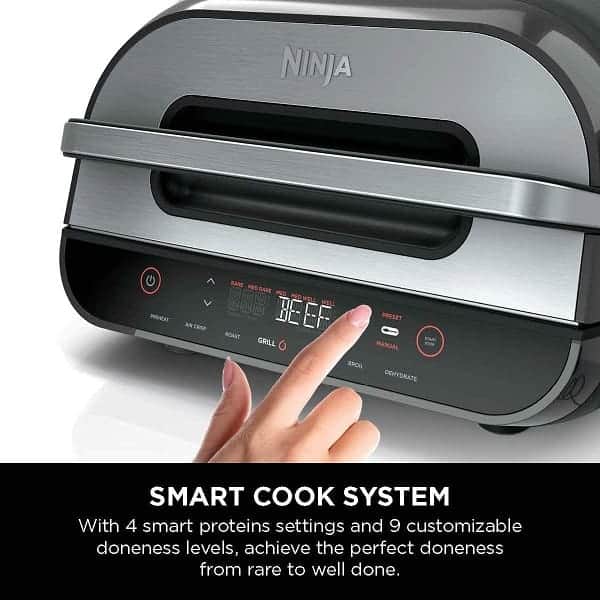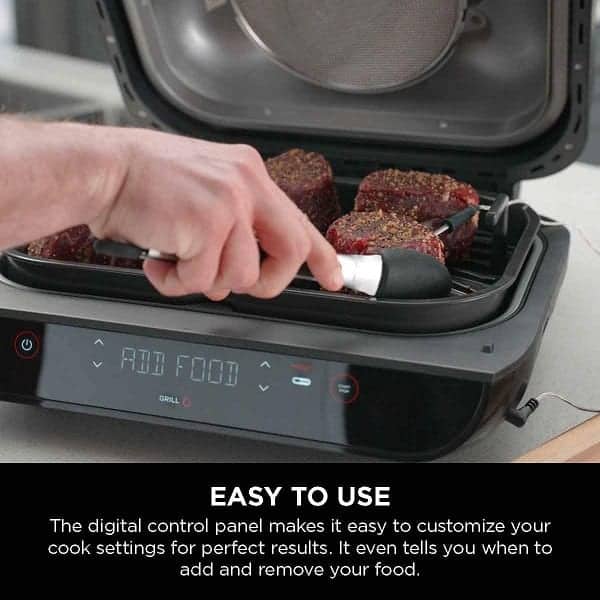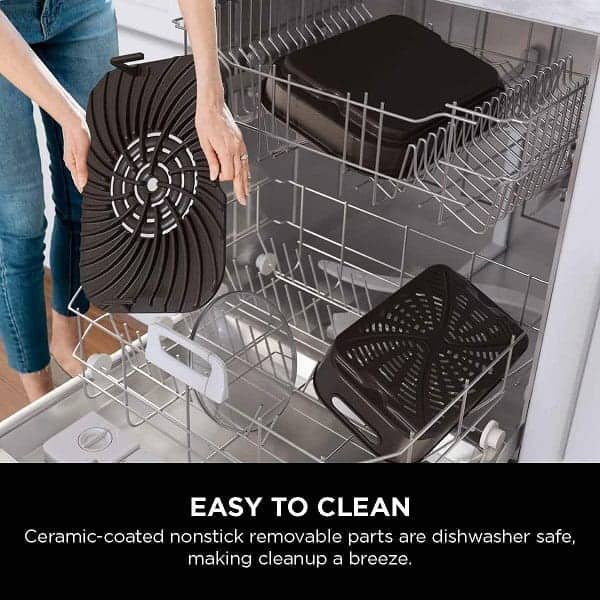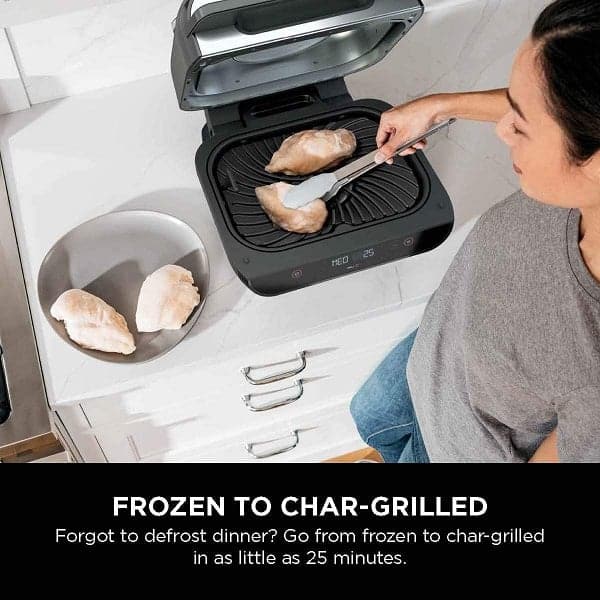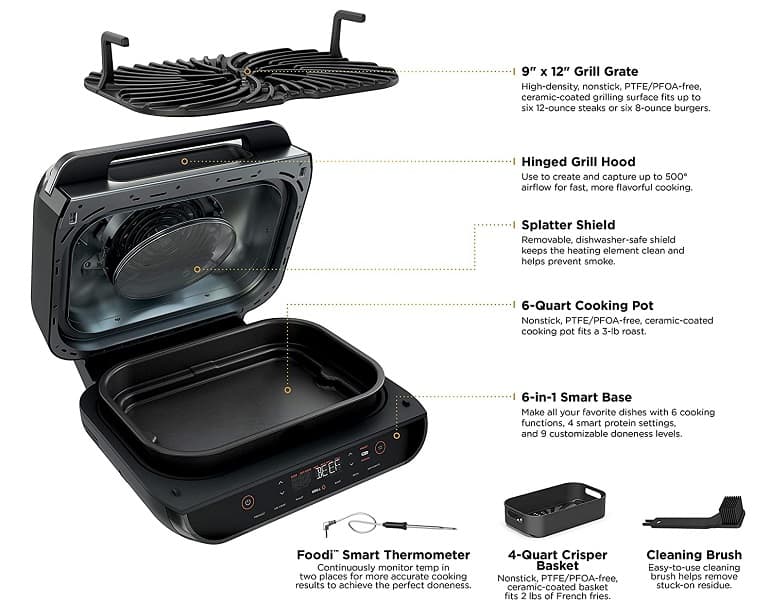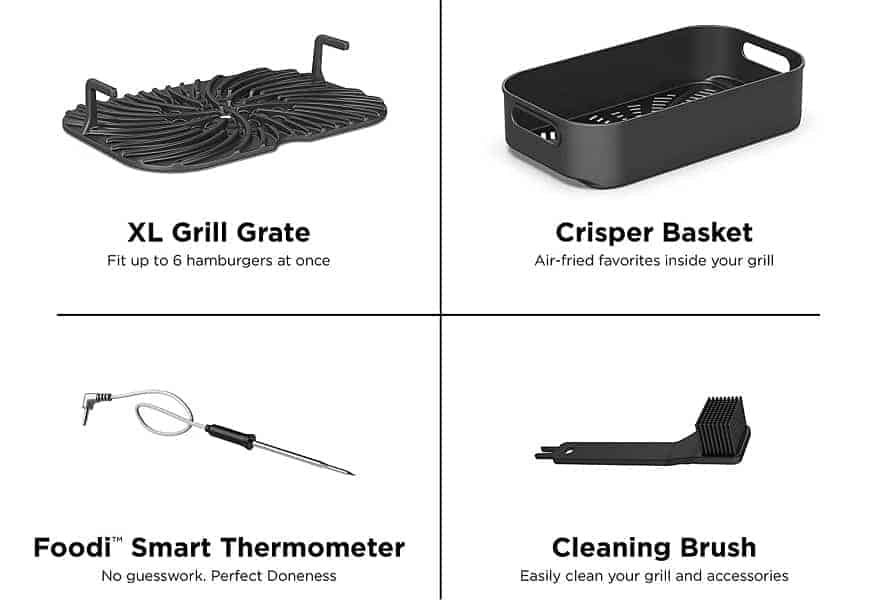 Smart Probe
The smart probe attached to XL Foodi can make your job further convenient, especially when you opt for a manual temperature setting. Just insert the pointy end into the meat before selecting the temperature you want it cooked to, and the cooker takes care of the rest. The grill continuously monitors it and switches off when done. You're bound to love it if checking every once in a while seems so very exasperating to you.
Ninja Indoor Grill 5-in-1 vs. 6-in-1
With the addition of the broiling feature and the smart probe attachment, the 6-in-1 undoubtedly has the upper hand over the 5-in-1. Besides, it allows you more room to get more of your cooking done. Then you have the presets that make them quicker at the same time. And with a much broader and shallower inner scope, it's one of those competent indoor options that can get you results resembling those with some of the best contact grills.
However, that barely makes the 5-in-1 a less competent choice. Unless you feel the urge to broil your meat within your grill, it can deliver just the same as its big brother. And let's not forget the fact that it has been Ninja's most sold cooking item since it hit the market.
Ninja Foodi Grill Accessories
Ninja Foodi Covers
Who Is the Ninja Foodi Indoor Grill Perfect for?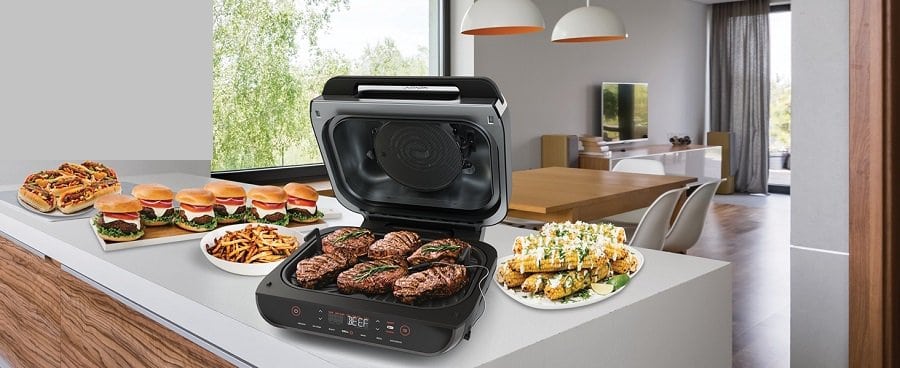 The Foodi grill can be ideal for anyone interested in an indoor grilling machine. However, none is better suited for it than those deprived of outdoor grilling facilities, especially apartment dwellers.
While it won't replace your barbecue or outdoor burner during large gatherings, it can undoubtedly cut your hassles elegantly with quicker, near-professional results. And you've got to keep in mind- it's perfect for your kitchen only if it has a countertop large enough to accommodate its bulk for convenient use.
Frequently Asked Questions (FAQs)
Is Ninja Foodi grill any good?
It's indeed a decent solution to smaller indoor-cooking demands during no-outdoor-opportunity situations, considering the quick, apt, and smokeless results it delivers. People looking for an all-rounder cooking machine will adore it for sure.
And of course, you'll get the idea from our ninja foodi indoor grill reviews.
Is the Ninja Foodi worth the money?
The 5-in-1 model costs around 230 bucks, whereas the 6-in-1, including the additional broiling feature, presets, and probe, values nearly around 280. In our experience, that's plenty of value.
And the performance, along with the user reviews online, makes that more evident. It can be an excellent investment if you love grilled food and want to experience grilling, roasting, or air-crisping all year-round through an all-in-one solution.
What is the difference between Ninja Foodi and Ninja Foodi grill?
Those are only some titular unsureness users get confused with while choosing between the three Ninja Foodi Grill versions. Check the comparative sections we've covered above for further enlightenment.
Is the Ninja Foodi grill smokeless?
Yes. The Cyclonic technology makes the Ninja Foodi a virtually smokeless cooker.
Can I put foil in my Ninja Foodi?
Yes, using aluminum foils inside the Ninja Foodi is just fine so long as you avoid putting acidic food inside it.
Is the Ninja Foodi dangerous?
Not at all. The UL-certified build and parts are entirely safe to use. Besides, the Cyclonic technology makes it play far safer than any other indoor grill would.
Does the Ninja Foodi Grill pressure cook?
No, it doesn't have any pressure cooking function.
Does Costco sell the Ninja Foodi grill?
Yes, they do. You can check their website for the latest deals.
Verdict…
If you are an avid lover of grilled food and want to be able to grill your favorite meat all year round without stressing about outdoor privileges, the Ninja Foodi Grill is the way to go.
The air-frying, broiling, baking, and dehydrating features are some absolute pluses to avail through an indoor grill, and Ninja has made sure you can enjoy them with perfection.
Through our Ninja Foodi grill reviews, you must have the key insights you've been looking for. So, wait no more, pick the model that suits your kitchen needs, and keep relishing the taste of your favorite grilled food at the ease of your home.
Amazon and the Amazon logo are trademarks of Amazon.com, Inc, or its affiliates.
She is a proud mother of three children. Married for 25 long years! She is the perfect Admin & Editor in chief for this site. She will be sharing her life long experiences with us.