As an Amazon Associate, I earn from qualifying purchases. There is no extra cost to you. Thank you if you use our links; we appreciate it!  Learn More.


Have you ever thought of modernizing your dinner parties with Swiss raclette cooking?
Just imagine relaxing around your living room table with your friends while the meat and veggies cook on the tabletop, with the raclette cheese melting just underneath, waiting to be topped-on. And think about the dimension it'll add to your party when each individual gets to cook their favorite deli beef, shrimp, or ham on their own all at once.
Yes, that's very much possible when you have a raclette grill, the traditional Swiss grill that cooks food with melting cheese in separate trays. Its popularity has spread across Europe throughout the years, and now Swissmar, the most reputed brand in the field, has paved the passage for Americans to delight themselves just the same.
In this Swissmar Raclette Grill review, we'll be taking an in-depth look at the product to see how it fairs when it comes to giving party makers a worthy grilling experience.
Swissmar Cast Aluminum Raclette Reviews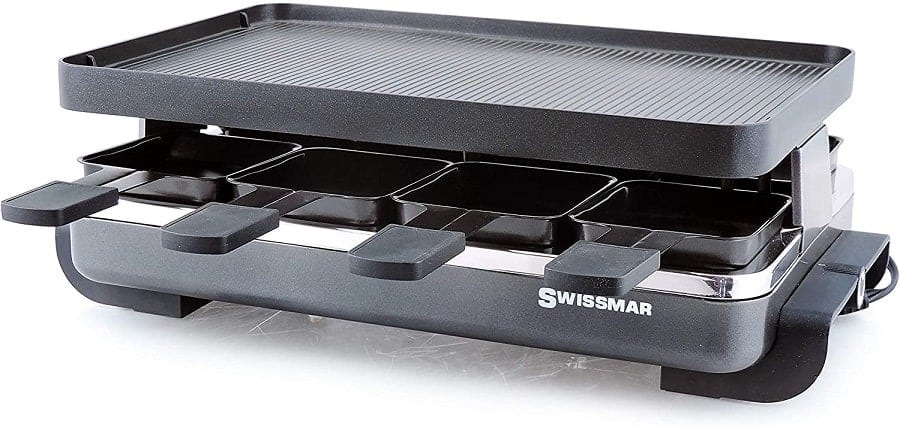 Swissmar Classic 8-Person Cast-Aluminum raclette is the most popular among its peers. It's one of the top-quality contact grills that comes with a set of unique attributes anybody looking for the best indoor raclette grilling experience will love. Let's have a glance at its key features and benefits before proceeding to the detailed Swissmar Raclette review.
Features and Benefits at a Glance
The reversible cast aluminum grill plates allow use on both sides.
You can cook veggies, meats, toasting bread, chicken, and fish over the grill top.
The 1200-watt/120v heating element boasts high enough power to pass the heat you'll need. Just plug-in and use, and it can even reach up to 280 degrees within fifteen minutes.
You can roll from low to high heat with a control-knob to pick the temperature that best suits your cooking.
The nonstick cast-aluminum plates provide mess-free, convenient cooking, and later on, effortless cleaning. Besides, the handles are always cool-to-touch.
It serves eight persons at one go, making it a perfect choice for cozy parties or small get-togethers. You can create personalized meals for each while cooking together.
The eight separate serving pans under the top allows precise cheese-melting for Swiss-staple raclette dishes.
Even the eight spatulas that come within the package are heat-resistant and nonstick, making scraping of the spoils further convenient.
The raclette grill has a sturdy build with high endurance, yet it weighs only around 9 pounds.
The interchangeable grill top has multiple varieties that you can buy separately.
Its rough surface requires no seasoning before first use, and neither will you need cooking spray.
The package also includes a comprehensive user manual and a free recipe booklet.
Look and Feel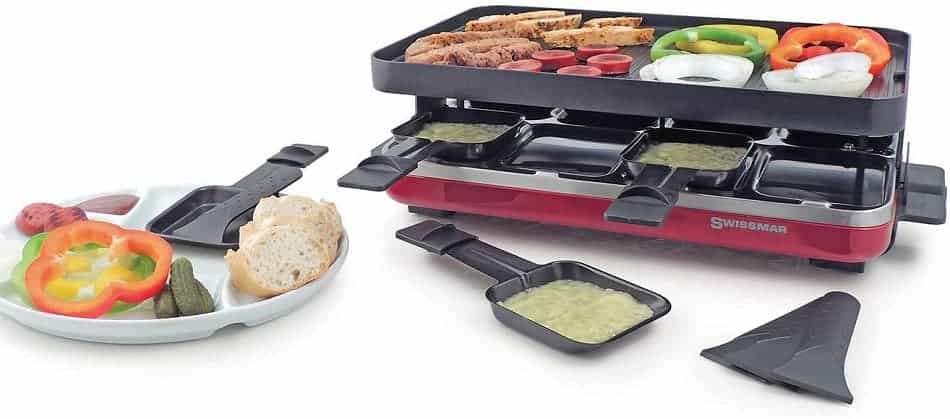 The Swissmar's Anthracite Raclette measures nearly 9.6 inches in width, 6 inches in height, and 16.2 inches in length, and it's supposed to suit eight people. The two-tier tabletop design looks much different from any typical grilling system that American people are used to, and that's what also makes it unique.
Since it's pretty much a tabletop device, buyers will indeed need a table to place it either at home or outside. But that should never be a headache, for everyone will have a table for sure. Besides, the raclette grill weighing only around 9 pounds means there are barely any hassles carrying it.
Its reversible grill top incorporates the second tier, which holds eight nonstick, spacious raclette dishes, allowing every one of your family and friends to show off their cooking skills at one go without needing turns. Meaning, all your party mates can grill together, making each dining session an intimate gathering everybody will love.
However, there are no additional slots for setting the trays aside when not in use. Meaning it'll take up some space on your tabletop or wherever you place it.
Ease of Use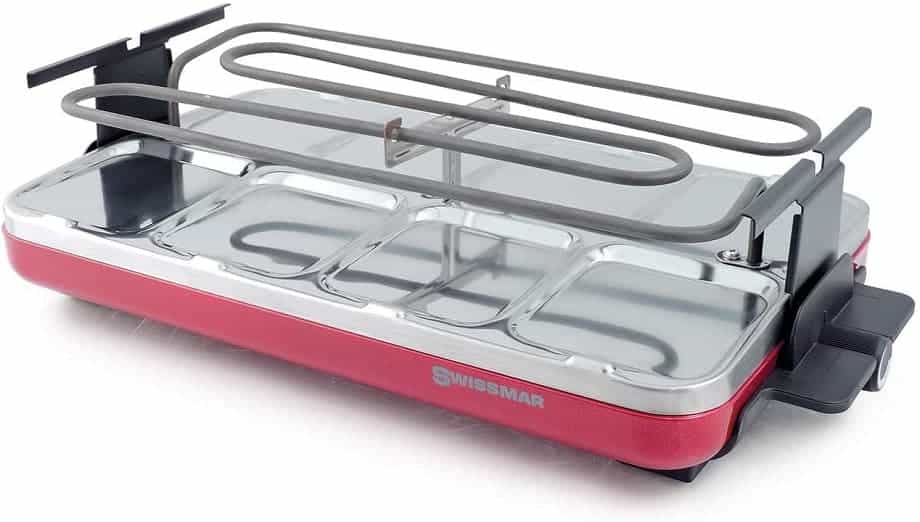 The grill sure comes with lots of separate parts, but the assembly barely takes longer than five minutes. Just place the tiers one on top of another and place the small pans on the second, then plug it in, and you're good to go.
You should also find the grill's reversing a simple job too. Both the grill top's sides are nonstick, and it easily slots into place without further maneuvers.
The underneath compartments make its design unique. You may want to think of them as your mini-ovens since they cook just the way an oven does. Likewise, you can use them for foods that taste better without grilling.
You'll get to track your operations by merely checking its visible display, which is simply a no-brainer of a job, and never requires you to be a pro. Just turn the nob and get the temperature you desire.
Performance of swissmar cast aluminum raclette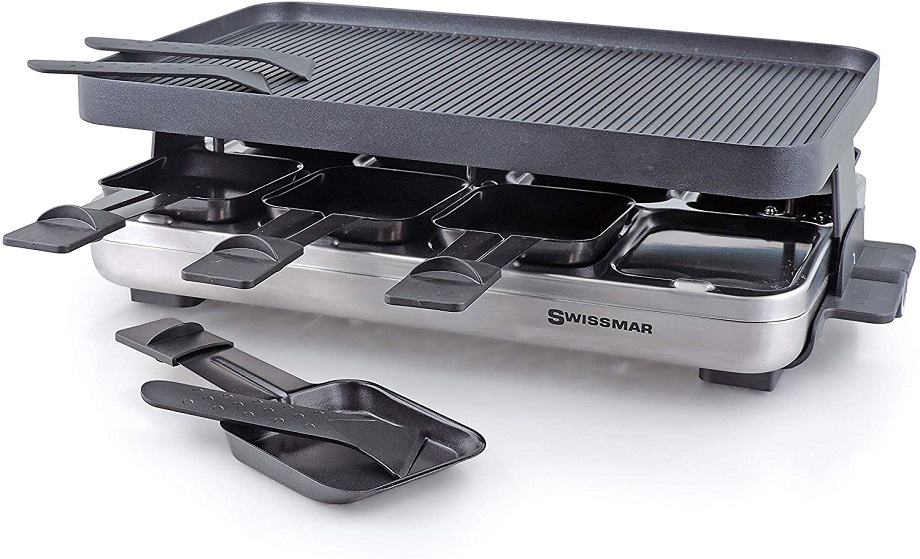 As we've said above, many of the potential suitors will find the peculiar design unfitting, and it may even put some of the buyers off as well, maybe a few more when they see the smoke coming out after the first turn. But that would be nothing other than a massive underestimation, for the grill has all that it takes to provide the best indoor grill-partying experience.
The reversible grill top is a unique inclusion within the cooker, which's bound to amaze anyone thinking- how's it even possible to heat food with a gap between the grill plate and the heat source. The genius heat conveyer on its sideways does the trick, to tell the truth, by connecting the top with the bottom without getting hot-to-touch.
While it might make many people (including us in the first place) doubt its capability of cooking evenly, the rough top will indeed prove them wrong. It took us by a huge surprise when we tried some veggies and meats; they came out nearly as well-cooked as in our conventional outdoor grill. And the credit goes to its 1200-watt heating element, which possesses more power to exert study heat flows than you'll ever need.
The other side of the reversible top intends for crepes and likewise foods that most Europeans love. We found Swissmar portable raclette second to none when it came to cooking crepes, one of the staples for Swiss people.
And it blew our doubts away yet again when thoughts popped like- how we, Americans, would benefit from this feature. That's because it turned out an incredible bonus when we found out our favorite waffles and pancakes require pretty much the same surface and cooking methods as crepes. Meaning it allows you to taste the best of both worlds. Besides, who would like meat all the time?
Swissmar Raclette Grill Review Verdict
This unique, lightweight, party-friendly, easy-to-use indoor grill is undoubtedly one of the best raclette grills for indoor get-togethers, not only for the quality but for the price as well. You won't need to look elsewhere if you're eyeing to add a distinct flavor to your intimate home gatherings without running through hefty sums.
However, there remains a concern regarding the grill top. You can completely ruin its nonstick coat just by merely putting some cooking oil over it. So, it's not for you if you can't do without oil in your cooking at all.
Alternate Versions of Swissmar Raclette
While purchasing Swissmar Raclette Grill, you can not only choose from a range of colors, but you also get to choose from a variety of materials and designs. And each of the models can serve across a diverse array of necessities and occasions.
Swissmar Cast Iron Reversible Raclette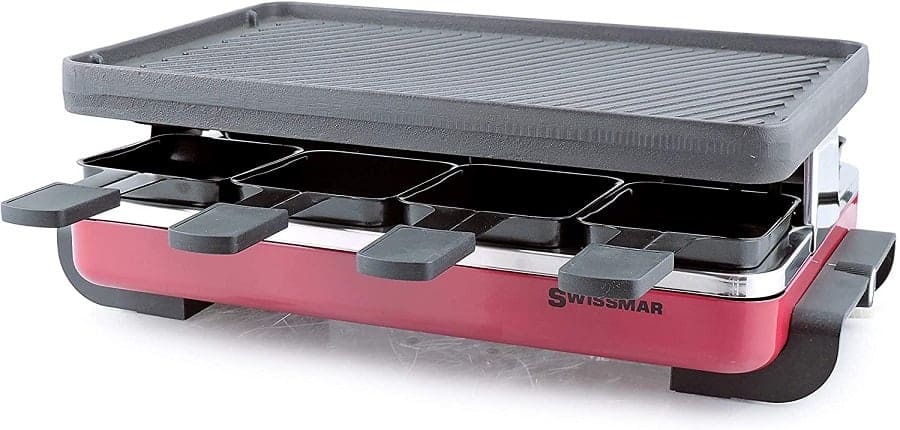 You can call this one an exact copy of the one we reviewed above. The sole difference, just as the name suggests- cast-iron grill top instead of cast-aluminum. However, the inclusion of cast-iron means it's also a bit heavier and somewhat less durable.
Swissmar Granite Top Raclette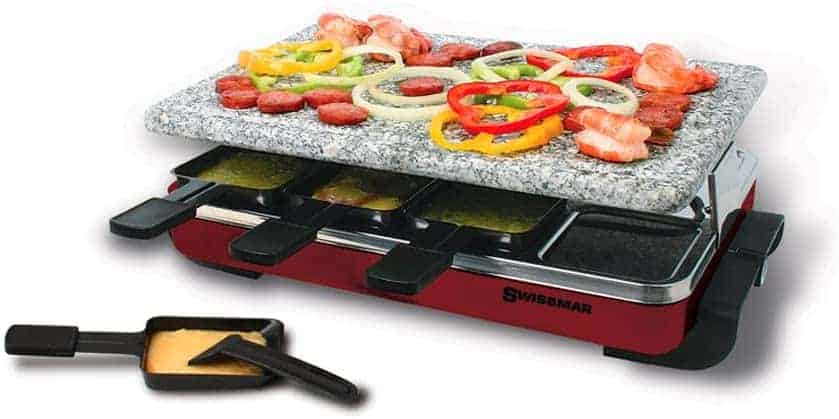 The differences are similar for this granite stone-top model as well. This one is the best match for those looking to experience classical stone-pan cooking at the ease of home. The tiny crevices within the stone surface are great for pressure-relieving cooking without losing the taste.
Swissmar Swivel Raclette with Cast-Aluminum and Granite Top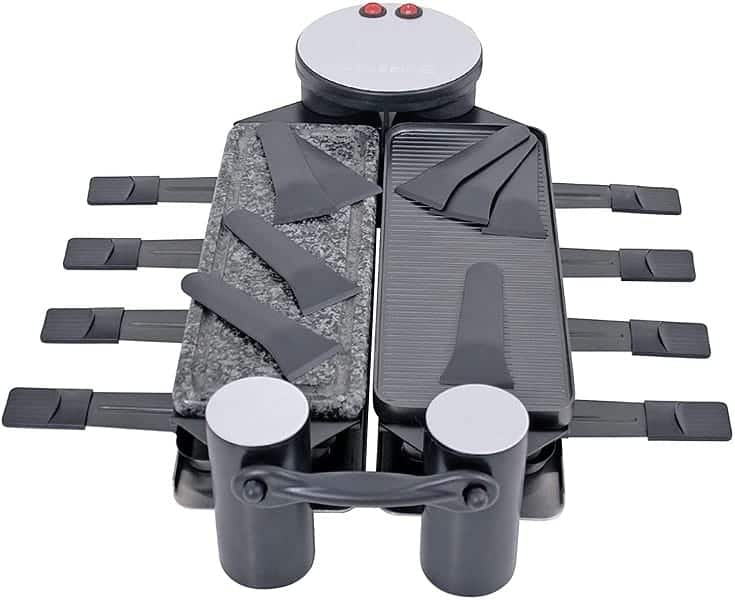 This swivel-style grill is the priciest Swissmar Raclette grill of all, and it comes with a contrastive twist. You can unfold the double-part grill-top to experience both granite-stone and cast-aluminum grilling experience within a single shot.
Moreover, both the parts come with separate controls and heating systems for added convenience. So, no more worries if you've got guests with mixed preferences when you have this double-stroke party cooker.
Swissmar Alpine Portable Candlelight Raclette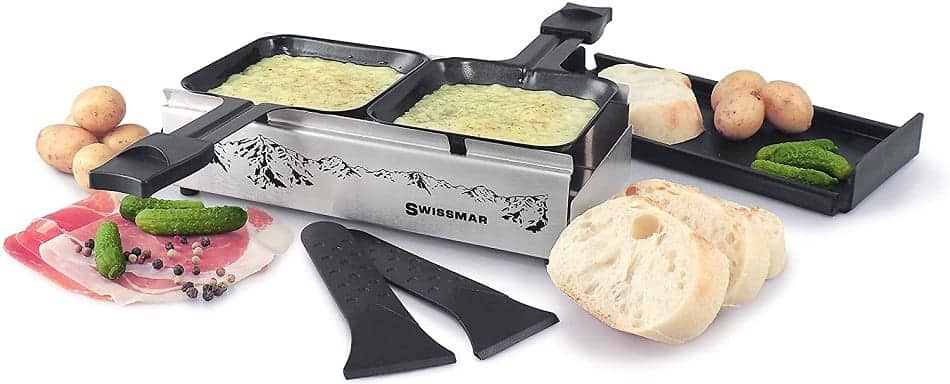 Whether you need super-convenient portability during campings, mountaintop picnics, or romantic candlelight dinings, the Alpine stainless-steel raclette grill can give you the most infallible experience. It's the tiniest of Swissmar raclette grills designed for fun cookings on all small-scale occasions. You may want to pick it as an exquisite budget-friendly gift item as well.
Swissmar Raclette Replacement Parts and Accessories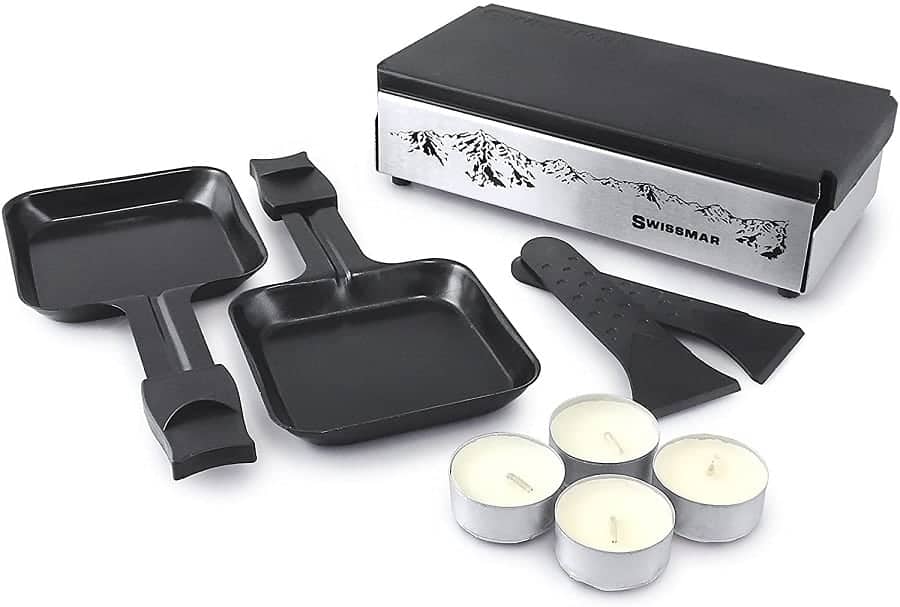 When you become satisfied cooking with Swissmar's raclette grill, which we bet you'll be, you may also want to try out its additional accessories and replacement parts. Follow this link to check out exclusive scrapers, spatulas, dish holders, tongs, and more.
Conclusion…
Hopefully, our Swissmar Raclette Grill review has given you a clear insight into the strange yet unique range of these versatile Swiss indoor grills. It indeed offers a great value for money whether you consider the fun, convenience, or performance. And its distinctness, without a doubt, makes it a top contender among available indoor grills in the market.
Read More
Amazon and the Amazon logo are trademarks of Amazon.com, Inc, or its affiliates.
She is a proud mother of three children. Married for 25 long years! She is the perfect Admin & Editor in chief for this site. She will be sharing her life long experiences with us.