As an Amazon Associate, I earn from qualifying purchases. There is no extra cost to you. Thank you if you use our links; we appreciate it!  Learn More.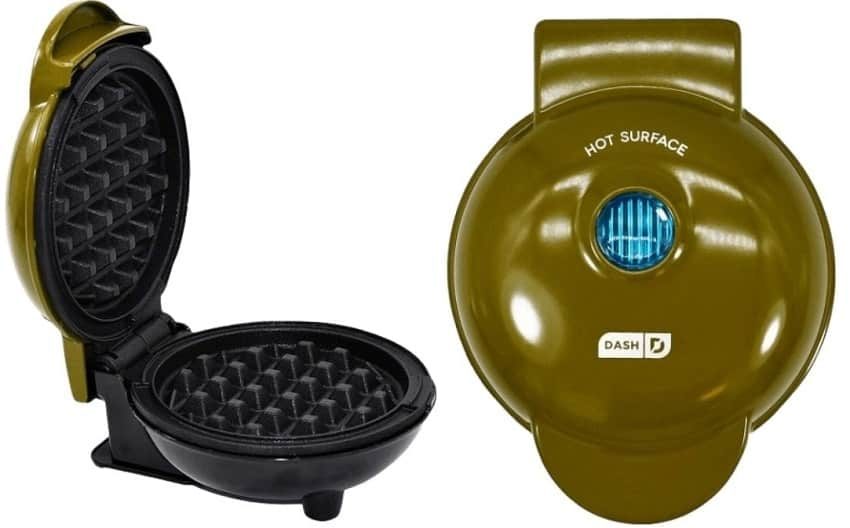 In today's world, we are all so busy, we hardly get any time for cooking. It's sufficed to say, we need an easy and convenient way of cooking meals.
Speaking of convenience, Waffle Maker is a handy cooking appliance, where everyone can make waffles very easily. And probably the best contraption to prepare evening snacks or a quick breakfast before leaving for office.
Yes, your guess is right! Today we are presenting some short dash mini waffle maker reviews with also a grill and a griddle maker. The goal is to find you the best waffle maker for yourself or as a gift for your loved ones.
Let's begin!
What Is A Dash Mini?

You may have heard the name Dash before. They make some pretty cooking appliances for all spheres of people with diverse functionality and affordable price point in mind.
The Dash mini is their quick food maker lineup featuring really small physical footprint. That's why these are perfect for kitchens with short spaces or college dorms.
Dash Mini Waffle Maker (Original)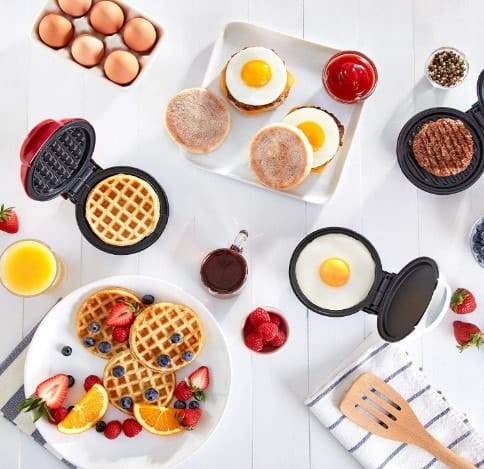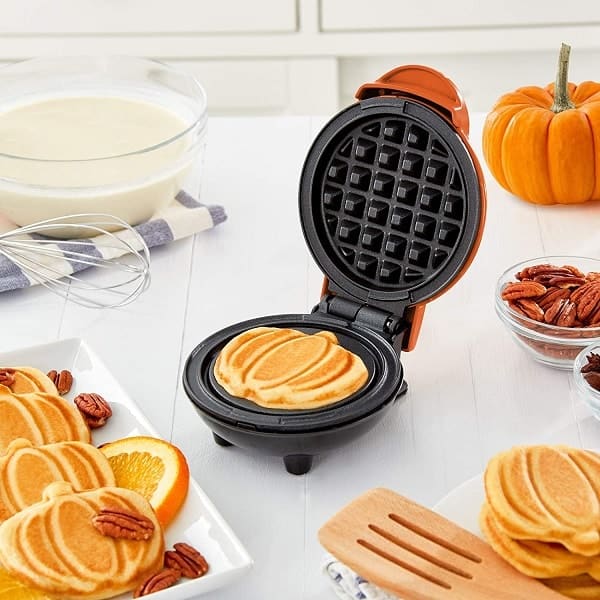 Who doesn't like Waffles! This one is in everyone's favorite list. Dash mini waffle maker is perfect for cooking sweet Honeycomb Waffles, Panini, Hash Brown, Biscuit Pizzas, and so on.
The 5″ x 6.4″ x 2.8" inches measure looks like a toy at first glance. It weighs only about 1.4 pounds. The maker is very lightweight and needless to say, it's portable.
This is an easy to handle waffle maker. Anyone can make waffles in this 350 watts Dash waffle maker within 4 minutes.
Dash waffle maker has a Nonstick baking surface, which is 4 inches in diameter. Due to the dual nonstick surface, the waffles are fried well on both sides and do not burn. After cooking, Waffles can be easily released from the surface with a fork.
It comes in different designs and shapes such as dash mini heart waffle maker, dash mini pumpkin waffle maker, and so on.
Pros
It has 4 non-slip feet.
A fun activity for both adults and kids.
Cons
Suitable for only 4-inch waffles.
Dash Mini Maker Waffle (Nonstick)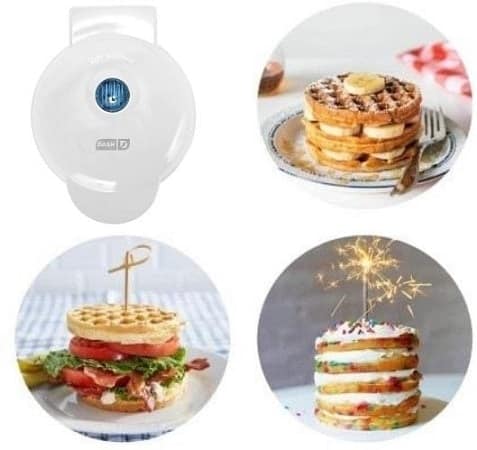 Dash mini waffle maker (nonstick) has the same specification as the Dash mini waffle maker (original). But its dual non-stick surface is PFOA free and can provide consistent cooking results every time.
It comes with 8 inches cooking surface and you can make 4 share size portion snacks and waffles.
Dash mini maker waffle comes in a variety of colors. That means you have some good options to select any color, matching with your kitchen decor.
Wondering how to clean dash mini waffle maker?
Don't worry, it has nonstick material. If any food is burned on the cooking surface then pour some oil on it for a few minutes, and then use a scrubber to easily clean that mini waffle maker by dash.
Pros
Great for RV Cooking.
Capable of cooking 8 inches waffle.
Dash Mini Grill Maker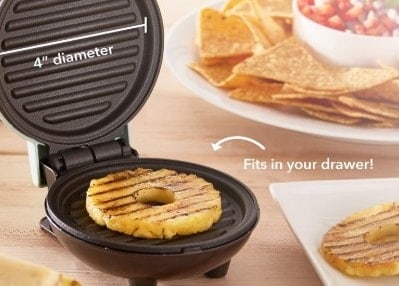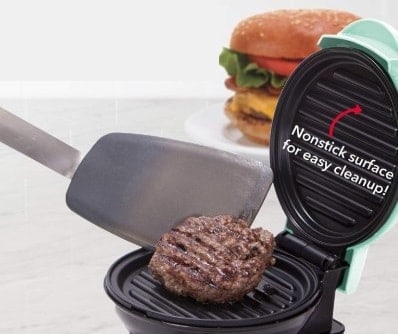 Are you a burger lover or grill lover? Dash mini portable grill maker gives you the same tasty and juicy flavor burgers patty and steak that you eat at a restaurant.
Dash mini maker grill has also 4 inches dual nonstick surface which allows grilling Burger patty, Panini, breakfast sandwich, and more without using multiple pot or pans.
Many people think grill maker disperses smoke! But in reality, it doesn't, making it the best Smokeless grill for indoor.
It also has one-year manufacturer warranty and offers anti-slip feet, nonstick heating plate, recipe book, and recipe database access.
The most astounding thing with this is it's not as expensive you think. Single serving people or bachelors can find an easy cooking solution with the dash mini grill maker. For its Good contact grilled function, one can prepare a meal within a short time.
Pros
Easy cleanup.
Restaurant grade food at home.
Dash Mini Griddle Makers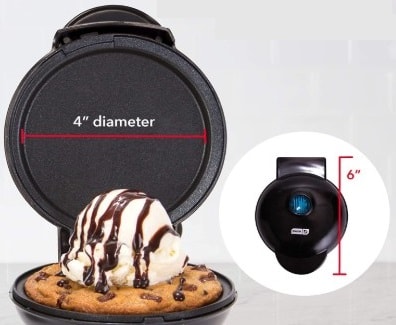 Dash mini griddle maker is more than a mini pancake maker. One can use it in a different way such as poached egg, grilled cheese sandwich, cookies, and many more.
For a quick breakfast, we can use this mini griddle maker as it heats up quickly. You can plug it into socket 2minutes before you are ready to cook.
Dash mini maker Griddle's specification is the same as a mini dash waffle maker. It also comes with a dual non-stick surface which provides the best cooking result. As it is small in size so it will be the perfect gift or wedding gift, and it has a different color and design which brings new aspects.
You can also develop your griddle cooking quality by using different types of oil. You have so many options to add like- olive oil, sunflower oil, and clarified butter, and so on to extract good flavors of your griddle food.
Pros
Great for morning pancakes.
Can also use as a grill.
Cons
Sometimes generate heaton the outside.
Frequently Asked Questions
1. How do you clean a mini dashboard?
It's very easy to clean. If any food is burned on the cooking surface then pour some oil on it, keep it for a few minutes, and after that by using a dishcloth or soapy cloth you can easily clean that.
2. How long does it take to cook a mini waffle?
A mini waffle takes 3 or 4 minutes to cook.
3. How big is the Dash mini waffle maker?
The dash mini waffle maker is like a tiny machine and the cooking surface is as big as 4 inches.
4. How much batter do you put in a dash mini waffle maker?
For 4inches waffle, it's recommended to pour 1/3 cup batter.
5. Can you use PAM on a waffle iron?
Using PAM is not compatible with your waffle iron. It may ruin your nonstick surface. It's better to use butter, olive oil, vegetable or corn oil, etc.
Wrapping Up…
These days everyone is looking for an easy and time-saving way of doing their works. In the case of efficient cooking, there is no exception.
Dash mini waffle, grill & griddle maker is a great cooking solution for both family and individuals.
Hope this dash mini waffle maker reviews has cleared all the confusion that you have in your mind.
Read More
Amazon and the Amazon logo are trademarks of Amazon.com, Inc, or its affiliates.
She is a proud mother of three children. Married for 25 long years! She is the perfect Admin & Editor in chief for this site. She will be sharing her life long experiences with us.