As an Amazon Associate, I earn from qualifying purchases. There is no extra cost to you. Thank you if you use our links; we appreciate it!  Learn More.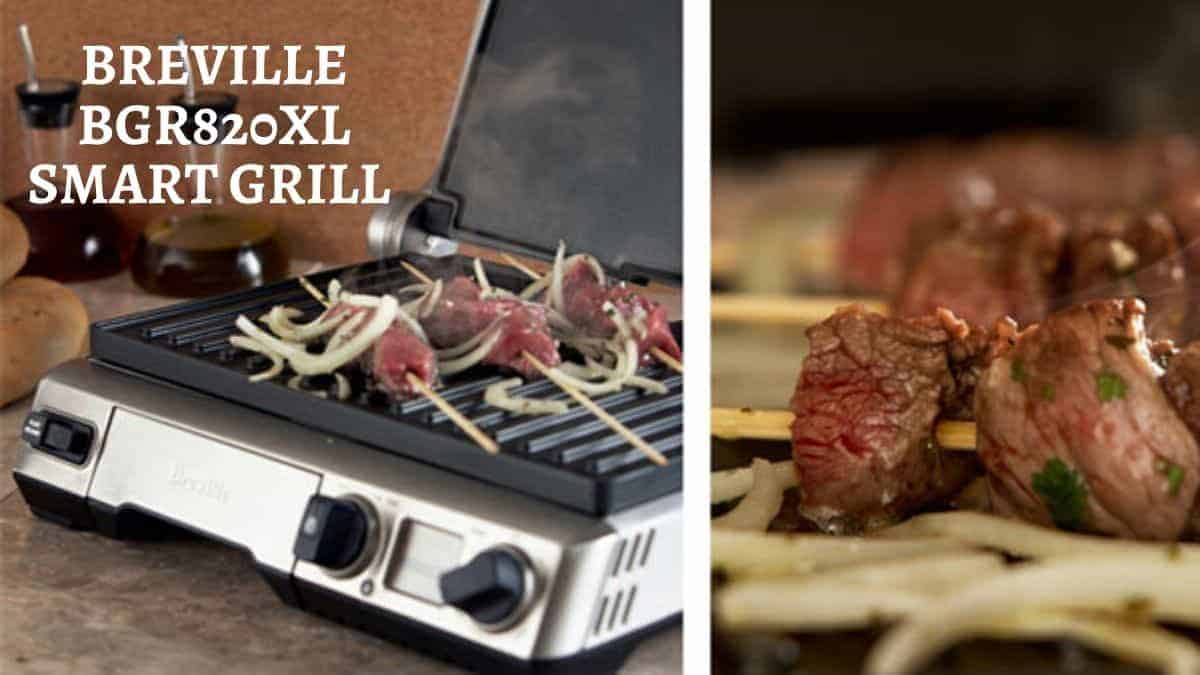 When it comes to grilling, Breville BGR820XL Smart Grill is said to be one of the finest kitchen tools available to date. Its unique built-in IQ technology has taken the indoor grilling to a whole new height.
It's an amazing appliance that lets you grill anything from panini-style sandwiches to steak dinner. On the downside, the price of this amazing product is a little on the heavier side and that's why knowing what's on offer is so crucial.
If you crave grilled food, it has got some outstanding features you would love to know about. And let us put your mind at peace. Because in this article we will share the nitty-gritty of Breville BGR820XL Smart Grill and review the bells and whistles it comes with.
So, without further ado, let's get started!
Technical Specifications
Model: BGR820XL Smart Grill
Dimension: 6″H × 14″W × 14″D
Cooking Area: 260 square inches in open flat BBQ mode
Weight: 22 lbs.
Material Type: Stainless steel
Voltage: 110-120 Volts
Temperature Range: 310- 450F
Temperature Control: Low, Panini, and Sear Mode
Heating: 1800 Watts
Backlit: LED Display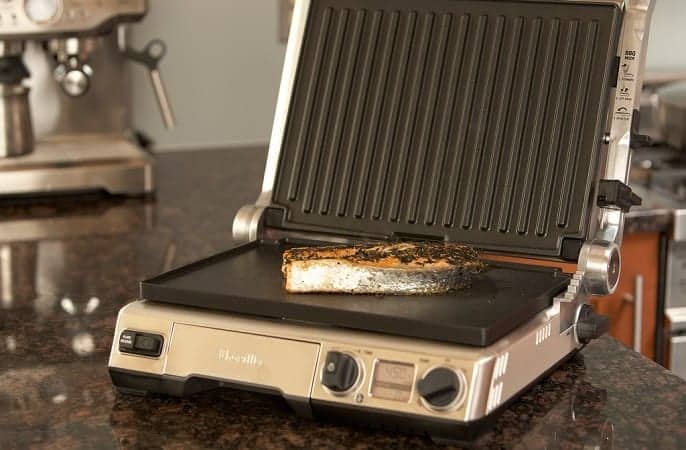 What Is The Breville's BGR820XL Smart Grill?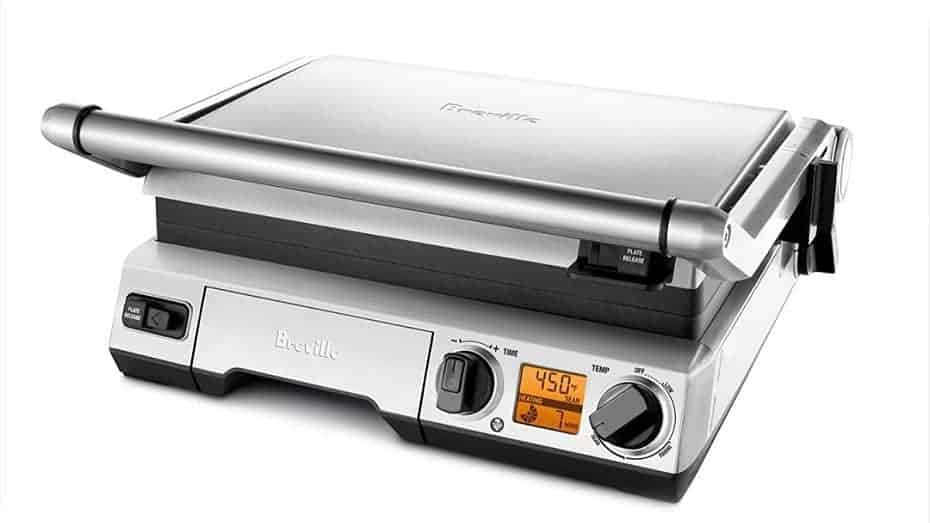 Founded in 1932 Breville has become a leading brand in the cooking appliance industry. They deliver creativity to make the kitchen time easy and impressive.
Especially when we think of indoor grilling, their BGR820XL Smart Grill model cannot be left out. But then why do we have so much trust in this particular machine?
Fair enough. Let us explain!
As a grill lover you should already know that there is one thing in common in all of us. Often, we become critical about the shortcomings of an indoor grilling machine in its cooking ability as opposed to an outdoor grill.
However, this prominent electric grill from Breville puts all this apprehension to test. It is designed to accommodate outdoor grilling on your kitchen counter.
How Does BGR820XL Smart Grill Stand Out?
Innovative Technology
If you are the type of person who weighs outcomes more than cost savings then Breville BGR820XL Smart Grill is going to be a pretty decent appliance for you.
The secret of the machine's outstanding grilling ability lies in the use of an advanced element IQ technology. When you put any cold food or meat on the pre-heated surface the heat sensors embedded into the grill plates detect this heat loss immediately.
Unlike other grills, they compensate for this drop in temperature by injecting rapid heat onto the grill surface. Also, they prevent losing the heat they produce. Thus, it ensures that the food continues to cook at the required temperature.
Incredible Heating Ability


The machine's 1800 watt elements and combined with heating coils (embedded underneath the grill plates) are geared for maximum heat. The result is faster cooking and shorter pre-heat time that you don't usually expect from a regular countertop grill.
Clamshell Design
Breville BGR820XL Smart Grill comes with two grill plates in a clamshell design. There is a ribbed plate and a flat plate. And, the good news is they are interchangeable and you can utilize both plates to grill.
The clamshell design along with the hover lid allows you to open the grill plate completely flat at 180 degrees. In effect, this is a Barbeque Mode that doubles your cooking surface.
Barbeque mode works best because this allows you to cook steak dinner, pancakes, grilled sandwiches, meats, vegetables, and a lot of other recipes.
Panini Press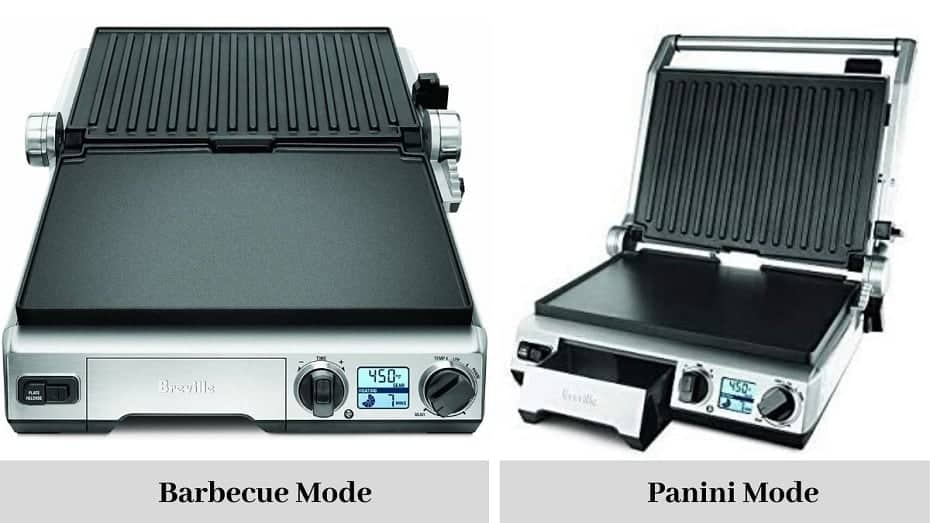 The top plate is adjustable into six different height settings and you can turn this into the Panini Mode. Just hold the die-cast handle and fold it to make a press.
The ability to adjust the height means your food will not get squashed regardless of its thickness. So, choosing your cooking style becomes more convenient.
Ease Of Cleaning
When it comes to cleaning, Breville BGR820XL is one of the easiest Smart Grills to deal with. Its non-stick (aluminum coated) grill plates are scratch proof and dishwasher safe. This also helps reduce oil when cooking.
Greasy residues are bound to develop during a grilling process and the removable aspect of the grill plates lets you easily clean these accumulates.
In fact, you can tilt the plates to drain drop off fats into an integrated drip tray that rests at the base. The drip tray is removable. So, it is very easy to wash and bring it back in.
Ease Of Use
In terms of temperature control, the device has a temperature control dial seated at the bottom right side. This allows you to choose a temperature at a range between 320 to 450 degrees Fahrenheit. Depending on the kinds of food, you can set the temperature at three different modes: Low, Panini, and Sear.
There is a switch that shows you the temperature of the grill surface. If you want to see the temperature in Celsius you can do it just by flipping the conversion button.
At the left bottom side there is a timer control dial that gives you a chance to lock down your desired heat-up period. Additionally, the smart grill will make a sound alert when the time is up.
Consistent Heating


With Breville BGR820XL Smart Grill you can cook your ingredient as much as it gets up to the sear mode (around 450 degrees Fahrenheit).
Moreover, you can keep this high temperature for a longer period and yield desired tenderness on your meat just as you expect from an outdoor grilling.
PROS
With Barbeque and Panini mode you can cook a range of foods. From a sandwich, to cooking a whole meat, everything that comes off this grill looks fantastic.
Not only does Barbeque Mode allow you to open the grill completely flat, but you also have two separate grills that give you the convenience of having your food cooked in their flavor.
The smart grill encourages healthy cooking as it drains away excess fat during the frying process. The non-stick plates allow you to use no fat or a tiny amount is enough if you want to add flavor.
It is very easy to clean the grill plates and grease tray because Breville BGR820XLis probably the best contact grill with removable plates that you can find on the market.
The embedded heating design of this device locks the taste of your food from escaping. Then using element IQ technology prevents heat drop and you can sear meat at a consistently high temperature so grilled meats turn out to be juicy and tender.
A typical budget indoor grill doesn't have an embedded heating design operating at 1800W means the Breville BGR820XL Smart Grilltakes a shorter time to preheat and that lowers your cooking time significantly. Usually, it takes no longer than 2 minutes to reach the highest temperature range of 450F.
The appearance is good looking and it is a high-quality electric appliance designed to last longer.
CONS
It's difficult to find any weaknesses in this prominent grill. However, with a few minor flaws, it can be just short of perfection.
Compared to other models Breville BGR820XL Smart Grill is expensive and it can disappoint price-sensitive consumers. But there is no question about the profoundness of this appliance. You'll get what you pay for.
It would be better if a fourth temperature setting lower than 320F made available for gentle cooking or warming food already being cooked.
The Breville Smart Grillbox doesn't include additional grill plates. So, if you want your grilled sandwich to be ridged on both sides you need to buy an extra griddle plate.
FAQs
Does the countertop get hot underneath this griddle?
No, it doesn't. The heating coils are built into the plate.
Is the Breville Smart Grill lock closed for storage in a cabinet?
Yes. The product does lock closed securely for storage in a cabinet. But it is a bit heavy and you should keep it in the lower storage for ease of moving.
Is there smoke when cooking steak?
If you burn something, it can produce smoke but not with day-to-day cooking. Even a well-done steak wouldn't smoke too much. Just make sure to wipe down the non-stick surface properly every time you use it to prevent smoke.
Can Breville BGR820XL produce an even 450F without shutting down?
It does produce 450F and you can sear steaks on it. It's never shut down
How long does it take to heat to 450 degrees?
It is very fast to heat up and normally it takes 2-3 minutes to a maximum of 5 to reach 450F.
Are certain areas on Breville Smart Grill hotter than other areas?
There are no cooler or warmer spots than others. Typically, you get even colors when you use the griddle pan.
Is it too large for an individual living in a condo?
Surely not. It is a multi-purpose grill and fits nicely with your condo living. Cleaning is very easy as well.
Can you make quesadillas with Breville BGR820XL Smart Grill?
Definitely! Just like Paninis Quesadillas turn out nice on it if you know what are the things that must be put into it.
Does Breville BGR820XL offer any warranty?
Yes. You will be entitled to a 6-month warranty on purchase.
Final Verdict
Following our Breville BGR820xl Review above, we hope you are able to realize that Breville BGR820XL Smart Grill is a multi-purpose appliance to cope up with all your grilling needs.
Basically, you are getting the traits of outdoor grilling in the comfort of an indoor grill machine. Although the price is a little more than other regular grills, the benefits are twofold here.
It gives you the luxury to cook as good as a barbeque and cleans as fast as a frypan. We don't see this kind of versatile cooking appliance far too often on the market.
Lastly, we believe Breville BGR820XL Smart Grill can be a great addition to your kitchen if you like your innovation with a high-quality indoor grill. And so, the extra money in our opinion would be worth spending.
Note: You will often hear a griddler's name alongside this grill. That is from Cuisinart. Here you can find out the difference between Cuisinart Griddler and Breville Smart grill.
Read More
Amazon and the Amazon logo are trademarks of Amazon.com, Inc, or its affiliates.
She is a proud mother of three children. Married for 25 long years! She is the perfect Admin & Editor in chief for this site. She will be sharing her life long experiences with us.