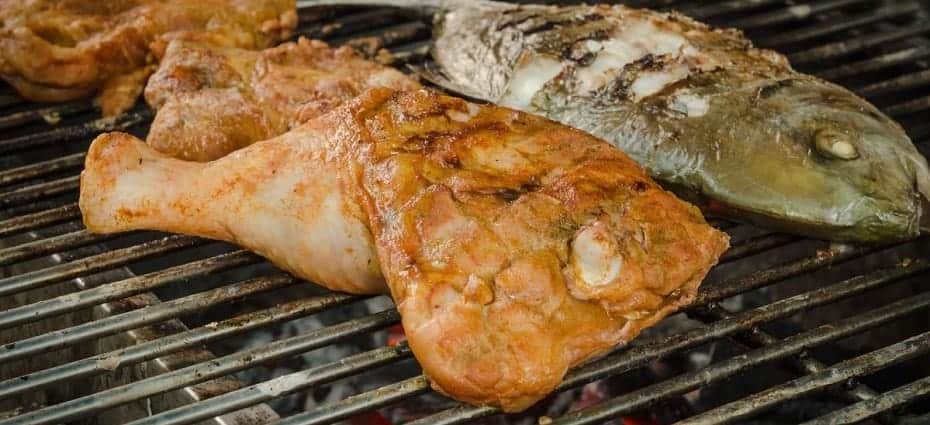 You know the grilling season is around the corner when the sun's shining brighter, and it's just too hot to cook on your kitchen stove.
Grilled meat and the US summer make an impeccable combination, with the family barbecues and cookouts serving up steaks, hot dogs, and hamburgers for the out-and-out perfect weekend meal. But none of them are so omnipresent as chicken, which is much-loved by people from all age groups and suited for every domain.
However, with the controversy over the potential health risks associated with grilled chicken rising in the past few years, you may as well want to consider a few essential facts—for instance, the hazards concerning the toxins formed during the grilling process.
And these concerns naturally bring up the burning question- is grilling chicken healthy or not?
Let's find the possible answers to this much-disputed topic by reviewing both the benefits and health risks linked to grilled chicken.
Grilled Chicken Health Benefits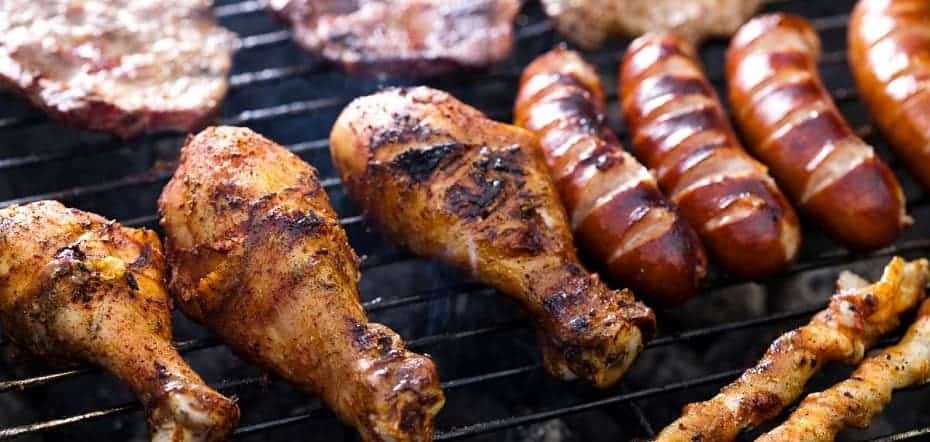 You Consume Less Fat
The more fat you leave in your cooked meat, the more of it goes into your body. Surprisingly, even the traditional lean chicken meat may contain fats you may not prefer eating.
When that sounds like a worrying concern, grilling can be the healthiest option you can turn to. It ensures you don't cook the chicken in its own fat. Whether you choose contact grills, gas grills, charcoal grills or even indoor grills, you can assure yourself of eating lesser fats so long as the excess fats keep dripping off the grates.
Consider making burgers on a pan-on-a-stove-top versus making burgers on a grill. While the grill cooks off the fat, making sure not a bit gets reabsorbed by the meat, the fat barely has a place to go during pan-cooking, making it end up where it belonged every time. Hence, you can always expect leaner, healthier meats when grilling chicken than when pan-cooking them.
Read: How to use grill pans?
You Don't Lose the Nutrients within the Meat
The thiamine and riboflavin in the chicken are two vital nutrients that can help you keep up the healthy diet you desire, while both also associate a great many other health benefits.
By frying your chicken, you can lose these nutrients altogether and end up eating less healthy meat, requiring more meat to cover up the deficit. However, this scenario is rarely a possibility when you grill your chicken since it helps retain the highest possible nutrients within the meat.
Read: Is BBQ Sauce healthy?
You Achieve More Moisture with Less Butter
You must be familiar with the troubles regarding moisture retention when frying chicken. You get it wrong, and your meat becomes overly dry and less flavorful.
While many try to solve this issue by adding butter or lards, this practice only adds to their overall fat consumption, which isn't good for your health at all. Yes, your meat will indeed taste better, but chances are you'll put on some weight for the same reason.
And that's where grilling can help you significantly. It allows the meat to retain its inherent moisture while draining the fat away, keeping it tasty and tender without added lards. Because the grill keeps the moisture intact within the meat, you'll be less likely to reach for additional seasonings to juice up your meal. And with lesser grilled chicken calories, your body has lesser unhealthy stuff in it.
Read: Is grilled vegetables healthy?
It Helps You Lose Weight
Some recent researches suggest that we can feel fuller if our meal contains as little as 25-30 grams of protein. It's nearly the exact amount that you can get by eating a piece or two of grilled chicken. Meaning, you can feel satisfactorily fuller despite eating much less, which can undoubtedly be a significant boost to your weight management system. And promoting a healthier weight balance can decrease heart disease risks in the process.
It Promotes Better Mood
Since grilled chickens retain most of the nutrients compared to pan-cooked chickens, they offer a great many percentages of amino acids, especially tryptophan. The nutrient is renowned for stimulating our brains' serotonin levels, which translates into 'the feel-good hormone.' Hence, apart from the happiness achieved through tasting good, grilled chicken can literally make you happier in the long run.
Health Risks of Eating Grilled Chicken

Grilled chicken doesn't come without downsides. Several health risks do tag along when you toss that lean piece of meat onto your grill. The scariest part is that it links some chemical reactions that even promote cancer risks.
Let's look at the potential big picture associating the chemical reactions that suggest how harmful grilled chicken can be for your health.
AGEs:
Fat+Protein+High heat= trouble, and there's no denying it when you're cooking meat on a grill. High-temperature cooking always leads protein and fats to react chemically, creating toxic glycation end products (AGEs). These toxins can cause antioxidant imbalance or oxidative stress in our body while also leading to inflammation, cardiovascular diseases, and increased diabetes risks.
PAHs:
The smoke that emits when grilling chicken contains PAHs or polycyclic aromatic hydrocarbons, an assembly of over one hundred different chemicals. Scientists and doctors classify PAHs as carcinogens since they're linked to higher bladder and lung cancer risks.
HCAs:
Grilled beef, pork, chicken, and fish also contain HCAs, or Heterocyclic Amines are carcinogenic chemicals. When the protein's amino acids react with the muscle meat's creatine at a temperature higher than 300 F, they create HCAs. Several scientific researches have found strong links between HCAs and pancreatic, prostate, and colorectal cancer.
Read: Best way to cook meat to avoid carcinogens
Frequently Asked Questions (FAQs)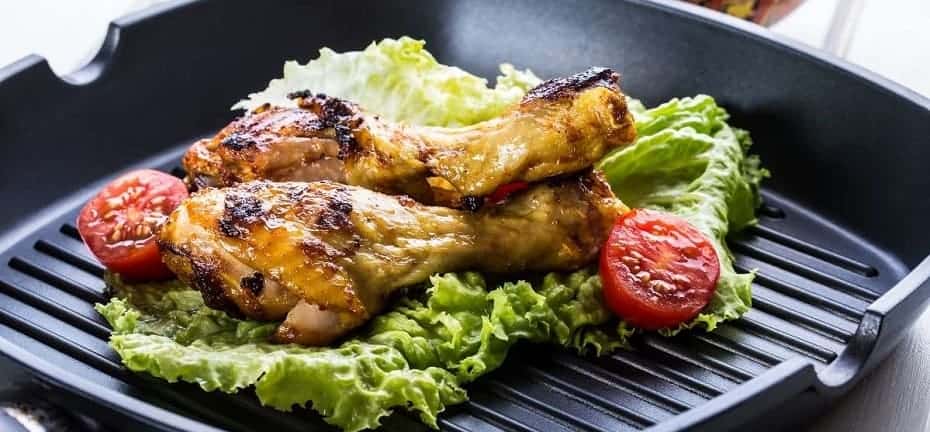 Is grilled chicken breast healthy?
If you consider the above risk factors, chicken breast would be the unhealthiest part to grill, especially when skin-on. And that's because it contains more protein, calories, fat, and cholesterol than other parts.
Is grilled chicken good for weight loss?
Many dieticians consider grilled chicken a brilliant addition to their weight-loss plan, especially the skin-off breasts without breading. Because of its proteins, it can ensure fewer calorie intake from fat while helping burn calories.
The quantity of consumption depends on the calories-to-burn. For instance, ingesting as little as 3 oz of protein should suffice for your consumption goal of 1200 calories for a day.
Read: How to grill chicken thighs on gas grill?
Is grilled food healthy?
Either calorie or fat-wise, grilled foods may not be substantially good. Besides, grilling food can lead to chemical formations that might trigger carcinogens.
However, that doesn't necessarily mean you should forgo barbecues for good. So long as you opt to enjoy grilled food only from time to time, like once or twice in a month, there isn't much to be concerned about.
What is the healthiest way to cook chicken?
According to most nutrition experts in the USA, poaching is the healthiest way to cook chicken since this method doesn't involve additional ingredients, either to the chicken or the water you boil it in. This process resembles the way you'd poach an egg in boiled water. Despite the taste being not as good as with other methods, every 4-oz of poached chicken can deliver up to 120 calories with merely 1.4-gm of fat.
Is grilled chicken healthier than baked chicken?
While grilling, the meat exposes to direct, intense heat, allowing the oils and fats to drain away. On the other hand, baking chicken converts the moisture to steam, which combines with the dry heat from the source to do the cooking.
Because of the two high-heat cooking methods' similarity, both grilling and baking can reduce the chicken's vitamin content. While baking may ruin all the heat-sensitive vitamins, grilling can significantly curtail the less water-soluble vitamins. These similarities make it challenging to decide which one indeed is healthier.
However, if you consider the potential carcinogenic smoke release or avoid grilling carcinogens, baked chicken has to be healthier than grilled chicken.
Is grilled chicken healthier than fried?
Yes, it is. Whether or not dredged in breading, fried chicken contains more calories because of higher amounts of fat. Besides, a fried breast isn't likely to retain the protein like a grilled one.
Is grilled chicken healthier than boiled?
Yes, it is. Boiling can extract the proteins and even the last bits of fat (both good and bad fat) from the chicken, which isn't as nutritious as grilling since the latter locks the good fat within the tissues while retaining more protein.
Is eating too much grilled chicken bad for you?
Yes. Despite the protein you'll gain through eating grilled chicken, you shouldn't eat it daily, for it can lead to high blood pressure. And let's not forget the fact that it can also increase the risks of cancer.
Is rotisserie chicken healthier than grilled chicken?
The additives like sulfates and phosphates in store-bought rotisserie chicken can cause several health issues. For instance, it can contribute to kidney diseases and bone loss. However, these troubles may occur only with large consumptions. Besides, it can deliver similar calories and proteins to that of a grilled chicken, making it harder to pick the healthier between the two.
The Verdict: Is Grilling Chicken Healthy?
Despite the alarming research findings we've mentioned above, the answer remains debatable to the question- "is grilling chicken healthy or not?" And that's why it's essential to consider the whole scenario, including the good, the bad, and the unknown, before ditching your favorite cooking method.
Ask yourself if you need to focus on cutting back on grilling chicken because you consume it too much or because you're doing it too frequently. You can then consider either reducing from five pieces to two or twice a week to once in two weeks to limit the risks. As for the unknown, ask yourself what additives (like colorings or sugars) you need to dump for good, so you'd never have to forgo grilled chicken altogether.
In the end, however, it's all up to you what to choose, only you must be sure enough to be aware. Moreover, there are so many tips you can follow that, too, can help minimize the related health risks. So, be wise when picking among all the available precautionary steps and keep having fun enjoying your savored meal.
She is a proud mother of three children. Married for 25 long years! She is the perfect Admin & Editor in chief for this site. She will be sharing her life long experiences with us.