As an Amazon Associate, I earn from qualifying purchases. There is no extra cost to you. Thank you if you use our links; we appreciate it!  Learn More.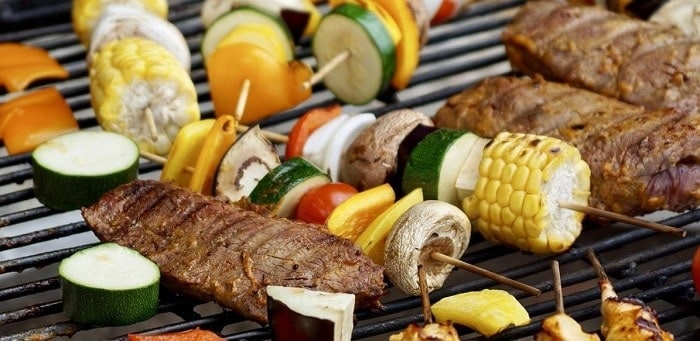 When the summer comes, we, the homo sapiens tend to fire up the grill at our backyard to arrange friendly get to gather. Yet using a grill to cook food creates carcinogens.
We do love BBQs and stuff in the summertime, there is no denying of it. However, taking care of our health, along with our beloved ones, is also imperative.
But don't worry, we have got you covered this time. Here we will disclose ten practical ways to avoid grilling carcinogens.
So, without farther ado, have a look.
Why is Carcinogens Deadly?
Carcinogens can be produced while grilling, and with that, we shouldn't have any problem. But the scary thing is, this substance has several adverse effects, which can cause some severe health issues.
If we tell you, carcinogens cause cancer, then will you still crave for grills anymore? Although it may seem already deadlier enough, there are few more cons to eating delicious grilled items.
Though we cannot avoid grilling in summer with our dearest people, and we don't even want to put the toxic agent into our stomach after knowing all of this.
So, here let's talk about something you wanted to know for an extended period.
Ten Effective Ways to Avoid Grilling Carcinogens
Yes, you read it right. Probably the most useful tips we are going to reveal here to make you worry less about the problem.
· Marinating the Meat
According to some trustworthy research, marinating before starting grilling can significantly reduce its carcinogenicity. So, try marinating the meat at least 30 minutes before grilling with vinegar, lemon juice, salt, mustard, and added spices. Do not compromise with your taste buds.
· Grill Vegetables
The grilled flavor is quite hard to ignore, no matter how hard you try. But interestingly, you can still enjoy the smokey grilled taste without getting into the risk of cancer.
By exchanging the meat with vegetables can give you this desirable opportunity. Moreover, veggies are full of minerals and vitamins.
· Add Pepper
Pepper can help you reduce the production of carcinogens if you add some while grilling. Research shows that by adding one gram of paper can notably diminish the inhibition of carcinogens. But remember seasoning the meat at least a couple of hours before.
· Flip the Meat Frequently
It's a common practice to put the meat on the grill and forget about it for 15 minutes. But less frequent flipping can assist in producing carcinogens. So, from now, try to flip the meat frequently to get rid of this problem. Thus, your meat will be cooked evenly with both sides.
· Adjust the Heat
Try to use a gas griller instead of an electric one. Do not just blow the meat with high heat at the beginning. Start with medium temperature and stay consistent with the heat so that the flesh doesn't get burned. The smokeless indoor grill can be a perfect choice for this.
Read: How to add smoke flavor to a gas grill?
· Smaller Sizes of Meat
This point may seem quite stupid to you, but in reality, it's not. Think about it. When you make smaller sizes of meat, it will certainly require less time to cook. Eventually, less cooking time means less chance of formatting Heterocyclic Amines.
· Don't Overcook the Meat.
When meat gets overcooked, the chances of producing HCA will grow accordingly. Try to keep the temperature of the griller to 150-degree F. That is how you can reduce the possibility of overcooking.
If you prefer highly cooked meat, then it is high time to leave the habit right away. A contact grill can help you to avoid overcooking.
· Cut the Fat
At this point, you have to be a proactive cook. During the grilling, our ultimate goal is to restrict carcinogens from formatting.
When you cut the excess fat from outside the meat, there will be fewer chances of dripping. Those drips can cause smoke, which accelerates the formation of carcinogens.
· Add Garlic and Onion
If you can add garlic and onion together, then they can make a huge difference. The research found that combining these two things to meat before cooking can reduce the production of carcinogens. This combo can limit the output of Polyaromatic Hydrocarbons (PAHs).
· Make it Cleaner
Last but not least, don't forget to clean your griller. By thorough cleaning before grilling, you can quickly reduce the PAHs. Grilling food carcinogens is highly threatening, yet we still have to do our best not to let it ruin our health.
Frequently Asked Questions (FAQ)
Are grilled vegetables carcinogenic?
To be exact, some vegetables like lemons, mushrooms, broccoli are somewhat carcinogenic. Try not to grill these veggies over direct heat.
Read: Is grilled vegetables healthy?
What is the healthiest way to grill?
Maintaining healthy grilling is combined a full process. Always keep your griller neat and clean. That is a rule of thumb for healthy grilling. Proper cooking, marinating the meat for a while, and using smaller meat sizes are related to safe grilling.
Is smoking food carcinogenic?
Smoking food is carcinogenic. As simple as that. Smoked food is a source of PAHs. The risk of cancer increasingly proportional to smoked food intake.
Does grilling cause carcinogens?
Grilling is the process of cooking food at high temperatures. Eventually, this system of cooking anything can causes carcinogens. If you still want grilled food, then ensure the right procedure in the first place.
How do you grill without carcinogens?
We are pretty sure you know the answer to this question if you have perceived the gist of this article so far.
What makes food carcinogenic?
Some foods, especially red meat, few vegetables, are carcinogenic. This agent is often found as a reason for cancer.
Does cooking meat create carcinogens?
Cooking meat doesn't crate carcinogens, yet grilling does. Without following the correct method can create it in high measure.
Bottom Line
We know it's hard to accept those grilling carcinogens have such a catastrophic effect on our physical health. Nevertheless, we cannot afford to consume this poison anymore. So, try to follow the tips mentioned above and have a healthy lifestyle. Happy Grilling in Summer!
Read More
Amazon and the Amazon logo are trademarks of Amazon.com, Inc, or its affiliates.
She is a proud mother of three children. Married for 25 long years! She is the perfect Admin & Editor in chief for this site. She will be sharing her life long experiences with us.