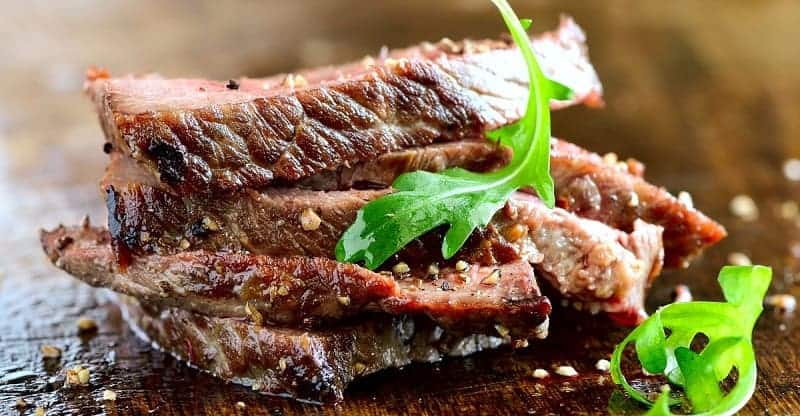 It's never been more important to know how to cook meat properly, whether you're grilling it, roasting it, or boiling it.
The reason?
Carcinogens such as heterocyclic amines (HCAs) and polycyclic aromatic hydrocarbons (PAHs) that are formed when certain types of meat are cooked at high temperatures or left to sit at room temperature while they cook.
Carcinogens are cancer-causing agents. Grilling, barbecuing, and smoking meat, poultry, and fish can all expose you to carcinogens. When you grill meat at high temperatures, chemicals called heterocyclic amines (HCAs) and polycyclic aromatic hydrocarbons (PAHs) form. These chemicals have been linked to an increased risk of cancer in animals.
The National Cancer Institute advises people who eat a lot of grilled meat to limit their intake, cook at lower temperatures, or use methods that keep the meat from coming into contact with the flames or hot surfaces of the grill.
But don't worry—we've got the perfect recipe (ha..ha..ha..) for how to cook meat to avoid carcinogens!
Read on to learn more!
How To Cook Meat To Avoid Carcinogens?
Anybody who enjoys eating meat will have to face the potential health risks of eating too much red meat, including colorectal cancer, type 2 diabetes, and cardiovascular disease. However, research shows that these risks can be reduced significantly by choosing leaner cuts of meat and by following certain simple guidelines when cooking them.
Here are some tips and tricks you can use to maximize the health benefits of your meat while avoiding carcinogens as much as possible.
Read: The 10 best charcoal grills for you to consider
Microwave your meat for 2 minutes
The best way to cook meat is in a microwave oven. Microwaving meat is by far one of the healthiest ways to consume your protein. To do it, simply place your meat into a microwave-safe container, cover it with microwavable plastic wrap, and then heat on high for 2 minutes.
Preheat your pan before you add oil or fat
When it comes to carcinogens, there are two main sources of concern. One is polycyclic aromatic hydrocarbons (PAHs) that get formed when fat drips onto a hot pan. PAHs can form even in a well-seasoned pan because there is still some metal present, which provides support for PAH formation.
The second source of carcinogens is heterocyclic amines (HCAs), which form when amino acids or sugars at high temperatures interact with creatine or creatinine from muscle tissue—creatine is formed when muscle breaks down, making it a common component of meats. Both HCAs and PAHs have been linked to colon cancer in animal studies.
Read: Is BBQ Sauce healthy?
Steam, bake, roast or broil – but never fry
Heat causes cancer-causing chemicals known as heterocyclic amines (HCAs) to form on your food. To reduce your chances of getting cancer from HCAs, it's best not to fry or broil meats at high temperatures. Instead, try steaming, baking or roasting meat so you can enjoy it without burning off any nutrients or adding unnecessary carcinogens.
Steaming is a great way to cook meat because it retains much of its natural flavor and texture while keeping nutrient levels higher than other cooking methods.
For example, in just 20 minutes of cooking time, you can achieve juicy results with minimal fat loss by boiling ingredients in a tightly covered container over medium heat.
Marinate your meat – it will help it soak up all the great flavors
If you're pan-searing meat, try a quick marinade of garlic, rosemary, balsamic vinegar or olive oil. This will help prevent carcinogens from forming by adding some healthy components to your meat. The longer you marinate it, obviously, the more flavor you'll get.
Also, make sure to cut your meat against (not with) your grain so that it cooks more evenly. It also helps avoid creating carcinogenic molecules in foods.
Read: Wanna buy a contact grill?
Add turmeric and ginger to your marinade – they both have anti-cancer properties
When you're cooking meats at high temperatures, cancer-causing compounds like heterocyclic amines (HCAs) can form. This is because meat that's been charred, fried or blackened will reach higher temperatures than meat that's roasted with indirect heat.
Many spice rubs also contain sugar, which caramelizes on your barbecue grill and may also cause cancer-causing HCAs to form. As if that weren't enough of a reason to avoid charred meats altogether, high-temperature cooking methods have also been linked to stomach ulcers, colorectal cancer and breast cancer.
Use grilling alternatives such as dehydrators, convection ovens, etc.
Eating foods that are high in nitrates can contribute to a build-up of carcinogenic molecules in your body, so it's best to steer clear of processed meat. Instead, try some salt substitutes like Himalayan pink salt in your marinades; it will add a unique flavor without increasing your risk for cancer. You could also find substitutes at stores that cater specifically to vegans or vegetarians.
Try some salt substitutes like Himalayan pink salt in your marinades
Salting your meat before you cook it can help break down muscle tissue and make it more tender. Not all salt is created equal, though; Himalayan pink salt contains over 84 different minerals (in addition to sodium) that your body needs, while processed salts contain none of these additional benefits. If you don't have any Himalayan pink salt around, there are plenty of other natural alternatives that won't do damage to your health—the same can't be said for processed table salt!
Read: Don't want any smoke while grilling indoor?
What meats are not carcinogenic?
Boiling, steaming, or poaching meat is your best bet if you're looking for something carcinogen-free. Both are moist cooking methods, so they're unlikely to produce toxic chemicals in your food.
Grilling or frying? Steer clear of burnt or overcooked meats—the charring process creates carcinogenic substances called heterocyclic amines (HCAs). Make sure that you marinate your meat first—and don't cook it beyond medium-rare; any longer will cause excess HCAs to form.
What meat has the most carcinogens?
When it comes to which types of meat are healthier, that depends on who you ask. Many people believe organic meats have fewer carcinogens because they don't have added hormones or antibiotics.
In terms of what types of meat are better for your health, experts say avoiding processed meats is a good idea. These include lunch meat, bacon, hot dogs and sausage.
In fact, one recent study found eating red meat—particularly processed—is associated with an increased risk of dying early from heart disease or cancer (as well as other causes). Another study found that people who ate more than 18 ounces of red meat per week had a higher mortality rate than those who didn't consume any red meat at all.
Why are carcinogens allowed in food?
Cooking meat can create carcinogens, including heterocyclic amines (HCAs) and polycyclic aromatic hydrocarbons (PAHs). Animal products naturally contain more HCAs than vegetarian foods do. As with any diet-related question, it's best to talk with your doctor about how changing your eating habits might affect your cancer risk.
How can you minimize risk?
It might be easiest for starters to avoid overcooking meat; try grilling instead of frying or baking, which are more likely to produce carcinogenic by products. If you're currently a heavy meat eater, consider substituting some other protein sources like tofu.
There are many ways to cook meat, but some methods may produce carcinogens. These cancer-causing agents can form when meat is cooked at high temperatures, such as when grilling or pan-frying.
To avoid carcinogens, the best way to cook meat is to use moist cooking methods, such as stewing, braising, or steaming. These methods should be used at lower temperatures to help prevent the formation of carcinogens.
---
Read:
She is a proud mother of three children. Married for 25 long years! She is the perfect Admin & Editor in chief for this site. She will be sharing her life long experiences with us.