As an Amazon Associate, I earn from qualifying purchases. There is no extra cost to you. Thank you if you use our links; we appreciate it!  Learn More.
Do you want the perfect char marks on your delicious food and not deal with starting a fire or the smoke? Well, if you answered yes; then you came to the right place! Because you are in need of the best smokeless indoor grill, the best griddler, and the best contact grill.
Now we cannot possibly splurge on those three things and not to mention the kitchen counter space that would be needed. Fear not because there are two contenders for your countertop who do all that you asked for and more.
But how do you pick one? This calls for a head to head fight between Breville Smart Grill vs Cuisinart Griddler. The winner gets the honors to make your food delicious!
Got no time? Then Check Quickly…
Meet The Contenders
Breville BGR820XL Smart Grill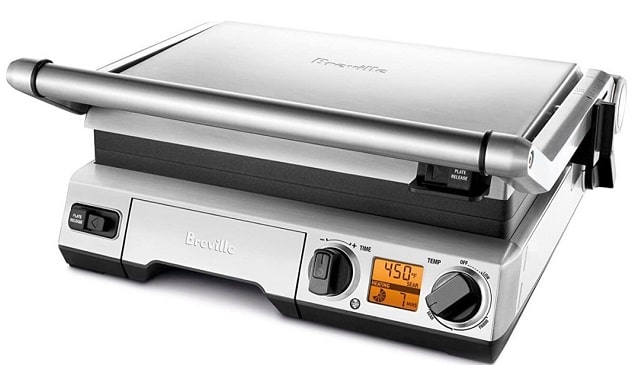 Hailing from Sydney, weighing in at 18.96 pounds with a body literally of stainless steel we have the Breville BGR820XL Smart Grill! Breville certainly brings the brains to fight with its Element IQ that senses the drop in temperature as you bring cold ingredients on the pre-heated surface and it automatically adjusts accordingly.
Product Specifications
Product Dimensions: 16 x 14 x 5 inches
Item Weight: 18.96 pounds
Shipping Weight: 23 pounds
Manufacturer: Breville
Item model: BGR820XL
Cuisinart GR-300WSP1 Griddler

On the opposite of the ring, we have the contender which has a much more versatility under its belt along with that strong stainless-steel body. Hailing from Connecticut, USA weighing in at 16.84 pounds we have the Cuisinart GR-300WSP1 Griddler! The reversible non-stick grill/griddle plates might just give it the edge.
Product Specifications
Product Dimensions: 14.7 x 16.2 x 8.1 inches
Item Weight: 16.84 pounds
Shipping Weight: 21 pounds
Manufacturer: Cuisinart
Item model: GR-300WSP1
The Fight: Breville Smart Grill vs Cuisinart Griddler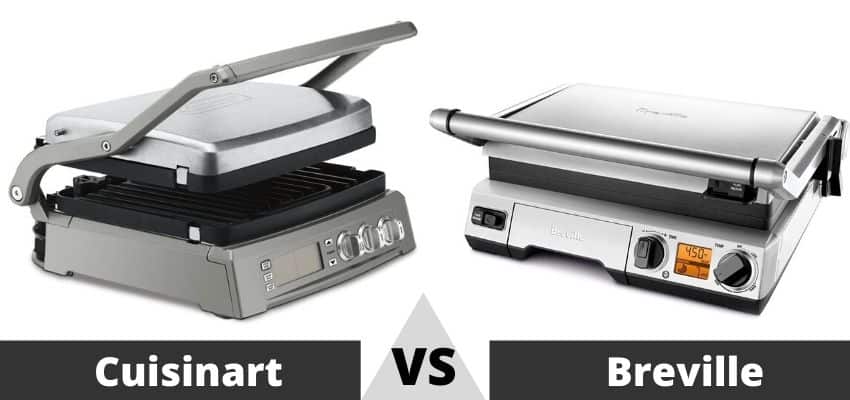 Round 1– Appearance
Both the contenders are cladded in beautiful stainless-steel adding sophistication and elegance to your countertop. The Breville BGR820XL has a slightly more elegant front face however, the Cuisinart GR-300WSP1 makes up for it with its more modern blue backlit LCD displace. Both come with releasable ceramic plates with the heating element embedded in the plates.
Verdict – Draw
Round 2– Performance
The Cuisinart GR-300WSP1 is a beast with maximum temperatures at 500°F at 1800W compared to the relatively meagre 450 °F at 1800W of the Breville BGR820XL.
Verdict– Winner Cuisinart GR-300WSP1
Round 3– Adjustably
To get that perfect sear on your steak or the perfect crust on your panini, you need a sear setting, a wide temperature range, and a timer. Neither of the contenders is giving either any ground here as they both possess the aforementioned weaponry in their arsenal.
Verdict- Draw
Round 4– Ease of use
When it comes to cooking at high temperatures or searing any connoisseur will tell you that one must take into account the drop in temperature of the surface when room temperature or cold food hits the cooking surface. And this is where the Breville BGR820XL beats out the Cuisinart GR-300WSP with its Element IQ technology; compensating for the temperature differences without you having to lift a finger.
Verdict– Winner Breville BGR820XL
Round 5– Versatility
When it comes to all in one gills/gridlers you want to get as much out of them as possible for taking up your prized countertop real-estate. Both the contenders have interchangeable heating plates. They also have an adjustable top cover with 6 pre-sets to top melt and lock for storage and large grilling. However, the Cuisinart GR-300WSP1 just about takes the win here at you can have both the plates working as a grill or griddle and have them both at different temperatures. The Breville BGR820XL has only one temperature setting for which applies to both the plates.
Verdict– Winner Cuisinart GR-300WSP1
Round 6– The Food
Let's be honest here, looking at spec sheets can be fun to a certain degree, however, what we really want is to get the best tasting food and both the machine have various different modes to accomplish just that. Simply put there can be no one winning here.
Verdict- Draw
Round 7– Clean up
Alas! The most dreaded part of owning a grill/griddle – the clean-up. But fear not my fellow connoisseurs, for both the machines come with detachable plates which can be easily plated in the dishwasher. Now you enjoy all the delicious food you want with no worries of clean up!
But it seems the engineers at Breville put in some extra hours and came up with a better solution to the drainage of the grease than the engineers Cuisinart. While both allow for the grease to be easily collected in the grease tray, only the Breville BGR820XL allows for the removal of the grease tray when the machine is fully opened. Thus, giving the team at Breville team the slight edge.
Verdict– Winner Breville BGR820XL
Round 7– Reliability
When it comes to build quality, the products are in a class of their own. They are robust and come from companies reputed for their reliable appliances. And even if you were to be stuck by the odd misfortune, the warranties on the products have you covered.
Verdict- Draw
It seems both the contenders are evenly matched and are not allowing a single inch to their opponents. Yet a conclusion needs to be reached. But before we do so let us lend an ear to what the current users of each model have to say.
Final Verdict…
If one was to look at just specification sheets of both the products it is clear that there is no one winner in this battle of the titans.
However, the fight of Cuisinart griddler vs Breville smart grill yielded one clear winner and that is *drum roll* – YOU! Sure, the Breville edges out the Cuisinart in some areas and vice versa but at the end of the day, it is you the customer who wins.
You get an amazing product that allows you to have delicious homemade food. So, head out to the store and have a look at the products and pick the one you feel is right for you, for there is no wrong answer.
Read More
Amazon and the Amazon logo are trademarks of Amazon.com, Inc, or its affiliates.
She is a proud mother of three children. Married for 25 long years! She is the perfect Admin & Editor in chief for this site. She will be sharing her life long experiences with us.