As an Amazon Associate, I earn from qualifying purchases. There is no extra cost to you. Thank you if you use our links; we appreciate it!  Learn More.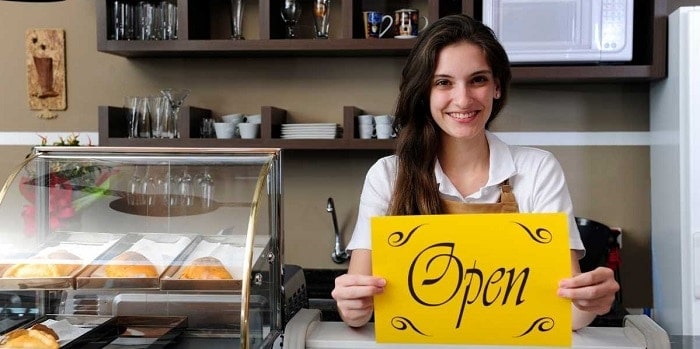 A booming business is nothing to frown about. But when your schedule is getting more jam-packed by the minute with no end in sight, it's hard not to feel overwhelmed by your business's success.
Instead of letting the stress get to you, strategize. With smart adjustments to your business operations, we at Pick Home Store want to help you understand that you really can grow your company and preserve your work-life balance.
When You Can't Keep Up with Sales
Do you have more demand than you can keep up with? Instead of turning customers away, find creative ways to meet demand.
Open an online store
Face-to-face sales are great for personal touch but terribly inefficient. Set up an online store where customers can learn about and buy your products without going through you first. If you really want to add efficiency, you can dropship products so you never have to handle merchandise yourself.
The secret to a successful online store is making it mobile-friendly and easy to use. Unless you moonlight as a web designer, you'll want to use a website builder with e-commerce templates to avoid a glitchy site. Once your website is up, provide great customer support and a quality product to keep customers coming back.
Outsource order fulfillment
Another way to streamline orders is by outsourcing order fulfillment. Third-party fulfillment is similar to dropshipping, but instead of the manufacturer fulfilling the order, a third-party service warehouses and fulfills orders. Third-party fulfillment provides more control over the customer experience than dropshipping.
Use customer support software
You've automated sales and fulfillment, but now your support line is ringing nonstop with customer questions. You need software to organize and automate your customer support. There are several customer support tools on the market, from live chat tools to comprehensive customer service platforms.
Read: How to avoid stress in your everyday life?
Protect your customers
If you want to stay ahead of a particularly stressful situation and potentially disastrous situation, it's important to protect your customers from hackers and data thieves.
Identify the data you wish to protect and, if possible, assign one of your employees to monitor this data for any breaches. And while it's recommended that you hire someone to tackle this job for you, developers have released data loss prevention software that can help keep an eye on this important data.
Developing trust with your customers and maintaining it will only benefit you and your business in the long term.
When Administration is Bogging You Down
It's not only customer-facing work that trips up growing businesses. As your business expands, there's also more administrative work to manage. By making these processes more efficient, you free up time for the main hustle.
Hire a remote bookkeeper
Bookkeeping is time-consuming. As a business owner, it doesn't make financial sense to do it yourself — especially when remote bookkeeping costs as little as $500 a month. If you need full-service accounting, you can contract a professional for that too.
Business owners quickly run out of time for tasks like maintaining their social media accounts and blog content. Rather than piecemealing what you can when you can hire freelance writers or social media specialists to keep up with these tasks.
Switch to automated payroll
Automated payroll saves time and reduces errors, keeping you on the good side of your employees and the IRS. By purchasing payroll software that integrates with your time-tracking system, you can take a hands-off approach to this tedious task.
When Bad Habits Get in the Way
For some business owners, the problem isn't that there's too much to do. Rather, poor money and time management are sources of stress. Managing finances and maintaining work-life balance is tough when you're a business owner with a million things on your plate.
Set up a home office
It's important that small business owners learn to carefully manage company finances. However, this can be one of the biggest stress factors when it comes to owning a business. You have to juggle the costs of utilities, equipment, office space, insurance, and other expenses to keep your business afloat.
One way to reduce this stress — and the expenses — is by creating a home office. You'll free up office space, lower the cost of utilities, and save money on gas. If you decide to do this, consider hiring a handyman to build a customized desk with drawers, shelves, cabinets, and a cord organizer for maximum efficiency.
Start time blocking
If you're always busy but you still fall behind on tasks, you need time blocking. Time blocking is a productivity strategy that assigns chunks of time to different priorities. It's a great way to make time for all the important tasks on your to-do list so you don't get sidetracked.
Set working hours
Work-life balance is a constant challenge for entrepreneurs. It's hard to turn off your work brain when you're the person in charge. If you have trouble relaxing at home and connecting with friends and family, you may need to set a hard limit on your workday.
Establishing work hours for yourself maximizes productivity while at work and helps you be present when you're not.
Make your health a priority
Keeping your health in check is essential when it comes to reducing stress. Eating foods chock full of nutrients, like leafy green vegetables, lean proteins, whole grains, drinking lots of water, exercising and getting plenty of sleep can make it easier to find balance.
However, you may need to employ shortcuts to help this happen.
Invest in a service like Instacart or Shipt to handle your grocery shopping, or turn to meal delivery services so you can stay on top of healthy eating. A reminder app on your phone can nudge you to drink water every day, and an online fitness app can make it easy to find workout videos and fitness plans for any schedule — some even offer nutritional guidance.
There are no shortcuts for sleep, but auditing your evening activities can give you back the precious time you need for rest.
When you're managing a lean business, it's tempting to do everything yourself. But running a one-person show isn't sustainable, especially as your business grows. By finding creative and inexpensive ways to add efficiency, you can scale your business without burning yourself out.
If you need help choosing the right products for your business or home, bookmark Pick Home Store so you can always keep up with the latest reviews and insights.
Read More
Amazon and the Amazon logo are trademarks of Amazon.com, Inc, or its affiliates.
Julie Morris is a life and career coach. She thrives on helping others live their best lives. It's easy for her to relate to clients who feel run over by life because she's been there.