It's always a great pleasure to cook in a pristine kitchen. As the kitchen is one of the most used rooms in your house it holds the feet for one of the messiest rooms in the dwelling.
Spring is a great season to clean your house and the kitchen is one of the key segments of the spring cleaning process.
As the kitchen remains disorderly throughout the day, it is important to follow some pre-set steps to get the best results while spring cleaning the kitchen.
And today I will take you through a simple yet effective checklist on spring cleaning your kitchen.
So without further ado, let's get started.
Required Tools for Spring Cleaning the Kitchen
It is important to gather all the necessary tools before starting the actual cleaning process. Here is a list of appliances you might need to Spring clean your kitchen:
A long-handled Duster
Baking soda
Rubber gloves
Floor cleaner
Microfiber cloth
Vacuum or broom
A trash can
Step tool
Glass cleaner
Mild soap and hot water
Cleaning Up The Store and The Oven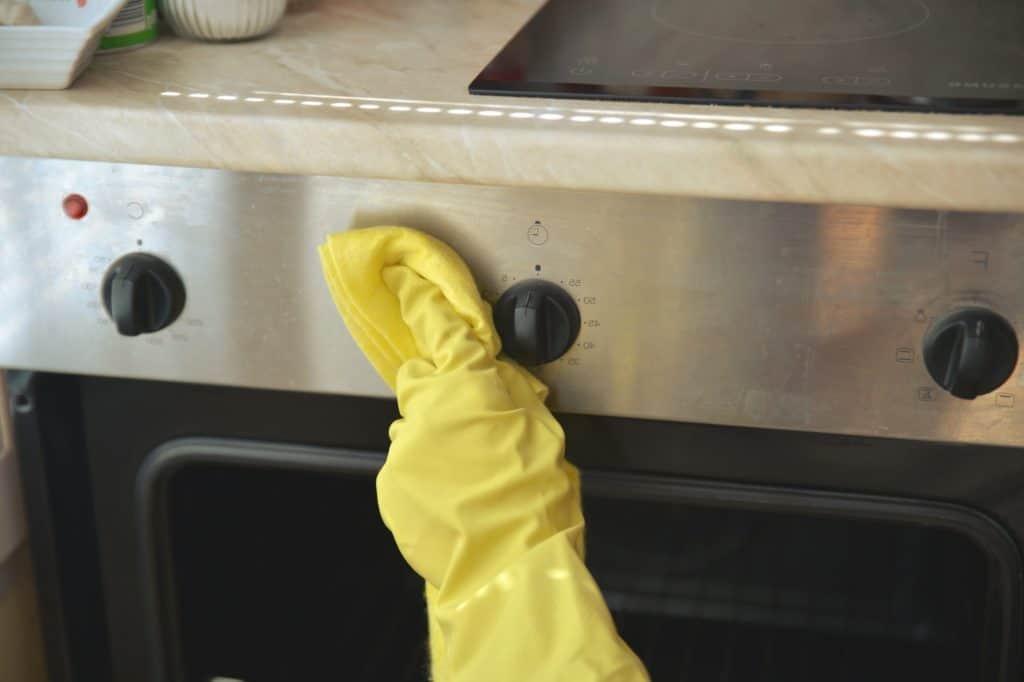 Many of us would like to have a self-cleaning oven for the fact that it is one of the messiest stuff in your kitchen. But the truth is, it is quite impossible to be fulfilled this dream, at least till now.
Clean hard to reach and dodgy areas using bristle toothbrush.
Use a mixture of baking soda and vinegar and use them inside, ceiling and outside of your oven.
If stovetop and hood get greased, clean them out.
After at least a couple of hours weep away baking soda and vinegar mixture using a microfiber cloth.
Wash the inner and Outer segment of your range hood.
Fridge And Freezer
Even though you try to be cautious while using your fridge, it's quite common that the gaps and seals of your fridge get moiled with seeds of foods and other stuff.
Empty your fridge and freezer of all the foods.
Switch off your fridge and leave the door open to get it up matched with room temperature.
Clean up the ice maker bin or removable drawers.
Wipe out the interior and exterior of your fridge including top handles and door.
Finally put back all the foods in the fridge.
Drawers and Cupboards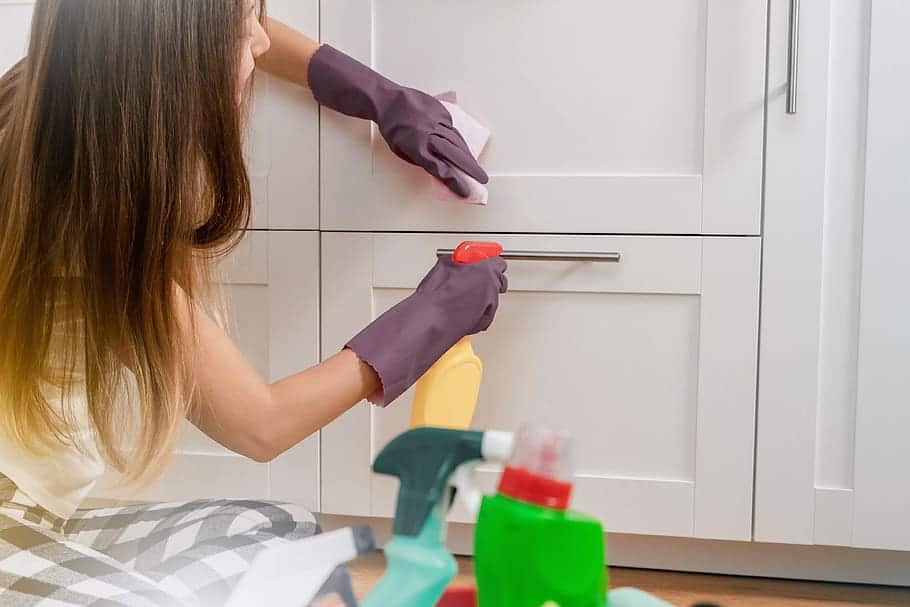 Cupboards and drawers are the home to many of your vital instruments in the kitchen. So keeping them clean and well organized is crucial in your kitchen.
Make your drawer empty and then wipe out them using soapy water.
Get rid of any seasonal items that are rarely used throughout the year and put them with other seasonal items in the store.
While putting the items back in the drawer make sure that you put them in groups so that later on you find out any tools easily.
Make rearranges which might increase the efficiency of your kitchen.
Work on Your Pantry
Some works are not only beneficial but also fun to do and cleaning pantry is one of them. Cleaning and organizing take very little time but the outcomes you get in your kitchen is amazing.
Take your all foods out and put them on countertop or table.
Wipeout all the shelves, pantry doors and knobs using hot water and mild soap.
Put the open items in any boxes or jars.
And finally, categorically place back the items in the pantry.
Sink, Cabinet, and Countertop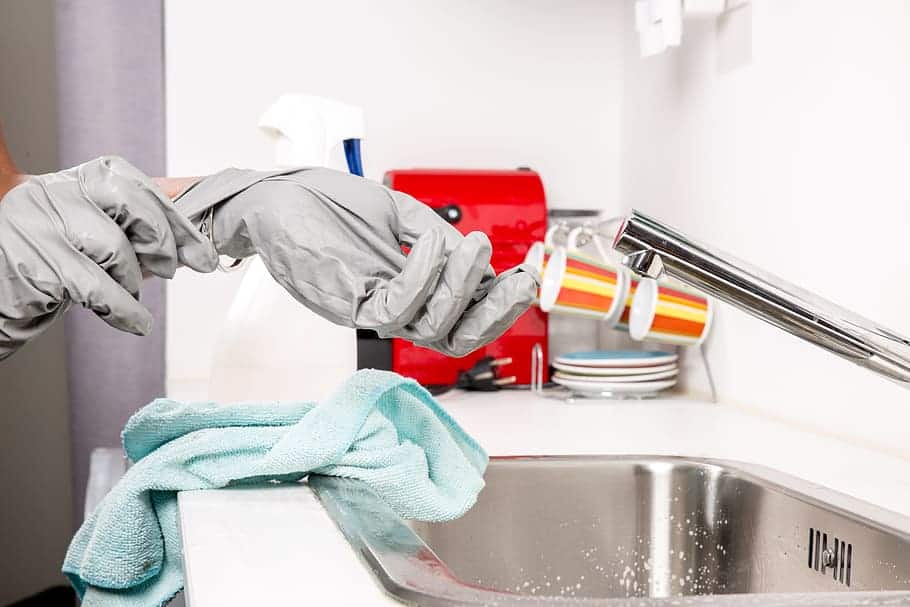 Sink, countertop, and cabinet get dirty frequently as you use them a lot every time you work in your kitchen.
Wipe out the interiors and exteriors of your cabinet.
Through away those products in the trash can which you won't use anymore and then relocated the essential items where they belong.
Clean the countertop using hot, soapy water and microfiber cloth. After cleaning let them dry well.
Make sure that you have washed the drain stoppers.
Clean your petty appliances i.e., the blender, coffee machine and toaster kept on the countertop.
When returning the items in the cabinet, make sure that frequently used items are easily accessible.
Other Appliances
After cleaning all the major items, it's possible to leave some minor appliances uncleansed. But to make your kitchen look gorgeous, you must go through all ins and outs while cleaning your kitchen.
Clean your dishwasher using baking soda and vinegar as dishwasher responds to these very well.
Wash the glasses wire wool. Once they are cleaned, wipe them out using a microfiber cloth.
Gather all the rings and wash them on hot, soapy water. Reach tricky parts of the rings using the toothbrush.
Take out all the date expired, unusable and empty items from the kitchen and through them in the garbage box.
If you got furniture in your kitchen, polish them out using the right tools.
Dispel pictures from walls and mop them using a wet microfiber cloth.
Clean the ceiling of your fan using a long-handled duster.
Cleaning Out The Kitchen Floor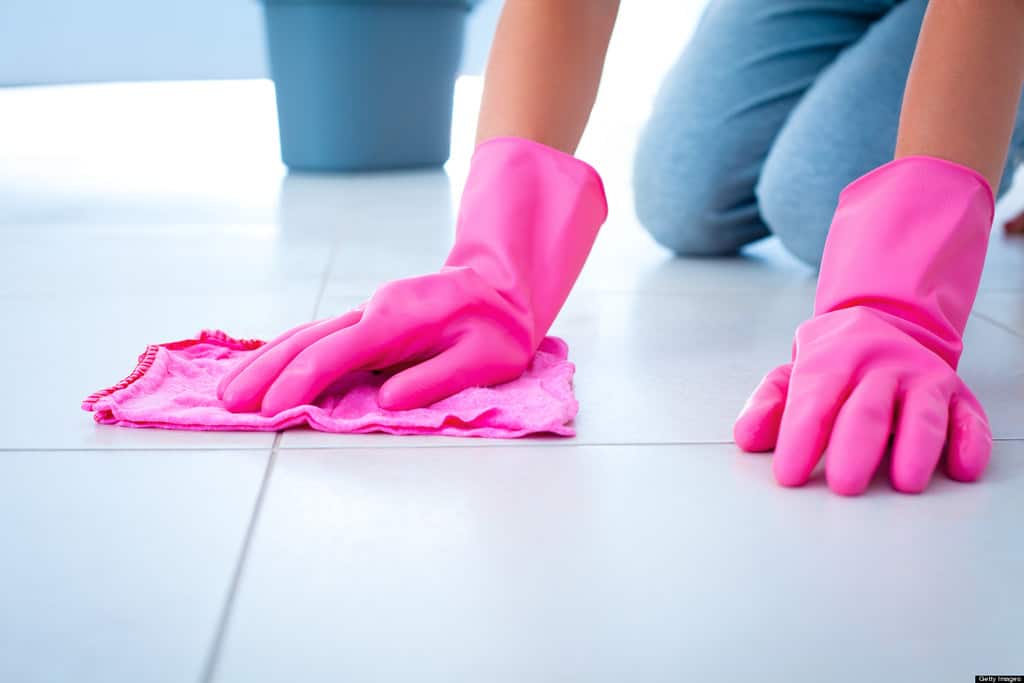 While cleaning the floor, make sure that you are far from the corner towards the door to keep your room footprints free when leaving it.
Swap the entire floor to get rid of all sorts of dust and dirt.
Clean narrow places like behind and under the fridge, furniture, between the countertop and overusing crevice tool.
Clean up any dusty or filthy areas or strains.
Rub out the floor using your preferred floor cleaner.
Donate or Trash The Residual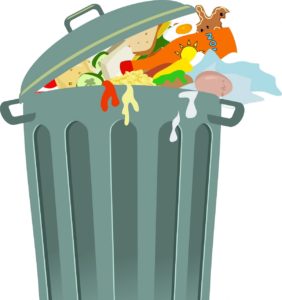 Now that you have perfectly cleaned your entire kitchen, it's time to get all the trash out of your kitchen and get them to the dustbin.
Then donate all the things which are usable but no longer useful to your house.
Finally, don't forget to wash the trash can using warm water and mild soap. After cleaning, let the can dry in the sun and return them in the kitchen afterward.
Final Verdict…
An easy and efficient guideline makes a difficult work pretty enjoyable.
And, all I wanted is to make the spring cleaning process both easy and fun by breaking down the entire work process in small sections.
So, I hope this spring cleaning the kitchen checklist has helped you and will contribute towards your spring cleaning progress.
Now have a sparkling kitchen ready for this summer!
Read More
She is a proud mother of three children. Married for 25 long years! She is the perfect Admin & Editor in chief for this site. She will be sharing her life long experiences with us.